The Mill City Farmers Market is in full swing–both the Saturday Market and our new Tuesday Night Market are open and full of luscious local food. Earlier this month I sat down with Brenda Langton, founder of the Mill City Farmers Market, to get her inside scoop on the market's 120+ farmers, food makers and artists who make up our unique Market. As an acclaimed restaurateur, one of the pioneers of the Twin Cities' farm-to-table movement and someone who has been shopping the Market nearly every Saturday for the past 12 years, Brenda is the perfect person to show our Friends of the Market some of her secrets.

1. Baby Greens
According to Brenda, the Market is the place to go for salads. Colorful salad mixes with dozens of varieties of lettuce, baby kale, arugula and more are delicate, flavorful and extremely nutritious. Baby greens at the Mill City Farmers Market are typically harvested within 24 hours of your purchase. They are local, fresh and last for weeks.

2. Lamb Tarragon Sausages from Sunshine Harvest Farm
Sunshine Harvest Farm is a 4th-generation family farm in Webster, Minnesota–about 40 miles south of Minneapolis. Regular market shoppers will recognize Mike Braucher, his son Brandon and his brother Patrick who bring a variety of cuts of beef, lamb, pork, chicken and eggs to the Market year round. Brenda is a huge fan of their lamb, which is consistently on her menu at Spoonriver Restaurant. You will also find Braucher lamb sausages in Brenda's freezer at home. In her experience these pork-free links take only 10 minutes to thaw under running water and are a delicious and easy dinner served with any seasonal vegetable, cous cous and Caldo Harissa or Shahiya Chitney.

3. Artisan Noodles from Dumpling & Strand
Kelly McManus and Jeff Casper, owners of Dumpling & Strand: Noodler's at Large, are going where no other pasta makers have gone before. Brenda recommends their 100% buckwheat soba noodle for its unique delicate flavor, Pici noodles (which she says she has never seen for sale outside of Tuscany!) and their new and limited Kernza noodles made from a perennial wheat developed by sustainable agriculture researchers at the University of Minnesota.

4. Heritage Dried Beans
Fresh dried beans are nearly impossible to come by at your typical grocery store and canned beans, while convenient, often lack good flavor and texture. Heirloom dried beans from Bean Market are a different story. Brenda loves their plump texture, intense flavor and the fact that fresh beans cook evenly. Xai and her husband Tongsee grow a wide variety of traditional Western beans and unique Southeast Asian vairieties–Brenda says she even gives them as gifts!

5. Farmstead Cheese
The Mill City Farmers Market has 4 farmstead cheese makers, who not only raise the animals but also make the cheese at the farm. Shepherd's Way Farm produces soft and aged sheep's milk cheese in Nerstand, MN and their neighbor in Nerstand, Singing Hills Dairy, brings fresh goat cheese to the market. Prairie Hollow Farm in Elgin, Minnesota and Cosmic Wheel Creamery in Clear Lake, Wisconsin both make soft and aged cows milk cheeses. Brenda recommends fresh cheese for its beauty and also as a delicious compliment to any meal.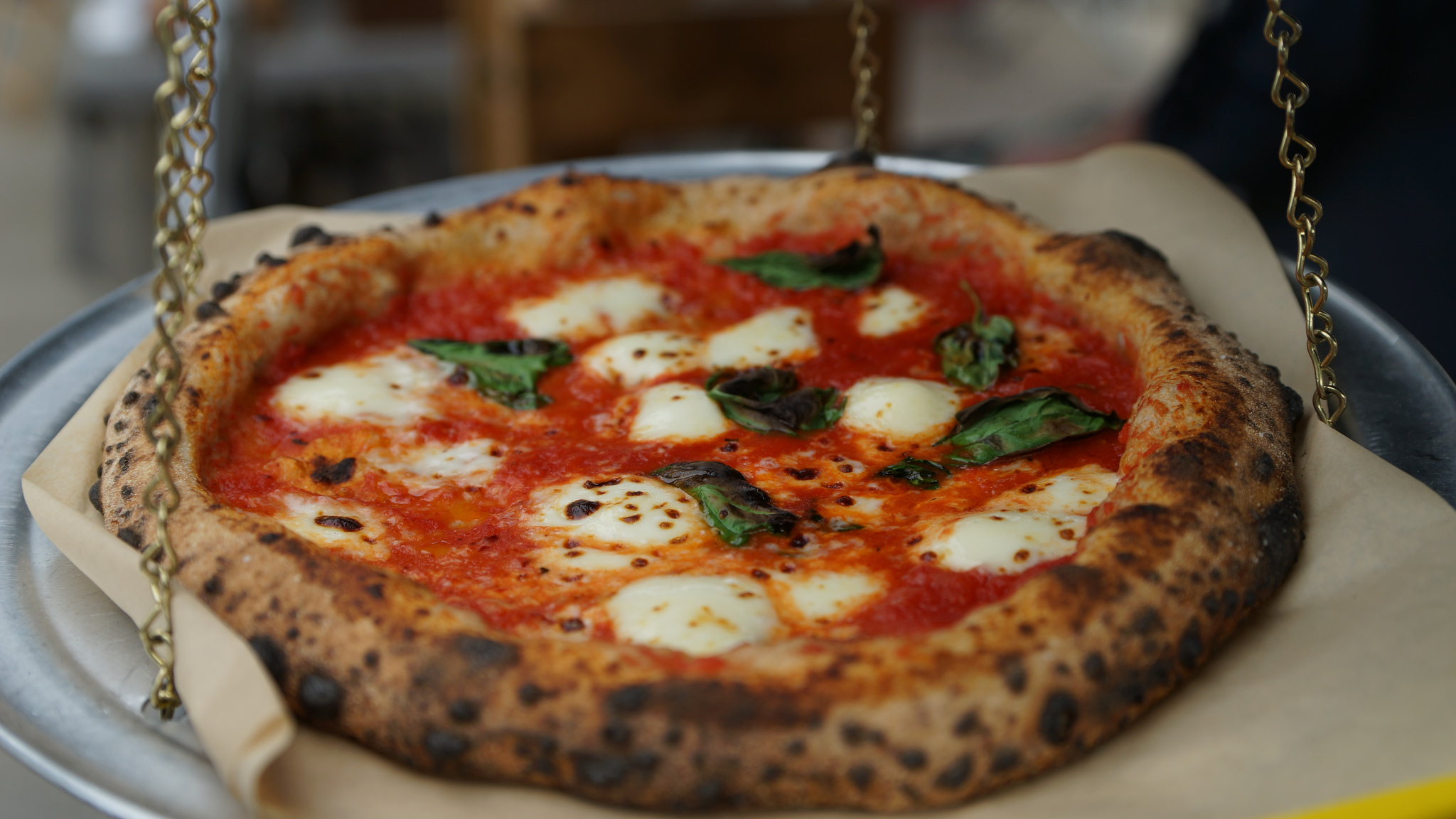 6. Wood Fired Pizzas — To Go!
Northern Fires Pizza is a relatively new addition to the Market over the past few years. While most people eat one of Arie's seasonal, naturally levained pizzas as breakfast, lunch or dinner at our Markets, Brenda chooses to take them home. "I serve them for company all the time. Buy the pizza and heat it up at home at 400 for just a few minutes until it's crispy again. Then all you have to do is make a big salad–they love it"

7. The Best Tempeh in Town
Looking for a lighter protein or flavorful alternative to tofu? Brenda boasts that the tempeh from our new vendor, Tempeh Tantrum is the best in town. Tempeh is an Indonesian plant-based protein made from fermented beans and grains, traditionally with soy. Owner Ryan Billig makes his soy, black bean and seasonal market tempeh by-hand using traditional Indonesian techniques adapted to his Minneapolis kitchen.
8. Wedding Presents
Every Saturday the Market rotates dozens of local artists into our "Art Market" in the train shed. These vendors are Brenda's go-to for Wedding presents. Handmade cutting boards, wooden utensils, serving platters and ceramics all make for cherished gifts for summer sweethearts. Pictured here are Nordic bowls from npwoodworks.
9. Handmade Pie
At the Saturday Market, you can't miss out on a handmade pie from Very Prairie, a Minneapolis-based husband wife baking duo. Brenda recommends the rhubarb ginger pie in early summer!
10. Sign Up for the Mill City Beet
"You will miss so much if you don't sign up for The Beet", Brenda warns. Our weekly email newsletters, dubbed 'The Mill City Beet', offer a #WeeklyMarketMeal, stories about our farmers and other vendors and details about activities at the upcoming Market, ranging from chef-led cooking demos, to free yoga classes, live music, bike helmet giveaways and the weekly seasonal produce planner. Click here to sign up!