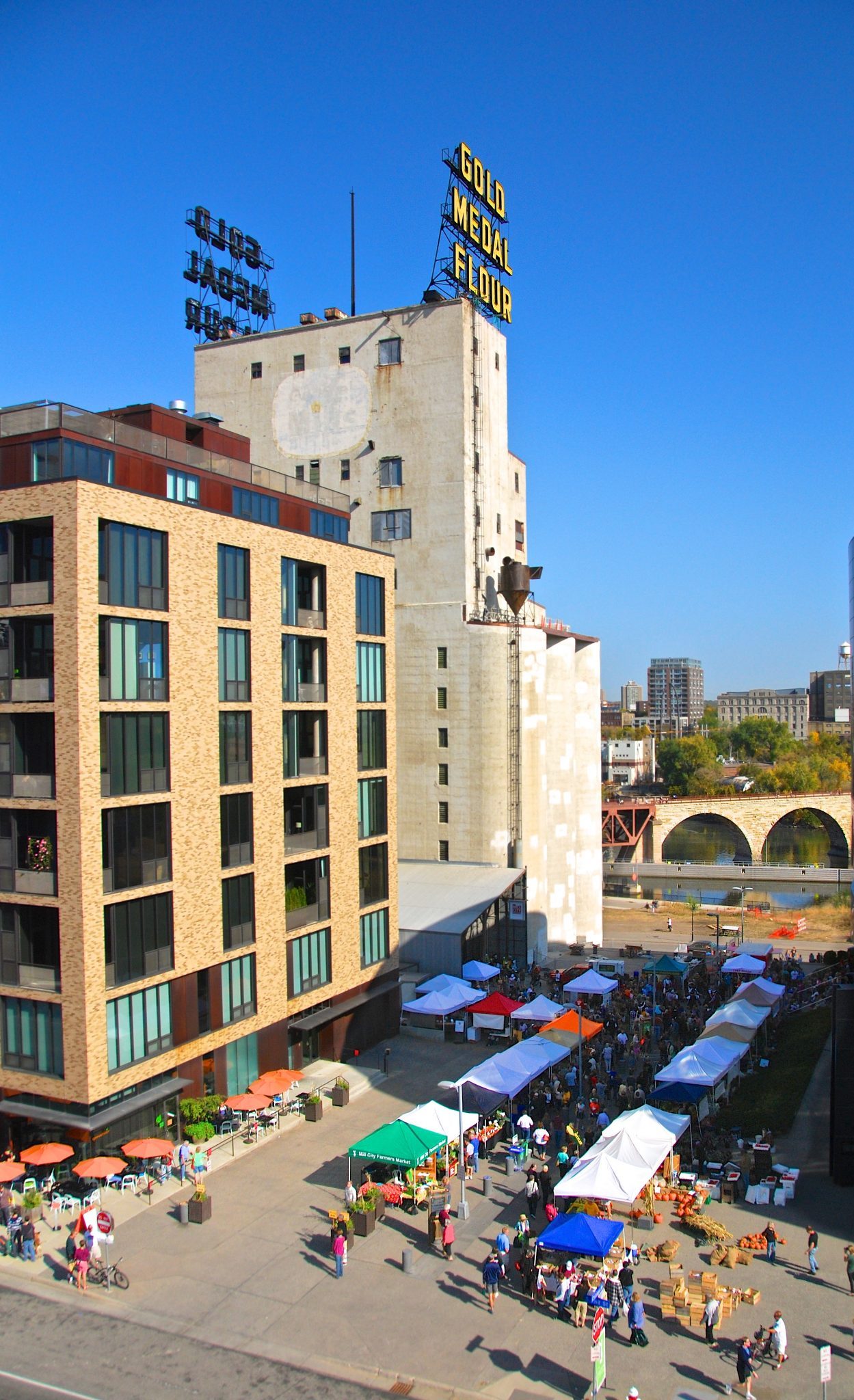 Mill City Farmers Market is Minneapolis' trusted source for healthy, local and sustainable groceries, combining a vibrant marketplace with nourishing community connection.
MCFM is a non-profit organization that was founded in June of 2006 by farm-to-table chef and restauranuer Brenda Langton, in collaboration with the Mill City Museum. With over 100 local farmers, food makers and artists, MCFM strives to build a local, sustainable and organic food economy in a vibrant, educational marketplace.
The year round Saturday Market runs outdoors May through October and is located next to the Guthrie Theater on 2nd Street S. and Chicago Avenue in Minneapolis' Downtown East neighborhood. MCFM has its Winter Markets inside the historic Mill City Museum (no admission required) on select Saturdays November through April. We accept EBT, WIC, FMNP and credit/debit cards for market shopping. Find hours, directions and more visitor information here.
In addition to delicious local food, MCFM is proud to offer free cooking classes with professional chefs, engaging children's activities, adult education on seasonal produce, live music, free outdoor yoga and much more. We hope you come down and see us soon–remember your grocery list!
---
The Mill City Farmers Market is located on Dakota Land. 
We are grateful to have our market at this beautiful space with views of the Misi-ziibi, the Ojibwe name for the Great River, or Wakpá Thánka in Dakota. Owamni Omni (St. Anthony Falls) is located just blocks aways from the market and has long been a culturally significant place for the Dakota people. You can learn more about the historic and modern importance of this land with the interactive Bdote Memory Map, Native Land Map and Native Governance Center's Dakota Land Map.
We respectfully acknowledge and give thanks to Indigenous people who live here, stewarding this land for generations. We also acknowledge the historical and ongoing legacy of colonialism here, including the cession of this land by the Dakota to the U.S. through the coercive '1851 Treaty with the Sioux.' As a result of this treaty, the federal government imposed genocidal policies and forced removal against Indigenous people as a way to acquire land, which was often used for exploitive agricultural purposes.
Acknowledging the history of this land is a point of reflection for us all as we work towards dismantling colonial practices. We hope these acknowledgments inspire you to stand with us in solidarity of Native nations and support the work of Indigenous-led organizations in our community and food system. Local organizations we follow include:
---