Greens for Good is Mill City Farmers Market's food donation, or "gleaning", program. Gleaning is going over a field or area that has just been harvested and gathering any usable parts of the crop that remain. We do this at the Market, too.
Mill City Farmers Market has been working with volunteers from Augsburg University's Campus Kitchen since 2013, collecting excess produce from farmers at the end of the market. Farmers give fruits and vegetables that didn't sell, "seconds" (slightly bruised or with other aesthetic concerns), CSA boxes that didn't get picked up, produce that won't survive the drive home or for any number of other reasons. Starting in 2018, the Market is even able to compensate farmers for their donated product thanks to a generous sponsorship from Delta Dental.
From July to October, volunteers collect over 5,000 pounds of Mill City Farmers Market produce that they bring and giveaway in CSA-style bags for families and individuals in low-income housing in the Cedar-Riverside neighborhood. Any leftover produce is used in Campus Kitchen's community garden lunch, the Campus Cupboard food shelf or for their Sunday night cooking class where Campus Kitchen teaches low-income and first generation college students how to prepare healthy and delicious dishes using the fresh veggies.
Gleaning isn't just about saving produce to us. It's about building community!" Nell Gehrke, 2018 Campus Kitchen volunteer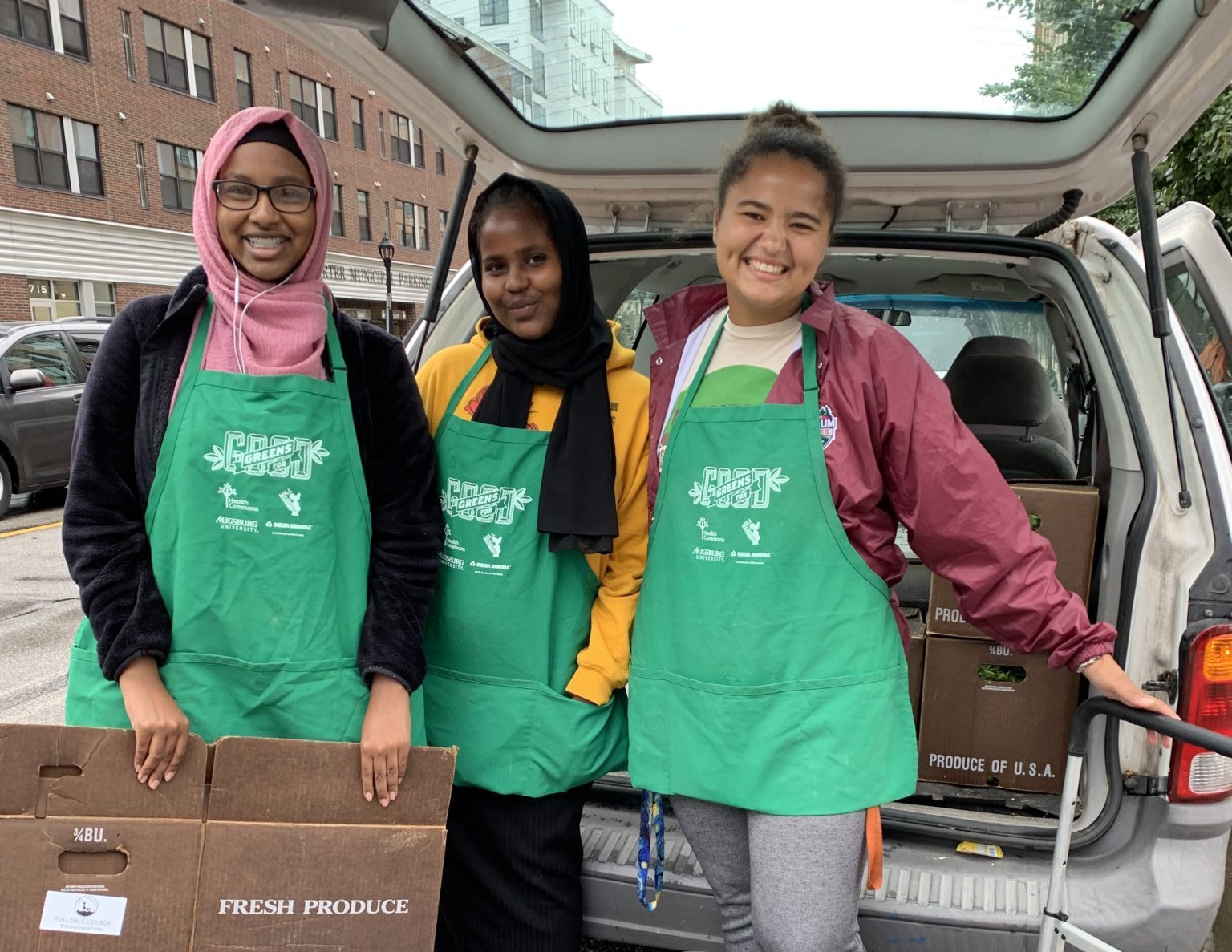 Volunteers from Campus Kitchen collecting produce from farmers after the market.
Greens for Good is part of the programming of the Mill City Farmers Market Charitable Fund, the market's 501(c)(3) non-profit organization founded in 2017. Our Charitable Fund supports a healthier community through educational and food access programs, partnerships, and grants for local, sustainable farmers and food makers. Launched as an extension of the successful Mill City Farmers Market, the Charitable Fund shares resources and collaborates with partners to improve community health and well-being.
Ways to Invest
Click here to learn more about the Mill City Farmers Market Charitable Fund.
Greens for Good is sponsored by Delta Dental, Committed to improving health, oral health and access for all Minnesotans.