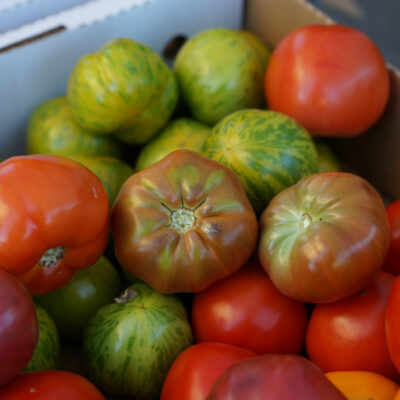 Mill City Farmers Market Shakshuka
---
Ingredients
3 tablespoons olive oil
¼ cup of minced garlic
2 cup of onions diced into ½ inch pieces or 1 cup of shallots sliced
1 Tablespoon of fennel seeds toasted and coarsely ground
2 Tablespoon of cumin seeds toasted and coarsely ground
1 Tablespoon of coriander seeds toasted and coarsely ground
2 Tablespoon of smoked sweet paprika
1 Tablespoon of fresh oregano or dried oregano
2 teaspoons of tomato paste
¼ cup of vegetable stock or "pipe stock" aka water (white wine is great too)
5 cups very ripe tomatoes, chopped (canned tomatoes are fine too)
2 cups of eggplant diced into ½ inch pieces (optional)
1 Tablespoon of vanilla extract (optional)
2 pods of star anise (optional)
Sugar (optional)
Season with salt & pepper
Instructions
1. In a Dutch oven or deep frying pan over medium heat, warm the olive oil, garlic,
onions, the spices (fennel, cumin, coriander, smoked paprika, oregano, star anise (if using) and tomato
paste.
2. Sauté for about 10 minutes until the onions are soft / translucent. You will have some
crust forming on the bottom of the pan which we called "fond" and has a lot of flavor.
Use the stock or white wine to deglaze and softly scrape with a wooden spoon to
release it and incorporated into the ingredients.
3. Add the tomatoes and the eggplant (if you are using it), bring to a gentle simmer,
cover, and cook for another 20 minutes, or until the sauce has thickened and has a
caramelized look & flavor to it.
4. Once thickened to your liking season with salt and pepper, vanilla (if using), maybe more smoked
paprika or cumin. Sometimes sugar is needed to balance out the acidity of the
tomatoes, use sugar at your discretion to do this.
Prepared at the 2022 Harvest Social