Give the gift of local food and art with gifts from Mill City Farmers Market this holiday season. We've rounded up one-of-a-kind, sustainably sourced and handmade items from our winter vendors to make this Saturday a one-stop-shop for everyone on your list. All vendors on this list will be at the market on December 17th from 10 a.m. until 1 p.m. unless specified. Looking forward to seeing you then!
---
Gifts you can eat and drink
Small-batch Jams
Spread the love (literally!) with high-quality local jam in a variety of unique flavors. Serious Jam owner Heidi Skoog uses the best local fruit she can find– often, it's fruit and herbs from farmers who are selling next to her at the market! Using organic cane sugar, high quality spices, liqueurs, and spirits, Heidi makes well-balanced, not-too-sweet jam with flavors like sweet curry grape and maple brandy apple that make the perfect gift.
Staff recommendation: get black current smoked vanilla bean jam, pair it with goat cheese, and put in Vikings and Goddesses frozen danishes for an unforgettable holiday treat– gift it together as a DIY baking kit or bring to your next holiday gathering to share.
Dried Heirloom Beans
Locally grown and dried heirloom beans from Bean Market provide unique flavors you won't find anywhere else. Even in the heart of winter when their fields are covered in snow, Tongsee and Xai bring a gorgeous variety of colorful speckled dry beans and other winter storage crops to market. Their unique heirloom flavors are the perfect gift to the foodie in your life– pair your favorite kinds with some Superior Provisions stock and market veggies to make it a soup gift set!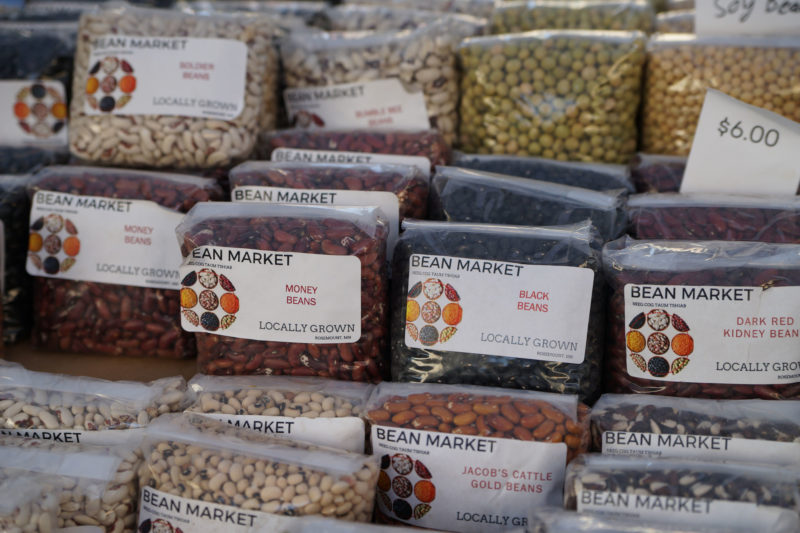 Hot chili oil
For the person who's looking to add a little extra spice: TonzKitchen is an artisanal hot chili oil maker bringing the heat to your dishes. Owner Tony Scherber creates his original hot chili oil by infusing aromatics like garlic, ginger, shallots into oil to go along with warm spices like szechuan peppercorns, habaneros, and cinnamon. The resulting chili oil is delicious on all things, and a great way to bring your dishes to the next level with depth and flavor. Check out the classic Hot Chili Oil along with their brand new flavors: Hotter Chili Oil, Gimi (KBBQ Spice Blend) and Jonmat (Garlic/Shallot Oil).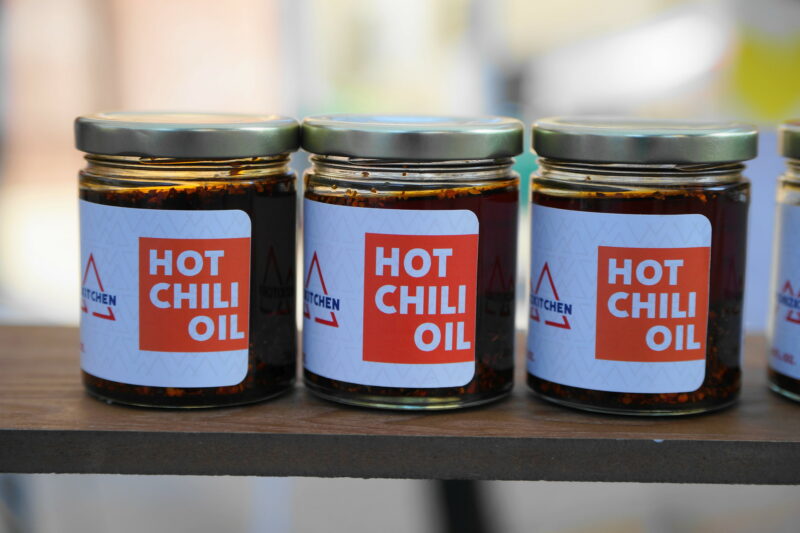 Fresh & frozen baked goods
Pie from Vikings and Goddesses is the perfect treat to bring to any holiday gathering. Their frozen croissants and danishes are also perfect for a quick, easy and delicious option, and their French Toast kits are the best way to have restaurant-quality brunch from the comfort of your own home. Stock up this Saturday and thank us later! Preorder here for pickup at the market this Saturday.
---
Gifts you can experience
Beeswax candles
Slow Burn candles invite you to pause, take a break, and enjoy the slow clean burn of your candle. Made from 100% locally sourced beeswax and organic cotton wicking, Slow Burn candles naturally produce a subtle, sweet, honey-like fragrance. Ames Farm also sells their beeswax candles at the market alongside their raw, Grade-A single-source honey collected from a variety of floral sources in Minnesota.
Compared to soy and paraffin candles, beeswax candles are environmentally friendly, free of synthetic chemicals and GMOs, and are non-toxic when lit. Best of all, beeswax is a natural by-product of making honey so every candle supports our pollinators and local beekeepers!
dried flower wreaths
Turtle Creek Flower dried bouquets and wreaths are a gift that can last for months and even years. Wreath bases are all around 12" and are handmade with locally grown willow. All flowers and other materials are grown or wild harvested. Flowers are hung to dry naturally, with no use of chemicals in the process.
This will be Turtle Creek's LAST market of the winter season, so don't miss out on your chance to bring some color into your life or the life of someone you love!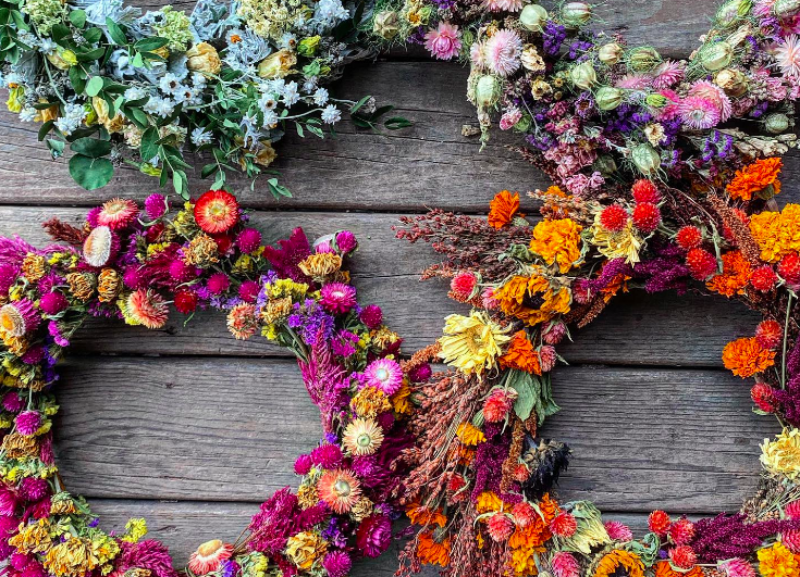 Ceramic kitchenware
Fringe & Fettle ceramics are the perfect combination of function and beauty. Mugs, bowls, plates, serving dishes and more make a fantastic gift for anyone on your list. Owner Joanna Buyert is influenced by "the romanticized atmosphere the kitchen creates; of family meals and childhood memories, of beauty in the everyday encounters". Each piece is crafted with love from her home pottery studio.
This will be Fringe & Fettle's LAST market of the winter season, so be sure to stop by and find some pieces! Grab a ceramic honey pot and fill it with local market honey for a great gift combination.
clean body care
Soap, body butter, salves, lip balms and more from Olsen Naturals are the best way to take care of your skin during the cold Minnesota winters. Owner and maker Denise Olsen, a student of herbalism, believes products used on our skin should be as healthy as the foods we consume. Olsen Naturals' herbs are 95% organic, and Denise uses oils that have been processed with the least amount of refining or heat to maintain the healthy properties of the oils. The soaps make wonderful gifts for everyone on your list, and come in a variety of  nature-based scents.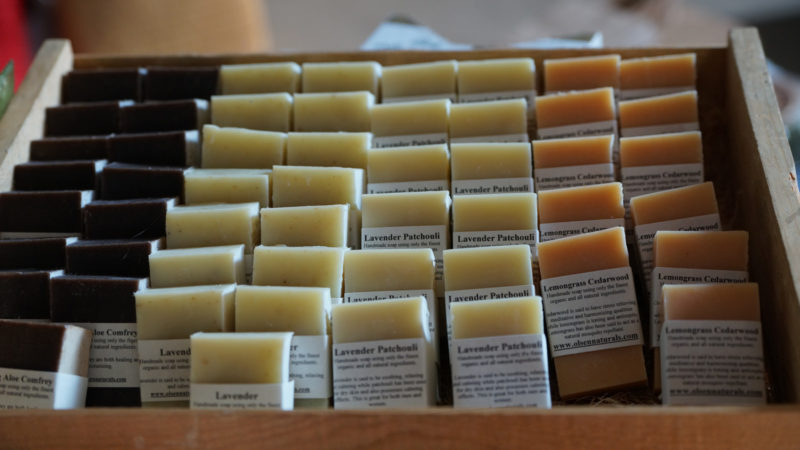 ---
Gift set suggestions
Sandwich Lovers Gift set
Sauerkraut, hot chili oil, pickles, tomato jam & more! Have fun with this gift set and make it your own with all the unique flavors of the market. Put everything in a basket and add in a loaf of sourdough bread from Bakery on 22nd Street for local gift giving. Many of these items are also able to be shipped to out-of-state friends and family!
Tea Lovers Gift Set
For the tea lover in your life… Mrs Kelley's Tea and Well Rooted Tea will both be at this Saturday's market with fantastic individual tea flavors and gift set options, or build your own gift and be sure to add in a jar of honey from Ames Farm!
This is Well Rooted Tea's last market this winter, so be sure to stock up your own pantry, too!
Charcuterie Lovers Gift Set
Put together your own farm-fresh charcuterie kit with cheese from Shepard's Way Farms and Cosmic Wheel Creamery, meat from Sunshine Farms, honey and honeycomb from Ames Farm, and your favorite flavor from Serious Jam. Don't forget to add some bread from the Bakery on 22nd Street or Solomon's Bakery. Again, have fun with this one and make it your own depending on the tastes of the gift recipient!
Coffee Lovers Gift Set
Find Cafe Palmira's whole and ground Guatemalan coffee beans at the market and pair them with a new Mill City Farmers Market mug for a gift that keeps giving every morning. Café Palmira coffee beans are hand-picked and shade-grown at approximately 1,500 meters, ideal conditions for producing the best coffee, according to traditional Mayan traditions. Our new mugs were made by Christy Wetzig Ceramics and are the perfect vessel to hold a high-quality brew.
farmers market Lovers Gift Set
A reusable tote bag, long- or short-sleeved tee, and a bag of market tokens make the perfect gift experience for your farmers-market-loving friend, neighbor or coworker. Check in with us at the Info Booth when you arrive at the market and we will get you set up with your gifts!
---
Find many more gift ideas like handmade jewelry, woodworking, textiles and more from the market's local artists on December 17th from 10 a.m. until 1 p.m. Be sure to share this gift guide with someone who might need a hint for what to get their farmers-market-loving friend!