Wild Rice Salad with Nettle Dressing
---
Ingredients
2 -3 cups packed of wild nettles leaves (use gloves when handling nettles)
2 cups plain Greek yogurt
4 teaspoons extra virgin olive oil
1 teaspoon sea salt, separated, or more to taste
1 cup sliced almonds
1 cup shredded coconut
¼ pound wild ramps (sliced long & thin)
2-3 cups chopped seasonal market vegetables of your choice (eg. asparagus, Hakurei turnips, kale, spinach, bok choy, etc)
2 lemons, cut into wedges
4-6 cups cooked wild rice or any other preferred grain seasoned with olive oil, salt, pepper and herbs of your liking.
Instructions
Making the Nettle & Yogurt Dressing
Wear gloves when handling fresh nettles. To remove the "sting" from the nettles, blanch them. To blanch, have both a pot of salty boiling water and bowl of ice water ready. When your pot of water reaches a rolling boil, drop the nettles in and boil until they wilt, about 30 seconds. Strain into a colander or use a slotted spoon or tongs to lift the nettles out, and then place them into the ice water. Once nettles are chilled, drain them (squeeze with your hands to get all the water out–at this point gloves are not necessary). Pulse the nettles in a food processor until finely chopped.
In a bowl, mix the chilled processed nettles with the yogurt a bit at a time. Fold in the olive oil and add ½ teaspoon salt or more to taste. Keep dressing chilled until ready to use.
Making the Salad
Gently toast the almonds and the coconut flakes in a sauté pan on medium heat for 1-2 minutes. Add the julienned wild ramps and cook until they are wilted, about a minute more. Transfer mixture to a sheet pan and set aside to cool.
Use the same sauté pan to quickly sauté your farmers market vegetables. This should be a quick sauté as you want to keep the crisp and freshness of the vegetables. Squeeze lemon juice over the vegetables and salt to taste. Transfer to another sheet pan to cook.
To serve, combine the prepared wild rice or grain of your choice with the sautéed market vegetables. Drizzle a good amount of the Nettle yogurt over the top and sprinkle a healthy amount of the wild ramp almond coconut mixture. You can serve this individually, or family-style with wedges of fresh lemons.
Mise en place–get all your ingredients prepped before you start cooking!
Blanching nettles to remove their "sting"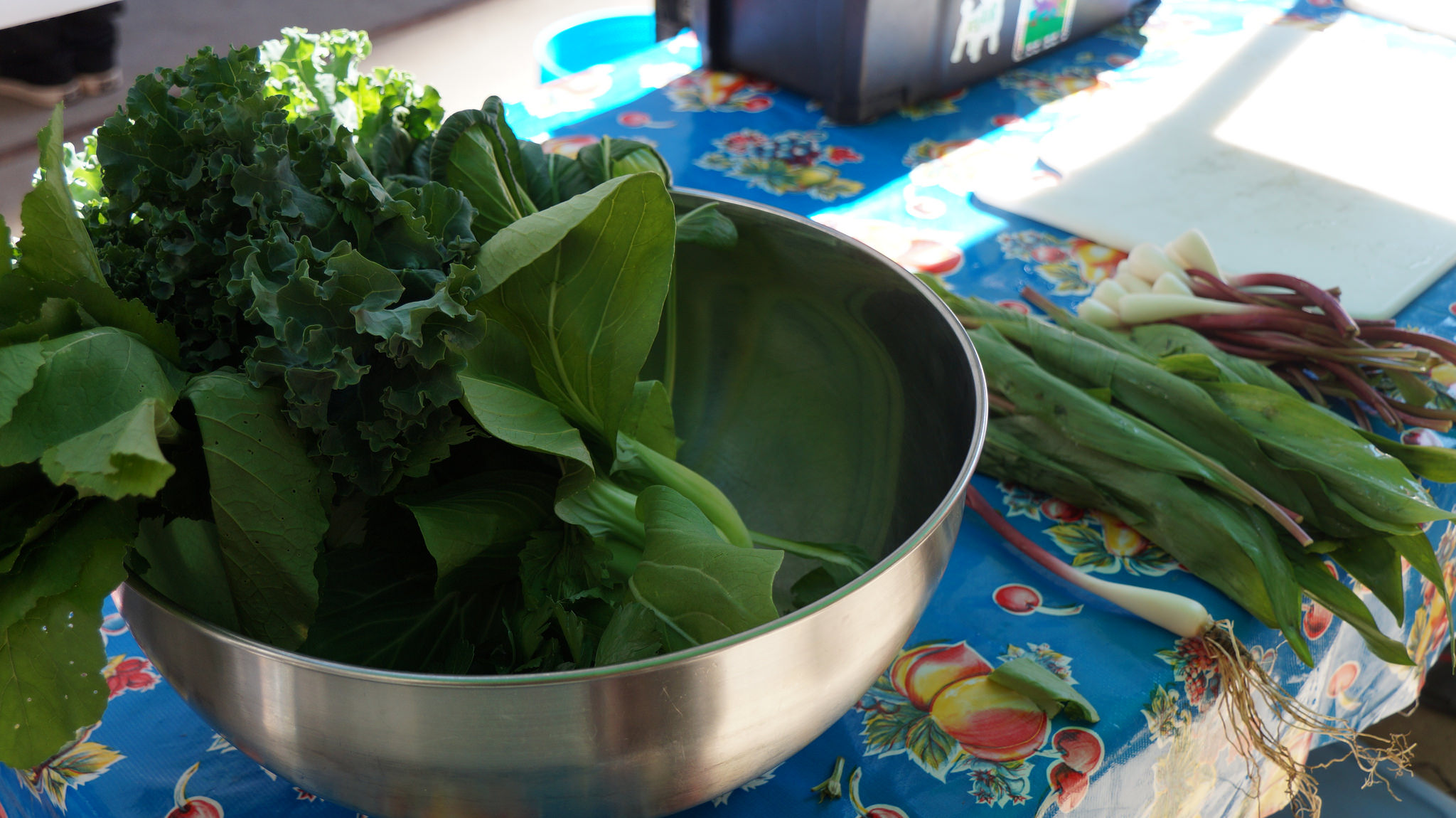 Seasonal vegetables–be inspired by the market! Nettie used turnip greens, kale, tat soi, bok choy and ramps when she demoed this recipe at the market.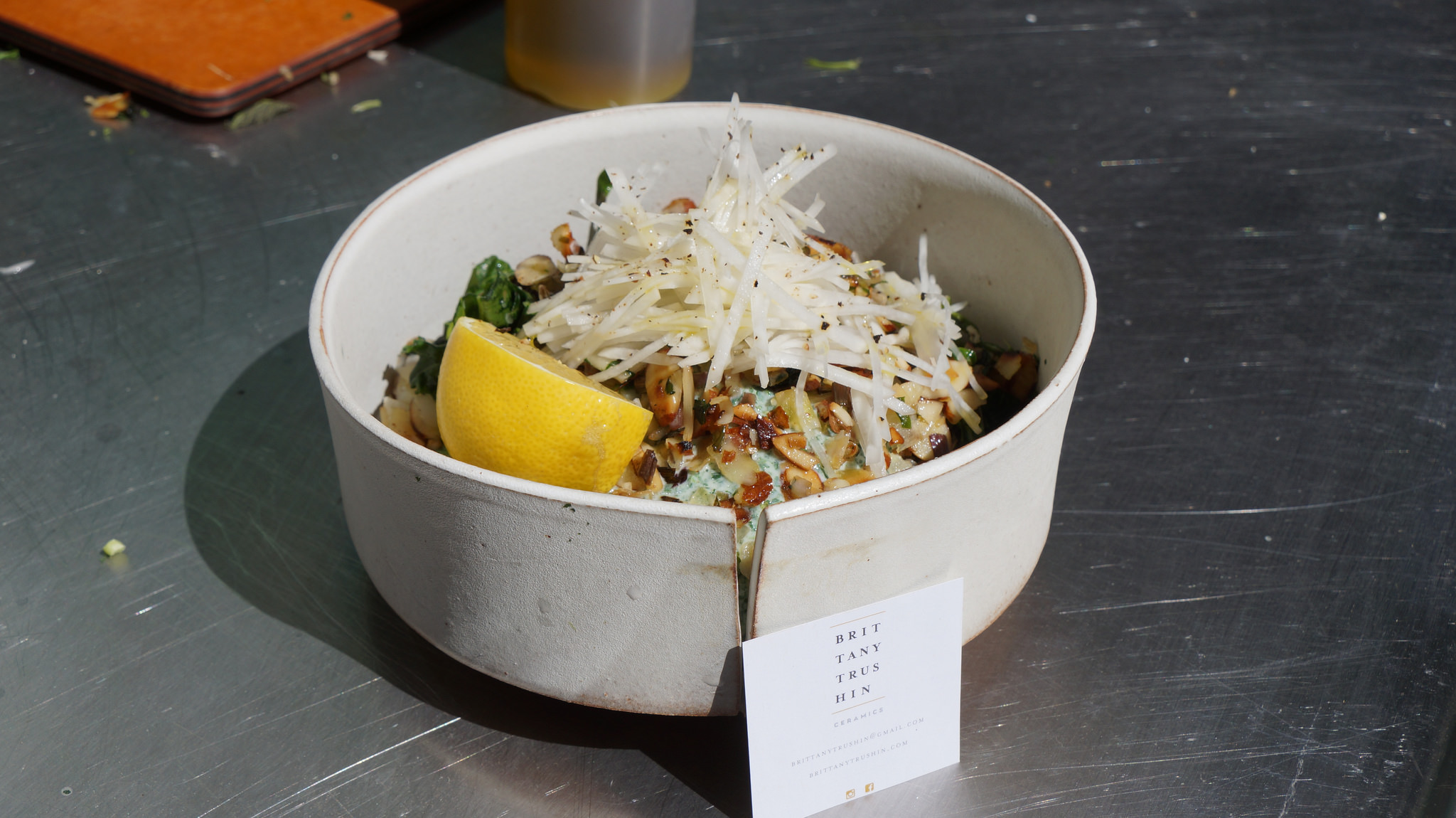 The finished salad, garnished with sliced salad turnips and a lemon wedge and plated in Brittany Trushin Cermaics bowl.