Squash Blossoms Stuffed with Herbed Goat Cheese
---
Ingredients
12 squash blossoms (with zucchini attached if possible)
1 cup herbed chevre from Singing Hills
2 large eggs from Sunshine Harvest Farm
1/2 teaspoon salt
1 cup panko or other bread crumbs
1/4 cup sunflower, vegetable or olive oil for frying
4 cups mixed greens, for serving
1 cup assorted cherry tomatoes
1/2 cup fresh herbs, torn
2 Tablespoons fresh lemon juice
3 Tablespoons extra virgin olive oil
1 teaspoon sugar
1/2 teaspoon salt
Instructions
Clean the blossoms and carefully remove the stamens. If there are tiny zucchini attached, wipe with a clean towel. Scoop the goat cheese with a teaspoon, making rounded, two-teaspoon-sized portions, and roll into balls. Stuff into the blossoms, gently pressing and twisting the flower closed. Place on a plate.
Whisk the eggs and salt in a wide cereal bowl and place the panko on a plate. Line a sheet pan with a double thickness of paper towels.
Pour oil in a 12-inch skillet and turn the heat to medium-high. Dip the squash flowers in the eggs and crumbs (leaving the little squash bare, if you have them), and place in the hot oil as you go. Use tongs or a spatula to turn the squash as they brown. Adjust heat as they brown.
Make your salad of mixed greens, tomatoes and herbs, and place the lemon juice, olive oil, sugar and salt in a small jar. Shake well.
Toss the greens with dressing and serve on four plates, top each with 3 blossoms.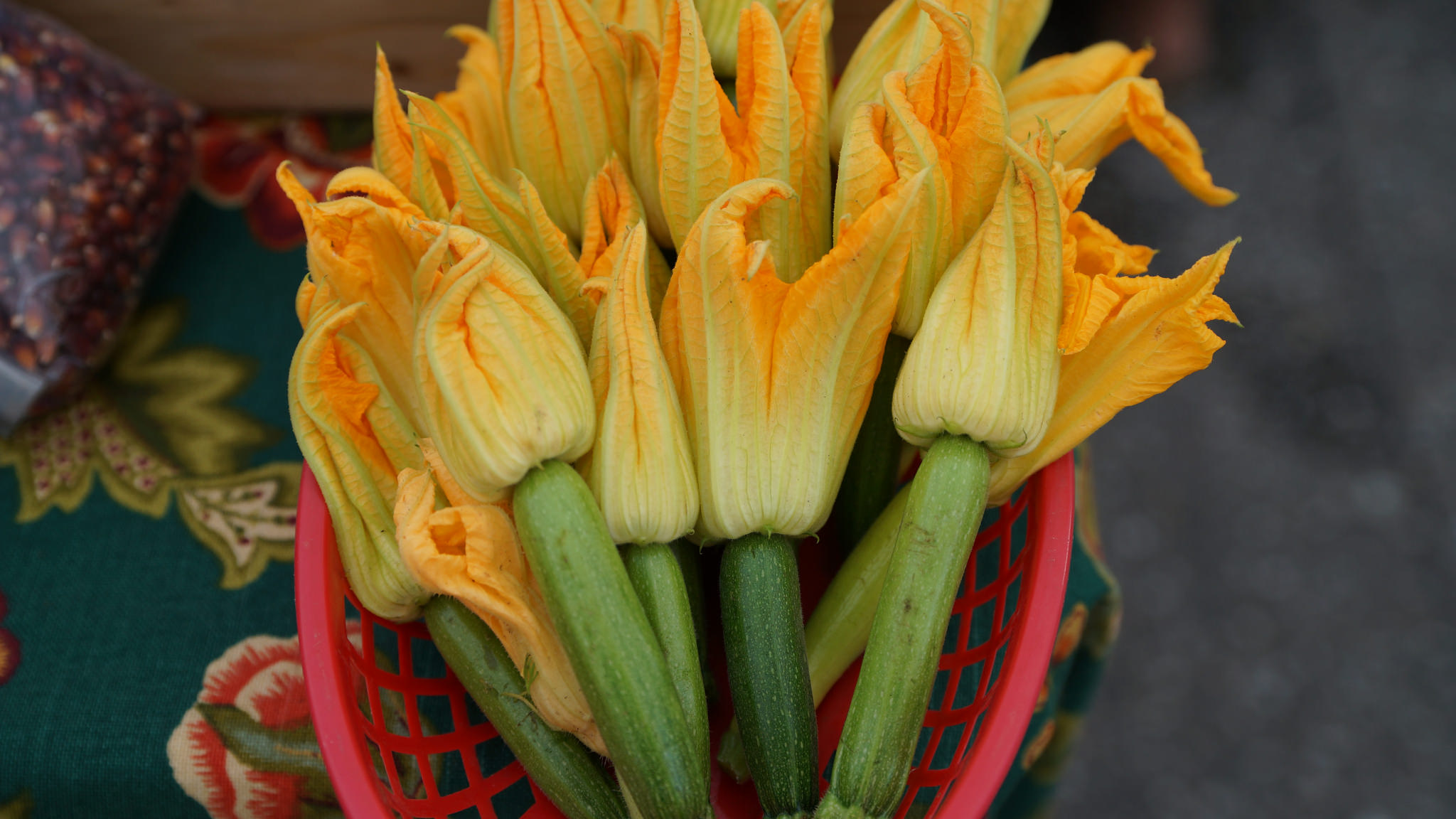 Try to find squash blossoms with the squash (zucchini) still attached for this recipe.
Robin in our Mill City Cooks Kitchen–cooking classes every Saturday at 10:30