This recipe comes from Twin Cities based board-certified holistic nutritionist Shahreen Ahmed, owner of of Happy Healthy Shahreen. Find more simple market recipes from Shahreen and shop along as she visits the market in her June Takeover available on our Instagram Highlights.
Note: If you don't have a food processor you can use a blendor or finely chop herbs and nuts with your knife and mix pesto ingredients by hand. Looking for something to do with your leftover pesto? Try Shahreen's recipe for Garlic Scape Pesto Toast.
Coho Salmon with Garlic Scape Pesto and Asparagus
---
Ingredients
2 small bunches garlic scapes (about a dozen scapes)
1 bunch basil (about a cup, unpacked)
1 bunch cilantro (about a cup, unpacked)
¼ cup pine nuts, or substitute other nut or seed
¼ cup Parmesan or similar style cheese
Juice from half a lemon
¼ cup plus 1 Tablespoon avocado oil, or substitute olive oil (separated)
Asparagus, woody ends removed
Coho Salmon from Wild Run Salmon
Instructions
First, wash you herbs by placing them in a bowl of water. Shake the leaves in the water to remove any dirt and remove from water before draining it. Place herbs on a clean towel and pat dry. Next, roughly chop garlic scapes and herbs into 1-2″ pieces and add to food processor. Add pine nuts, Parmesan, lemon juice, and ¼ cup avocado oil and puree until desired consistency.
Next, steam in the asparagus by filling a frying pan with ½ an inch of water. Bring water to a simmer and add asparagus. Cook for 3-5 minutes until tender and season with salt and additional lemon juice if desired.
Lastly, cook your salmon. Rub your salmon with oil and season generously with salt. Bring a large pan, grill pan or traditional grill to medium-high heat and add salmon skin side down. Sear this side for 3-4 minutes and then flip and cook for an additional 1-2 minutes.
Serve by plating your salmon and steamed asparagus topped with a generous helping of garlic scape pesto.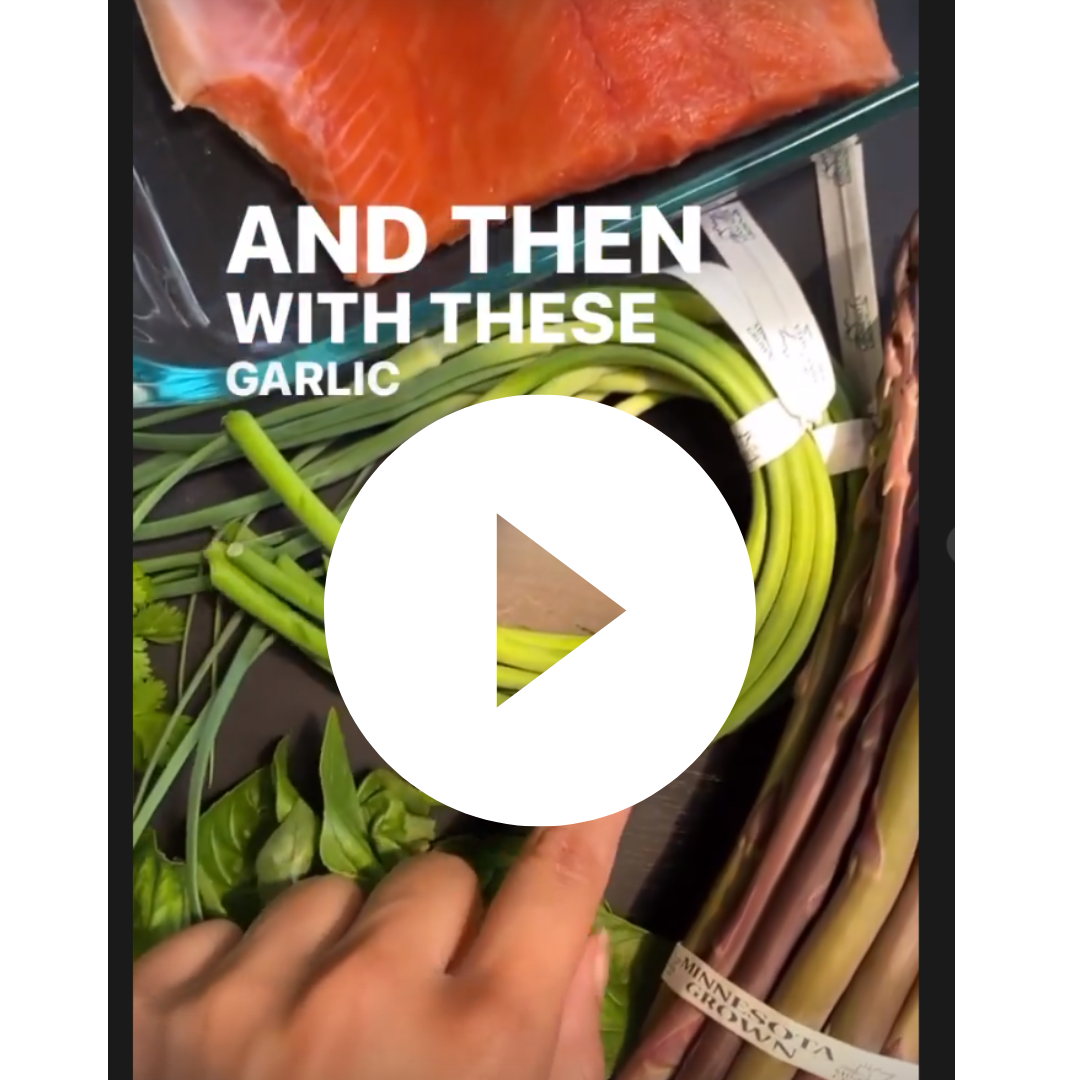 Watch along on our Instagram Highlights as Shahreen prepares this simple market meal!