If you're looking for a unique way to treat Mom (or Grandma!) to delicious food and all things local, look no further than the Mill City Farmers Market on Saturday, May 13th from 8 a.m. to 1 p.m. The Market, with over 55 food artisans, growers and artists, is Minneapolis' trusted source for local and organic food, and also the best place to find unique ceramics and jewelry, family activities and all the items you need for a beautiful Sunday brunch. Read through the top 10 ways to celebrate Mom at the market below!
1. Art Market
Find something special for mom. Shop for handmade jewelry, ceramics and other artisan goods in our weekly rotating art market, located in the train shed near the entrance to the Museum. This week we are featuring Hat Make, Crankosaurus Press hand-printed linens, Adam Gruetzmacher ceramics, Annika Kaplan Jewelry, Old World Cabinet woodworking, market baskets from Jeanne Beatrice, Peruvian weaving from ArtAndes and upcycled apparel from Sassy Knitwear.

2 Family Activities
Mother's Day weekend at the market is packed with family activities!  All day in the Mill City Cooks kids area, the market's youngest shoppers can make a newspaper flower pots and plant them with herbs and flowers for Mom. Also, Mini Farm is in this week! Meet sheep and chickens and learn about life on a pioneer farm with Oliver Kelley Farm. Additionally, the Power of Produce veggie tasting club is at the information tent every Saturday! Kids ages 3-12 can earn a $2 token to spend on fruits and veggies by tasting a local, seasonal vegetable, as a way to empower kids to make healthy eating decisions. Learn more.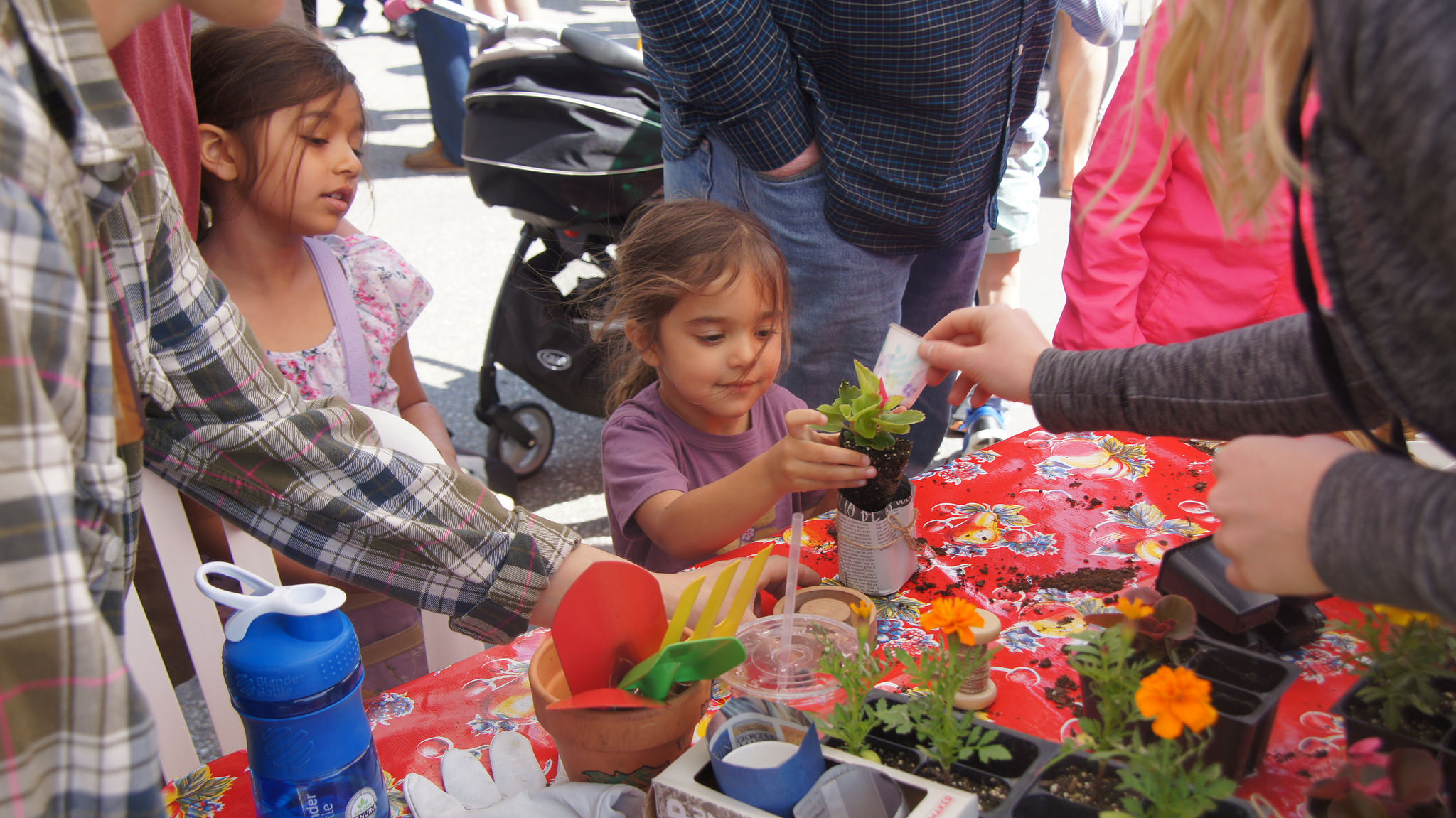 3 Cooking Demo
Learn to cook a market meals for Mom in our free, chef-led cooking demo, Mill City Cooks, in the train shed patio at 10:30. This Saturday, market chef Jenny Breen will be cooking up a spring menu using ingredients from the market. Plus, our kids' tables at the demo always feature coloring sheets and other engaging activities, giving adults some free time to relax with a cup of coffee and learn tips and easy seasonal recipes from our market chefs. Samples and recipe cards are available at each demo—or check out our recipe archive!

4 Gift of Local Food
If your Mom loves organic and local food, make her a Friend of the Market this Mother's Day! For $40, she'll receive weekly specials from our vendors, $10 in tokens and will be supporting our educational programming. Learn more! Additionally, market tokens are available as gifts at the information booth on Saturday. They spend just like gift cards at any of the market's vendors.
5 Fresh Flower Arrangements
Bryan and Harrold of Gold Finch Flower Farm will have the best of this spring's blooms at market on Saturday, and will be creating dozens of individual arrangements to take home to Mom! Choose from gorgeous, naturally grown tulips, daffodils, lilacs, bleeding heart, cherry blossoms, willows and more.
6 Roe Family Singers
From 11 a.m. to 1 p.m. enjoy live music from the Roe Family Singers, a "good-time, Hillbilly band from the Mississippi-headwaters community of Kirkwood Hollow, MN." Led by wife & husband Kim Roe (Best Female Vocalist, City Pages/Village Voice) and Quillan Roe (Accident Clearinghouse), the band blends characteristic old-time sound with rock & roll urgency and influence. You'll also hear sounds from tap dancers, washboards and other unique instruments!
7 All-Natural Body Products
Treat your mom (or yourself!) to some natural body products from the market! Olsen Naturals has handmade soaps, cleansers, toners and salves. Plus, find beeswax lip balms and moisturizers from Worker B and Ames Farm.
8 Sweet Treats
If your Mom (Or anyone in your crew!) loves baked goods, be sure to check out the local bakeries at the market. Find delicious pastries at Salty Tart, beautiful macarons at Solomon's Bakery, and a huge selection of focaccias, banana breads, muffins and more at Heritage Breads. If that isn't enough sweets, be sure to pick up a beautiful gift pack of French Nugget chocolates in coffee, sea salt or lavender.
9 Ask a Master Gardener
Make mom's garden pop this year with organic herbs and flowers! Our farmers will have hanging baskets, herb and vegetable plants and some perennials. Plus, get your spring gardening questions answered and learn some tips for planting an urban garden (or patio pots!) from Master Gardener volunteers at their booth on the top of the Chicago Mall.
10 Groceries for Brunch
Honor mom with a family brunch. Browse our recipe archives to find easy recipes for seasonal asparagus, eggs, farmstead cheeses, morels, pasture-raised meat, rhubarb, ramps and spring greens. Don't forget to pick up some family-sourced Cafe Palmira coffee beans or Mrs. Kelly's Tea to go with the meal!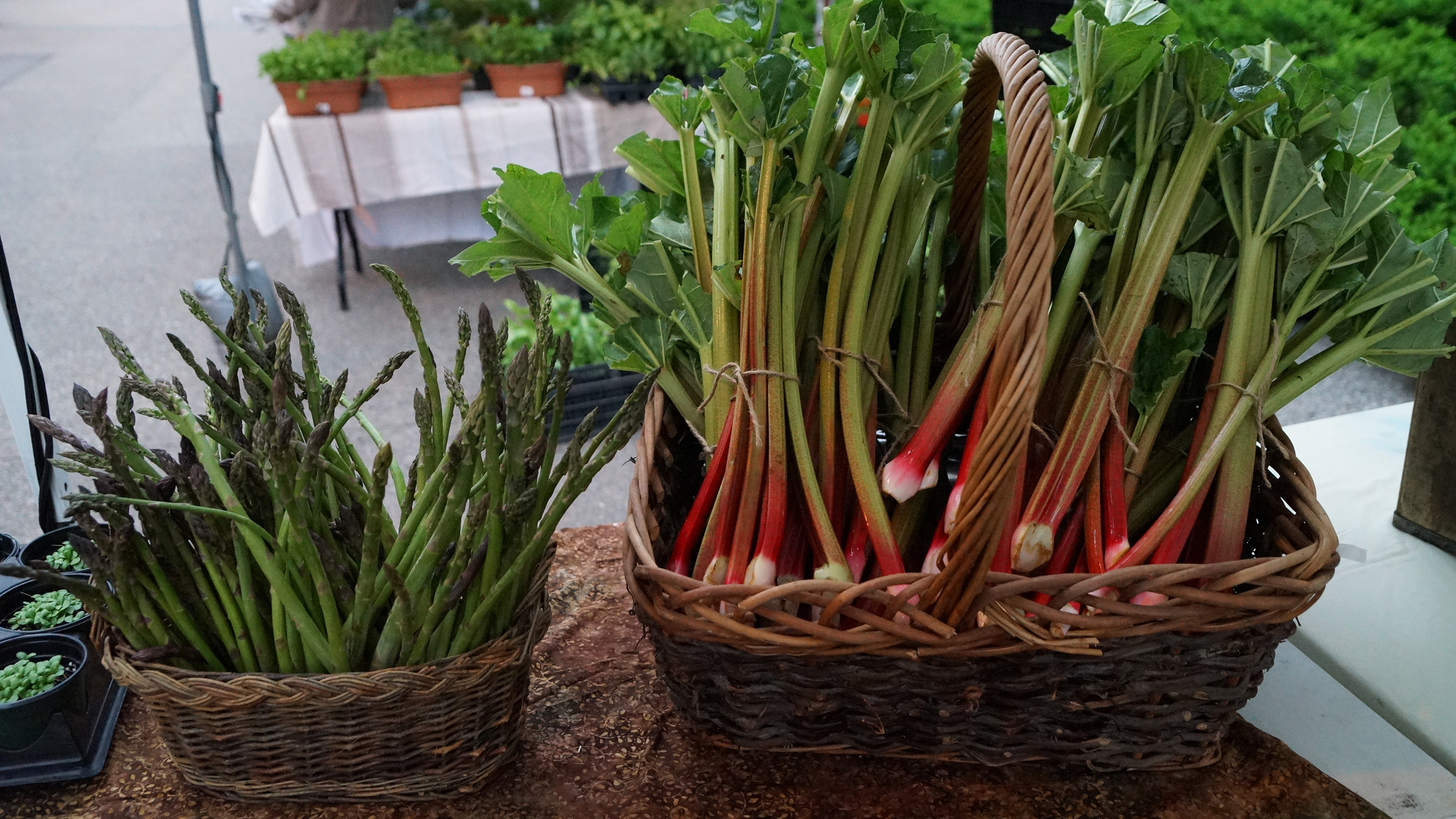 For more event information and a complete list of vendors at the Market on May 13, click here.