Looking to recreate some of the recipe's from 2021 Harvest Social at home? This recipe from Market Chef Jenny Breen is ideal for late summer and fall harvests of zucchini and sweet corn and pairs beautifully with Chef Nettie's Trio of Sauces (recipe coming soon).
Did you know that we source food for our annual fundraiser dinner from Mill City Farmers Market farmers and makers? Thank you to all those who donated!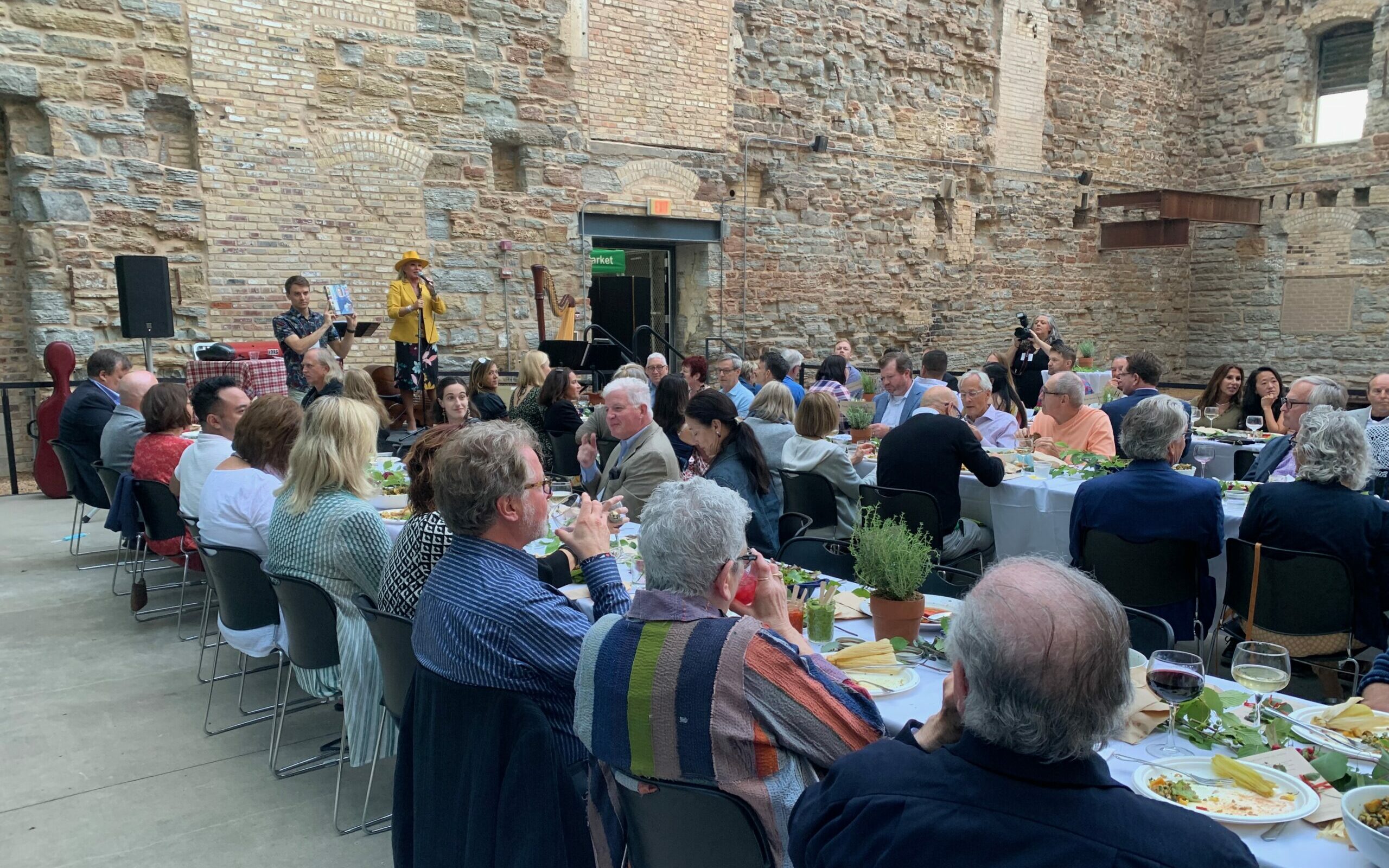 Guests at the 2021 Harvest Social Dinner.
Corn and Zucchini Fritters
---
Ingredients
2 cups shredded zucchini, about 2 medium-size zucchini
2-3 cups corn kernels, cut from about 2 ears
¾ cup chopped green onions, about 6 green onions or 1/2 yellow onion, minced
3 garlic cloves, minced
1 cup chickpea flour
1/4 cup cornmeal
2 eggs
1/2 cup buttermilk or yogurt (optional, omit if dairy free)
2 teaspoons ground cumin
1 Tablespoon fresh or 1 teaspoon dried thyme
1 teaspoon salt & pepper
Water to proper consistency
High heat oil like sunflower or avocado oil
Harvest Social Trio of Sauces, salsa, sour cream, and/or avocado (optional for serving)
Instructions
In a large bowl, combine shredded zucchini, corn, green onions, eggs, buttermilk (or water), garlic, cumin, oregano, thyme, salt & pepper. Stir together until well combined. Add chickpea flour and cornmeal and mix well. Allow to sit for at least 5 minutes. This step is important because the flour will absorb the moisture from the zucchini and create
a batter.
Warm a large skillet over medium heat. Grease with preferred cooking oil then scoop out 1/4 cup of the zucchini mixture at a time into the skillet-an ice cream scoop works well for this. Cook for about 3-5 minutes allowing the fritters to firm up and become brown before flipping. Serve warm with the Harvest Social Trio of Sauces, salsa, sour cream,  and/or avocado.