Congratulations to Mill City Farmers Market Charitable Fund's 2021 Next Stage Grant awardees!
The Next Stage Grant program provides funding to local, regenerative farmers and other food makers who are improving sustainable farming and business practices or growing toward the "next stage" of their businesses.
In 2021 we awarded 15 grants totaling $73,415 to support local farmers and other vendors at farmers markets throughout the region. As farmers wrap up their 2021 projects, you can read more about this year's grantees and their projects below.
The Next Stage Grant program is funded through community support. Your donation directly supports local farmers in researching, testing and implementing sustainable farming practices, provides help in times of extreme hardship and makes a lasting community and environmental impact. Support the Next Stage Grant program by making a donation today.
---
2021 Next Stage Grant Awardees:
Owners of Bean Market, Xai Lor and Tongsee Xiong.
Vegetable market farm in Rosemont, MN
Grant awarded to purchase a tractor for mechanical cultivation on their 9-acre farm. The tractor helped improve efficiencies and greatly reduced labor required to prep fields for planting.
Having access to machinery that reduces the physical toll of farming. For example, prepping vegetable beds with the tractor rather than with shovels will not only create more uniform rows that grow better crops, but also help keep Xai and Tongsee farming and selling at farmers markets longer with greater quality of life.
Certified organic vegetable CSA and market farm in Milaca, MN
Reasearching seed production techniques to diversify farm products and provide more regionally specific seed with grant award.

Owners of Dawn2Dusk Farm, Moses and Lonah Momanyi. Photo from their project's co-funder, Lakewinds Organic Field Fund
Certified organic vegetable market farm in Cambridge, MN
Grant awarded to purchase a tractor for mechanical cultivation on their 15-acre farm. The tractor supported the farm's work cover cropping fields with winter rye for soil health.
Learn more in this video, from the project's co-funder Lakewinds Organic Field Fund
"As organic farmers, one of our goals has been to build the soils on this farm. We have made some progress but on a limited scale. We have been adding compost on the areas we grow crops and leaving the rest fallowed since 2014. However, fallowed sections have not had enough soil cover to make any significant change to soil health. Attempts to broadcast cover crop seed has also been unsuccessful. Thanks to you, in 2021, we have finally been able to grow cover crop on fallowed areas because we now have a new tractor, no till drill, and a roller crimper do it." -Moses Momanyi
Certified organic vegetable market farm in Zumbro Falls, MN
The farm's original grant project was to construct a "fieldhouse greenhouse" heated by sunlight and thermal energy for extending the season of tomatoes and other high-value crops. However, after a devastating fire in May destroyed the farm's main starter greenhouse and pack shed, the new priority became rebuilding those.
Hannah and Daniel were able to pivot the project and use construction materials originally slated for the fieldhouse greenhouse to rebuild their main greenhouse after the fire. Without a greenhouse to start seeds and young plants, it is extremely challenging for a vegetable farm to operate profitably in our climate.
"Being able to use the grant funds for our rebuild project was a huge benefit to us mentally knowing that we would have the financial ability to proceed and gave us peace of mind. We were so grateful to the Next Stage Grant program that they allowed us to use our grant to help rebuild after our fire." – Daniel Miller
Jane Windsperger and her family, confidently planting new crops knowing there is irrigation at her farm Gedef
Gedef
Vegetable market farm in Ogilvie, MN
With the grant award, Jane was able to hire a constractor to drill a well for irrigation on her new farmland. As a farmer scaling up from rented land to her own property, having access to utilities is key to successful farming, especially in a season with so much drought and heat stress.
"With the well, I was able to grow enough for myself and my family plus my community. I was able to donate produce to the Kenyan community and sell to The Good Acre. I am very grateful for Mill City assisting me with the well. Now I know that come next planting season, I am not afraid to plant more, fearing my plants will die." -Jane Windsperger
Hang Family Farm
Vegetable market farm in Hastings, MN
Grant awarded to plant an orchard at the Hmong American Farmers Association farm to demonstrate perennial fruit farming techniques for emerging farmers and to create a U-Pick orchard where BIPOC customers will feel welcome.
Due to supply chain issues, Pakou was unable to order bare root fruit trees in the spring so she spent the season planning and will be planting in spring of 2022. Pakou noted she was grateful to have extra time to research permaculture planting techniques, which she plans to integrate into the orchard.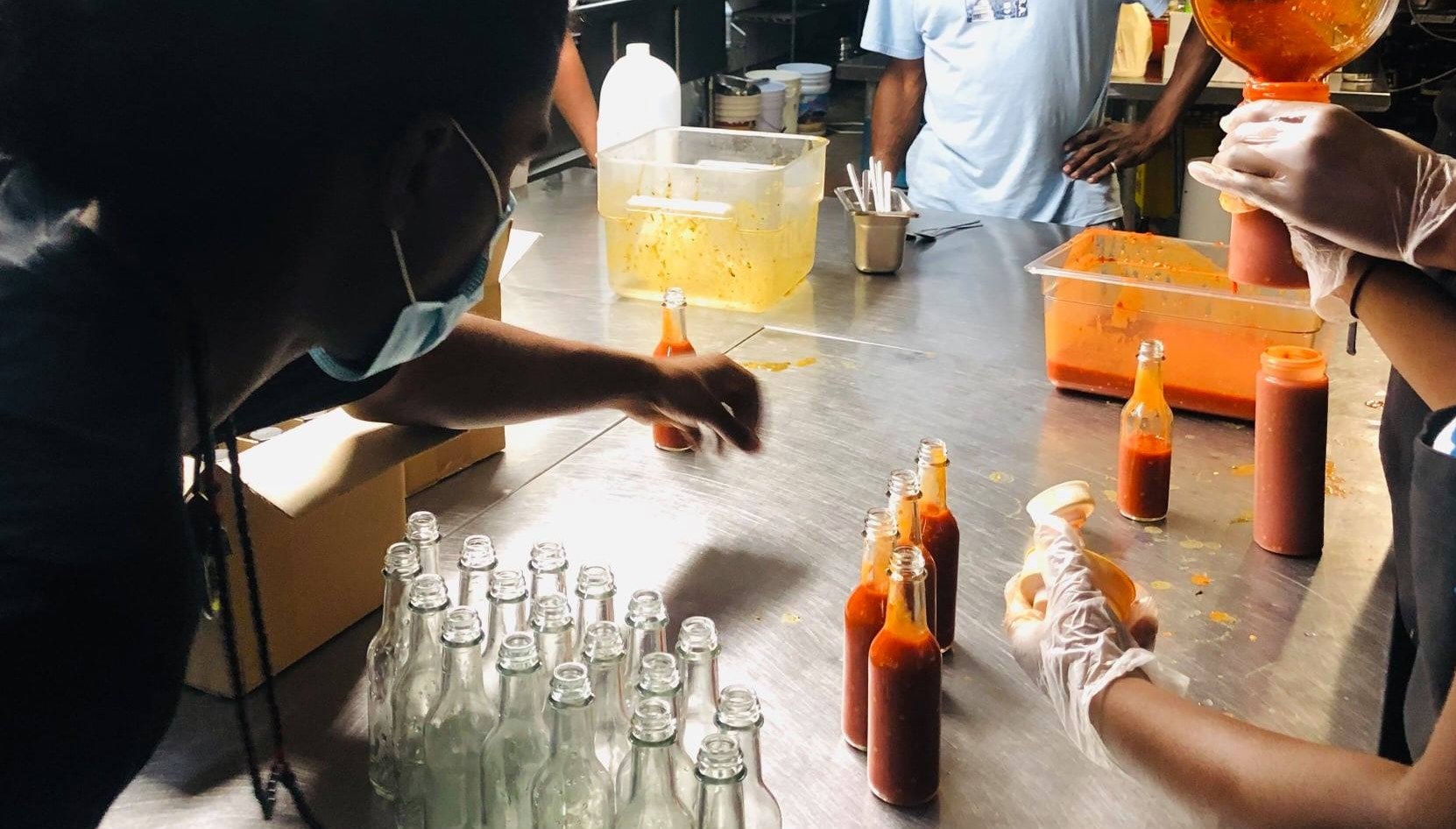 Bottling hot sauce made with peppers from Karbin Based Farm and Market.
Karbin Based Farm & Market
Twin Cities based vegetable growing and value-added product enterprise rooted in principles of environmental justice, food security, and sovereignty
Grant awarded to support the scaling up of the farm with tools and equipment for improved efficiencies at their new growing plot in Carver, MN.
With more efficient vegetable production, Zach was able to scale up his hot sauce enterprise made with peppers from the farm. In 2021, he sold at Northeast Farmers Market, various holiday pop-ups and a few wholesale markets under the brand Off Type Sauce and Spice.
Certified organic vegetable market farm in Oak Grove, MN
Grant awarded to help fund a mobile chicken coop to improve soil health and increase farm profitability with organic egg production.
 In addition to a protected space to raise laying hens, Lakisha was successful at creating a new enterprise, and applied to sell organic eggs in addition to vegetables at Mill City Farmers Market.
The new fence that surrounds Mhonpaj's Garden Hugo location.
Certified organic vegetable CSA and market farm in Hugo, Marine on St. Croix and Stillwater in Minnesota.
Grant awarded to build a fence around newly aquired farm land to prevent deer damage to vegetable crops.
Learn more in this video, from the project's co-funder Lakewinds Organic Field Fund
Diverse vegetable and livestock CSA and market farm in Hager City, WI
Granted awarded to purchase milk bottling equipment to diversify products of the farm with fresh cows' milk. After purchasing equipment the farm became licensed for milk and yogurt in April and began selling those products in May to their CSA customers, on-farm sales, and wholesale to Whole Earth Market coop in River Falls, and to two small bakeries in Stockholm, Wisconsin.
"Our goal for 2021 was to gross $10K from milk and yogurt sales, and we were pleased and excited to reach this goal in mid-December. While it will take a couple years for this enterprise to become fully profitable, our budget projections for the 2022 season are looking promising and we are satisfied with the enterprise's progress. Adding $10-20K in annual income gives us much more flexibility in hiring labor on the farm side of the business for the coming year, which in turn will allow us more time to spend on creamery work and also more time for our growing family." – Cella Langer
Flower CSA and market farm in Milaca, MN
Grant awarded to purchase equipment that will improve efficiencies in field preparation, planting methods, and
weed management reducing labor and work time, including a bed preparation rake, jang push seeder, wheel hoe, and 3- tooth cultivator.
"Bed preparation, especially 'bed flipping' (pulling out spent crop and replanting) has been made significantly more efficient. I estimate I am spending 50% less time on these tasks when I am using the wheel hoe, bed preparation rake, and jang push seeder," explains Rachel. Additionally, "We have especially reduced physical labor in bed preparation and weeding, with much less 'hands and knees' time and at least 50% more time spent in comfortable upright positions using tools."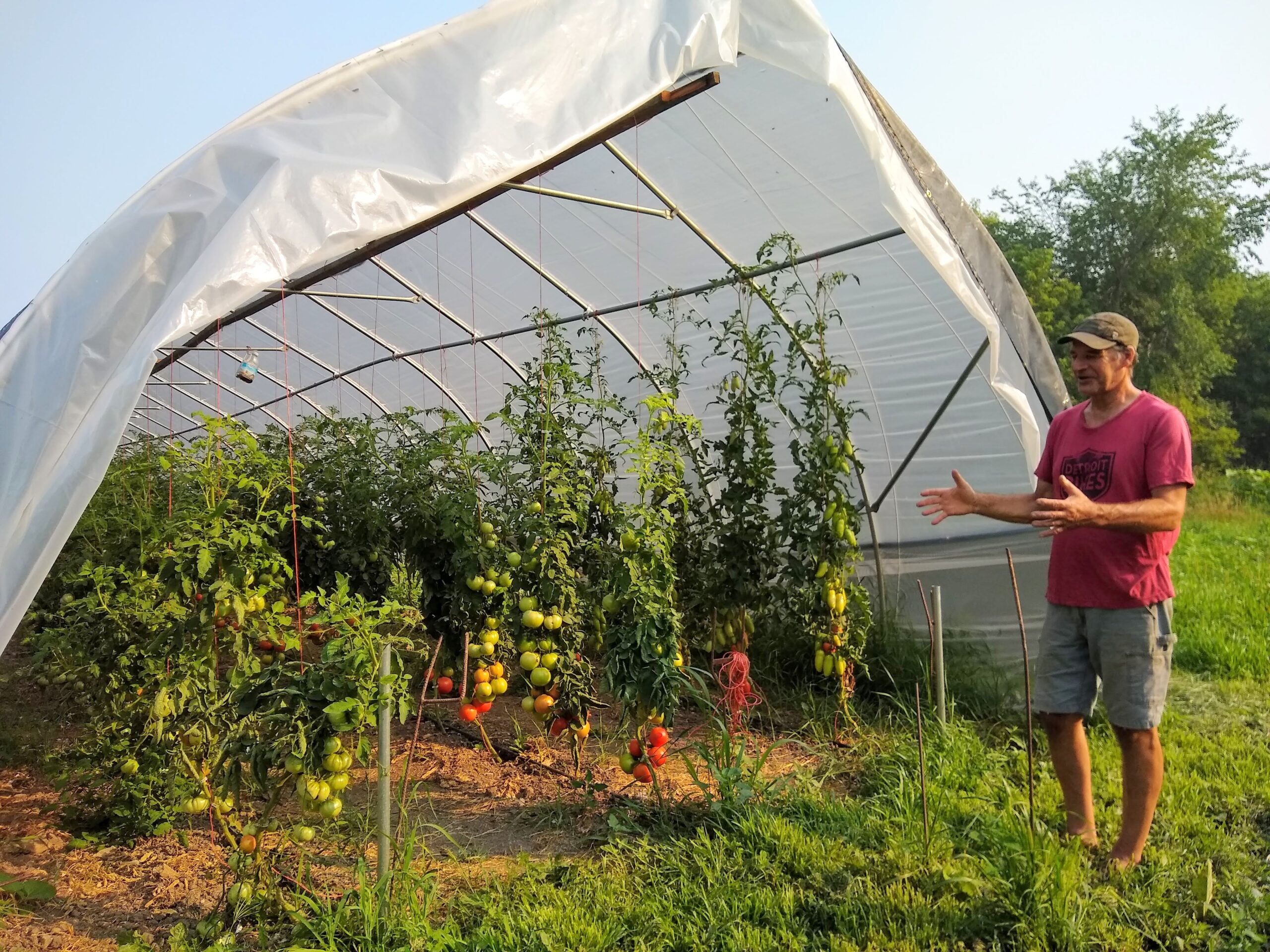 Jeff Nistler showing us the new greenhouse full of tomatoes.
Vegetable market farm in Maple Plain, MN
Constructed a heated greenhouse for season extension and increased tomato production with the grant award. Jeff was able to increase tomato production, despite this season's cold spring and dry summer, harvesting over 500lbs a week at peak season.
The extra greenhouse not only allows for season extension in the colder months, but also gives Jeff the ability to protect crops with shade cloth to prevent heat stress. This ability to control growing conditions will help the farm navigate the effects of our changing climate.
Learn more in our blog post from our visit to Nistler Farms in August
Certified organic diverse fruit, vegetable and livestock market farm and U-Pick orchard in River Falls, WI
With the grant award, Rising Sun Farm & Orchard invested in perennial plantings for pasture soil health and erosion control, and successfully installed 12 blueberry plants, 24 honeyberrys, 24 hazel nut trees, and 15 elderberry plants.
Additionally, Lindsey and Ryan started rotating their sheep and chickens between the planted rows on the pasture grass. As the trees and bushes get bigger and produce fruit, this will be an added food source for those animals.
Jodi Ohlsen Read and Steven Read of Shepherd's Way Farm with their new bottled milk.
Sheep dairy and cheese producers in Nerstrand, MN
Granted awarded to purchase milk bottling equipment to diversify products of the farm with fresh sheeps' milk.
Steven and Jodi began bottling their sheeps milk in late summer 2021, and it is now available at the Mill City Farmers Market.
Certified organic vegetable market farm in Maplewood, MN
Grant awarded to purchase a plastic mulch lifter and winder tractor implement, to ease the labor involved in this form of organic weed and moisture control. Wa Kou said that removing plastic mulch  on 1.5 acres used to take 7 people 5 days, but now they can do it with 2 people in 8 hours, saving the farm $3,000 in labor in just one season!
"Having this plastic lifter can help me and my farm team to clean up the field faster than last year. It allowed me the time to work on other farm projects, to be with my family members, and get to relax earlier." – Wa Kou Hang
See how it works in this video from Twin Cities Green's Facebook page
Next Stage Grant applications are open January to early March and are awarded in April each year. The grant program is sustained through the generosity of the market community. We are honored to be stewards of this program.