Winter squash is up there with pumpkin spice and sweater weather when it comes to the highlights of fall and winter. There are almost countless varieties of beautiful shapes and colors of these locally grown treasures, but such large and tough-skinned vegetables can also be intimidating. Let's break down what you need to know about selection, storage, preparation, nutrition and a bit about one of the Minnesota farms where winter squash is grown to get you ready for the season!
Selection
Each variety of squash has its own distinct shape, color and size, but most share a somewhat-nutty, sweet flavor. Buying squash at farmers markets is a great way to get to know new varieties, since you can talk directly to expert growers who can recommend the best squash for your recipe. In general, choose small-to-medium size squash that feel heavy for their size. Squash dries out and loses weight over time, resulting in less desirable flavor and texture. As an example, acorn and butternut squash should weigh about two pounds for the richest flavor. Small scratches and blemishes are completely fine, but avoid squash with dark or soft spots, which are signs of rot.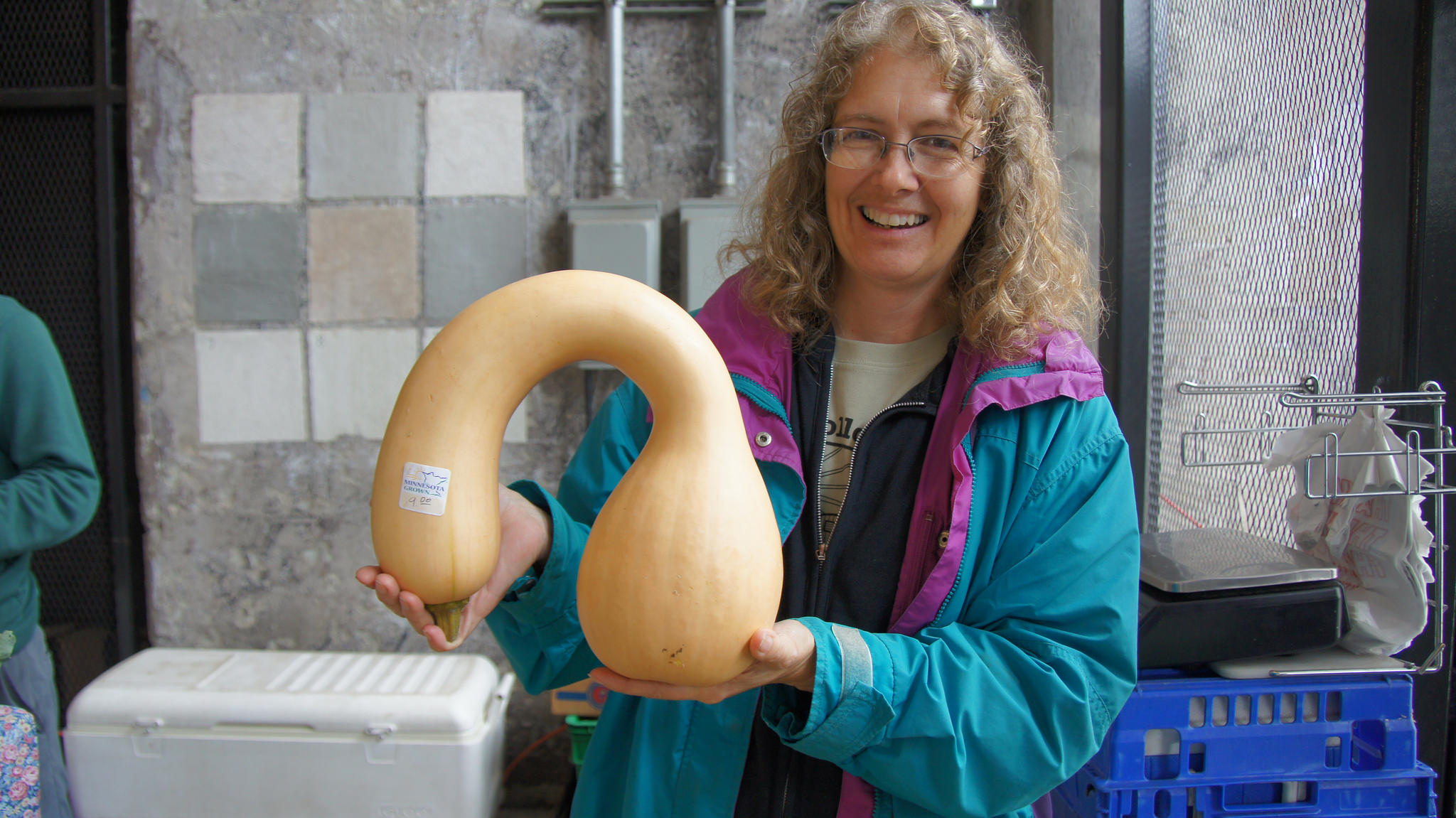 Pam Benike, owner of Prairie Hollow Farm, with an unusually crooked butternut squash.
Storage
Winter squash will keep for several months in a cool area of your house (think pioneer-time vegetable cellar). You may have seen Market Founder Brenda Langton's stash of squash from Nistler Farms in the cool entrance vestibule of her restaurant, Spoonriver, pictured below.
Preparation
There are probably as many ways to prepare winter squash as there are varieties, but they all start with the same simple steps:
1. Scrub the squash under running water to remove any dirt.
2. Use a large, sharp knife to remove the knobby stem (if present)
3. Cut the squash in half by inserting the tip of the knife firmly and cutting through the squash lengthwise (like you would with a large watermelon).
4. Use a spoon to scoop out the seeds and compost them.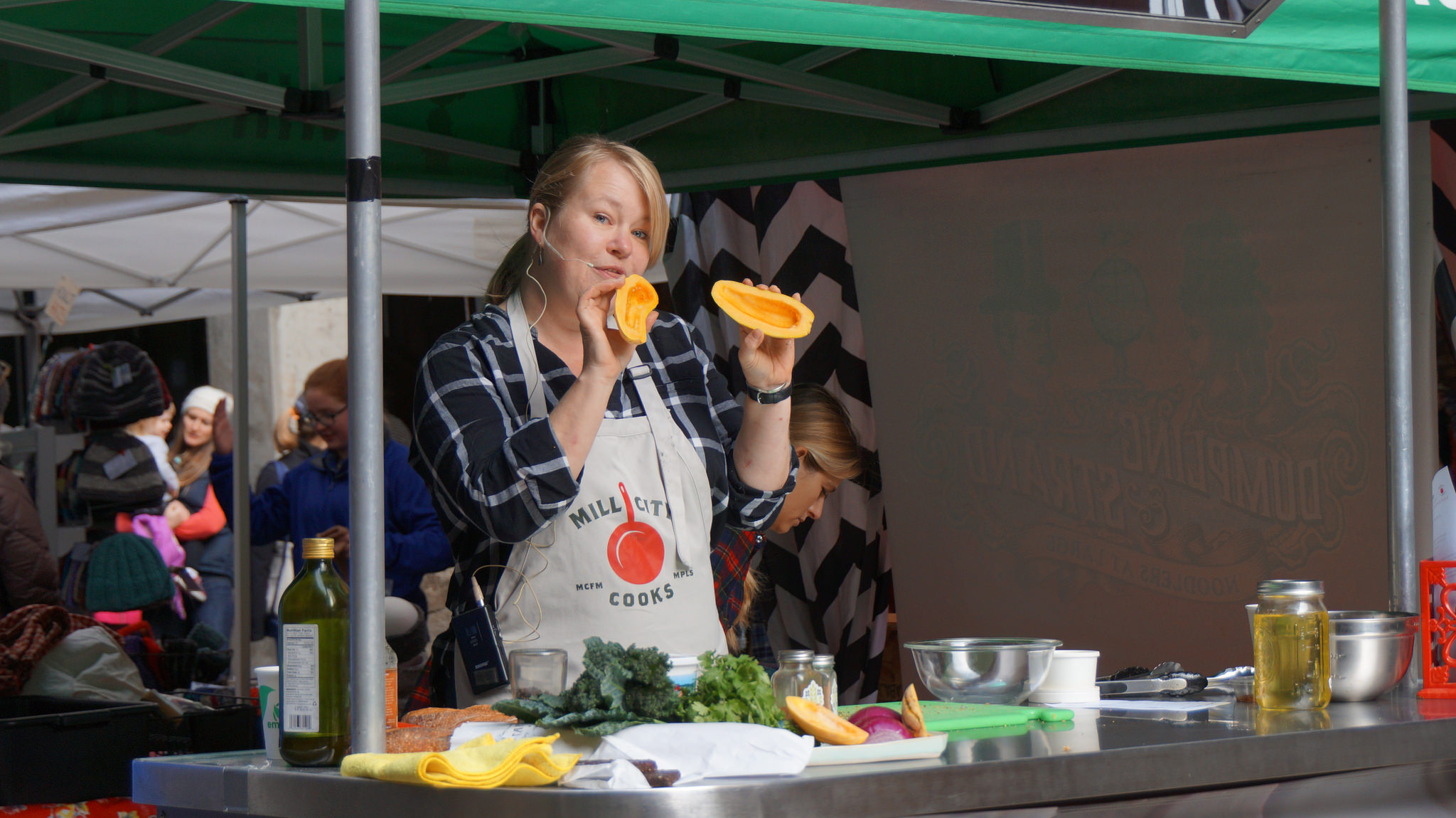 Beth Jones removing seeds from a delicata squash at the Market's weekly cooking demo.
At this point, depending on what you are making, it is time to choose your own adventure. You can simply roast the two halves, cut side down on a baking sheet at 375 until tender (about 30 – 40 minutes). Or, for faster cooking, you can cube the squash or cut it into half moons before roasting, sauteeing, boiling or steaming. Unlike almost every recipe recommends, you do not need to peel winter squash—unless you are working with extremely tough skinned varieties like red kuri or pumpkins. Butternut, delicata and acorn squash do not need to be peeled—in fact, the peels add great color, fiber and texture to recipes!
Mill City Farmers Market has over 20 healthy recipes for squash in our recipe archives, ranging from soups to pasta dishes to salads and snacks!
Nutrition
Did you know that a half cup of cubed winter squash contains only 40 calories and is an excellent source of vitamin A (110% of your daily value), vitamin C (15%) and fiber (12%). Also, the fiber in winter squash (especially in the skin!) helps slow down the rise in blood glucose in your body, helping to prevent tiredness often felt after a meal.
Growers
One of the many farms growing winter squash in Minnesota is Dawn2Dusk Farm, a certified-organic vegetable farm that sells at the Mill City Farmers Market year round. Located 40 miles north of Minneapolis in Cambridge, the 20-acre farm is owned by Moses Momanyi and his wife Lonah Onyancha. Moses got his start in agriculture early as a boy in Kenya, growing up on his family's farm. Despite studying accounting in college, when he moved to the United States in 2004, he knew he wanted to go back to farming. Dawn2Dusk Farm started as a plot of rented land near Amery, WI and now, over 10 years later, Moses and Lonah have 5-acres in certified organic cultivation, livestock, two greenhouses and live on their farm with their two children.
Lonah and her daughter Faith at the indoor winter market.
In addition to several varieties of winter squash including delicata, butternut and acorn, Moses and Lonah will bring more fall favorites like sweet potatoes, garlic, onions, carrots and baby greens to the indoor winter market this Saturday, November 10th inside the Mill City Museum (no admission required). You will be able to shop from over 40 local farmers, food makers and artists for weekly groceries, unique handmade gifts and holiday meals! Click here to learn more.
Red kuri, a Japanese variety of squash that is very sweet like butternut.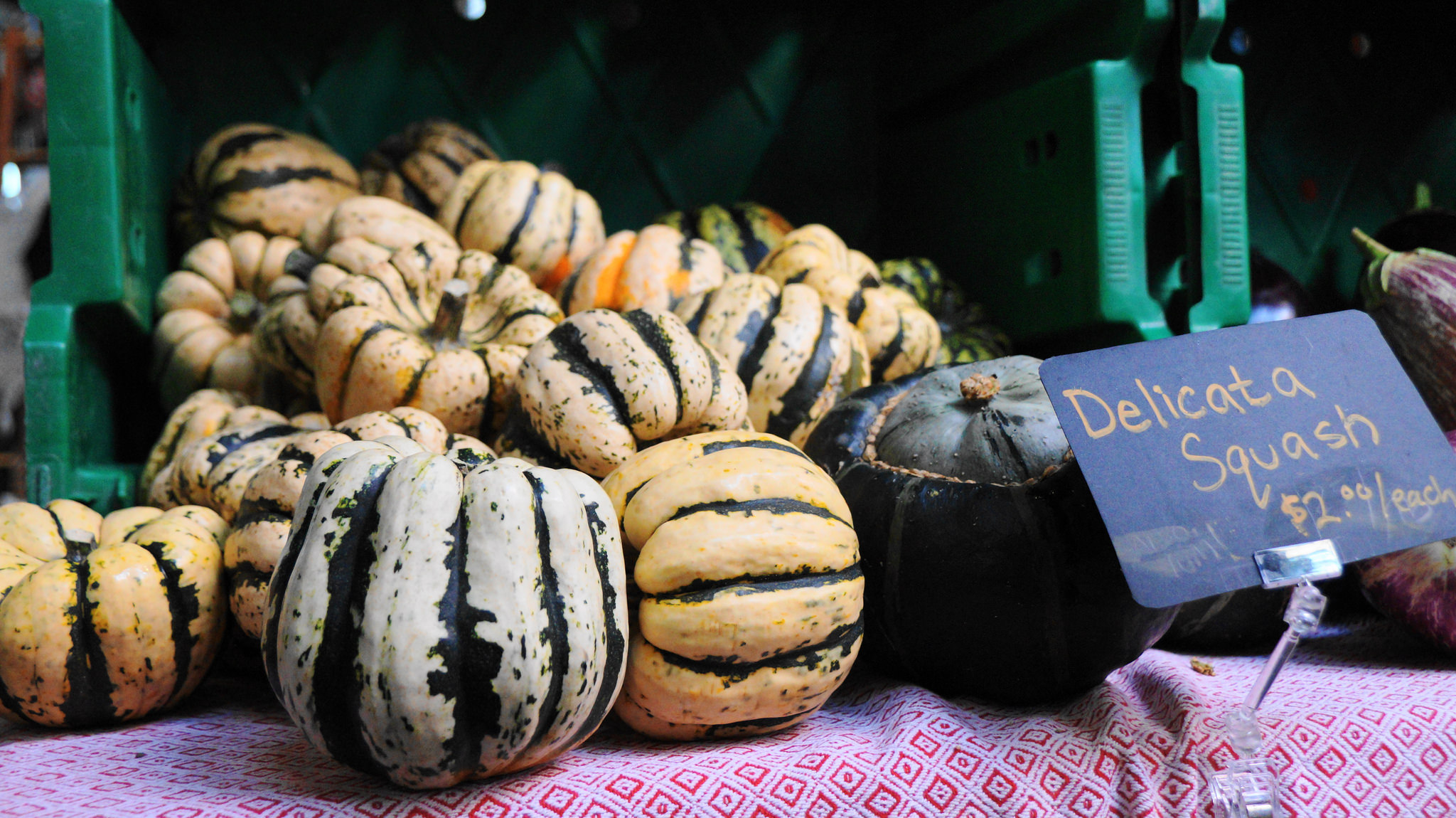 Delicata is a great little squash with a thin peel–a perfect side dish for two!
Questions? Tips for cooking with winter squash? Please leave them in our new comment section below!