How Mill City Farmers Market vendor Vikings & Goddesses Pie Company is working to change the culture in the restaurant industry through the seemingly innocuous vehicle of pie.
By Mecca Bos
---
When Rachel Anderson read a New York Times op ed written by the late Babbo pastry chef Gina DePalma, "Pastry Chefs Rule Their Realm Without Adulation," this part instantly resonated:
"Female pastry chefs have learned the bittersweet truth – the glowing accolades and adoring headlines don't land on us very often. Relying on them for a sense of pride and accomplishment or using their frequency to measure our worth in the industry is nonsense. We don't need to be told we're the gods or goddesses of the kitchen, because we are the Vikings."
It's a well known trope in the restaurant industry that the male chefs are the Gods, and the female pastry chefs, well, they're off in the shadows doing the sugary stuff. Pastry chefs rarely get the adulation, the star-ratings, and the magazine covers. And those pastry chefs are almost always women. Rachel knew the trope well, having banged out pastry at some of the Twin Cities most lauded restaurants. And, she decided, it was time to make some serious change– through the seemingly innocuous vehicle of pie.
Vikings & Goddesses' Key Lime, Honey Pie and Carrot Coconut Custard from the top clockwise
Brought up by a feminist mother and godmother who worked extra jobs to make ends meet while doing gender advocacy work on the side, and rarely getting props for what they did, Rachel was heavily influenced by watching how hard women work without getting acknowledged for that work.
She went to work for Vote, Run, Lead, a nonprofit that trains women to run for office in order to transform American Democracy. But when she was laid off, it was the cupcake bakery where she moonlighted that said, "We'll take care of you."
She stayed in the food business ever since, and when the pandemic hit, and when the small staff of pastry chefs that worked under her at Octo Fish Bar were laid off, this time it was Rachel who said, "I'll take care of you."
It was the motivation she needed to start her own business. Enter Vikings & Goddesses, or "VAG" for short.
Another well known trope, if you've spent any time in the food business, is that restaurants are not exactly known for taking care of their people when the going gets rough. Rachel said when she inquired at various interviews about maternity leave, none had a good answer. Now, Vikings & Goddesses is providing paid maternity leave to its all women staff, and offering their staff microbusiness opportunities through the Vikings brand, with one hundred percent of profits going to the maker.
And, the pie is righteous, too.
The recipes are about simplicity– the simplest things often being the hardest to nail. "If you do one thing incorrectly, it all falls apart." It's the challenge the crew takes into the kitchen every day, with the focus of a Viking.
Locally milled flour from fellow Mill City Farmers Market vendor Baker's Field Flour & Bread and local creamery Hope Butter are the base for the signature crust that makes a Vikings pie what it is. Double-crust and hand pies are the biggest sellers.
Rachel Anderson with one of her newest products: frozen take-and-bake croissants.
Frozen croissants, a pandemic-friendly evolution, have become a surprise sleeper hit. Get them in plain or chocolate, pop one into the oven, and understand what it means to eat like a goddess from the comfort of home.
The future of Vikings & Goddesses is to propel staff to open their own bakery, whether it be a Vikings & Goddesses franchise or another concept.
"I recognize my privilege, and I want to use that for good."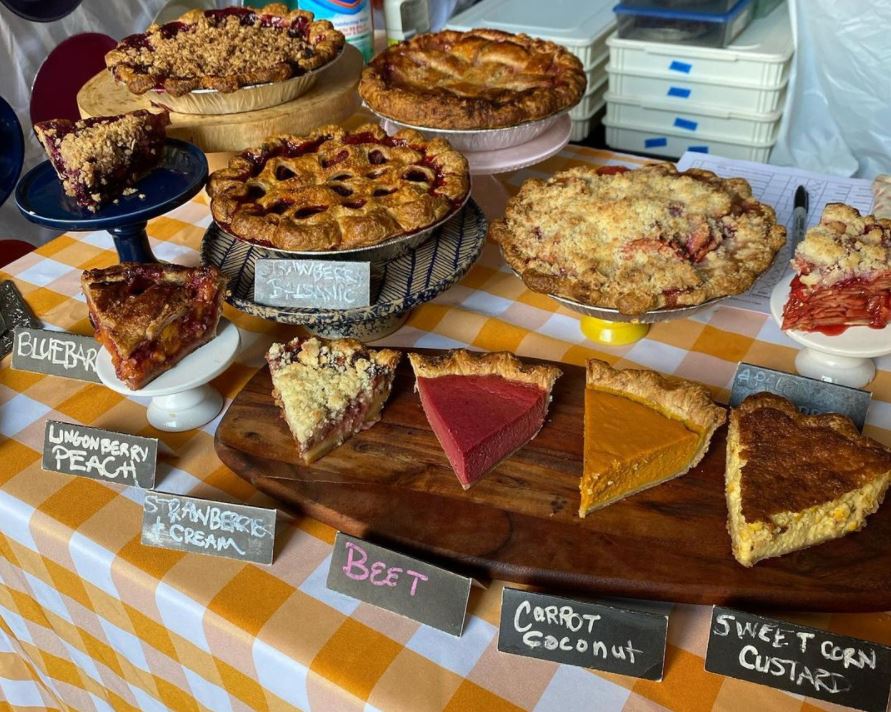 Vikings & Goddesses' display of seasonal pies at Mill City Farmers Market.
---
You can find whole pies, hand pies and pie by-the-slice from Rachel and her partner Yoji at Vikings & Goddesses Pie Company in the back of the train shed every Saturday. Pre-orders through their website are encouraged (but not required) as they often sell out.
Rachel, her partner Yoji and their pastry chefs Daniela, Daniela, Rosa and Adela at their bakery in St. Paul.