In 2022, Mill City Farmers Market welcomes a record number of new vendors, many of them founding their businesses during the pandemic as owners experienced layoffs in the food industry or chose to switch careers as part of the great resignation. Meet three of these entrepreneurs in our latest blog article from food writer Mecca Bos.
Curse, blessing, or silver lining, how Covid impacted three brave pandemic startups.
by Mecca Bos
---
What's your pandemic work story? The pandemic rocked most of our preconceived ideas of reality, and what we had previously taken for granted– and with that, our everyday hustle.
Whether taking stock of how to pay the rent meant doubling down on our careers of choice, telling our boss to take the job and shove it, or an unexpected furlough or layoff, work life fell roundly under a microscope as of March 2020.
But one sector of work life captured our attention like few others, and that's folks who decided to start a business during the pandemic. While it was difficult to put one foot in front of the other for some of us (raises hand) others were doing one of the most difficult things even in ordinary life– launching a business.
Three local food businesses who did just that– why, how, and how they're doing now:

Launching a business is one thing, but launching a business during a pandemic is another thing and launching a business with a new baby on the way is another thing altogether.
That's the situation Jonathan and Hang Janquet found themselves in as they were about to launch their Vietnamese Street Food business, Banh Sizzle.
Hang was born and raised in Vietnam and had trouble finding the dishes she loved with the flavor palates she had become accustomed to. According to her, a lot of Vietnamese restaurants in the US will change flavors to try and be more appealing to American tastes, such as reducing the amount of fish sauce.
"But this is the soul of Vietnamese cooking," she says.
She also wanted to replicate the experience of eating on the street in Vietnam, where ordering a dish involves all of your senses– you're able to watch your order get executed as well as smell and hear the sizzle– the namesake of their new startup.
"I want to see how the food is prepared," she explains. "I don't like it if I'm not watching, smelling, hearing it. It's something that makes the food taste better. You can feel the freshness."
Still, the couple say it was a difficult decision to launch during the pandemic– just as they were preparing to do so they found out they were pregnant, and they were unsure if being among the general public would be safe for Hang. They postponed for a time, but after Jonathan's hours were cut significantly at his job running a food truck, the two decided to just go for it.
"It was difficult to predict whether people would like it, but if we didn't try, how would we even know?"
Besides, Jonathan says, the farmer's market is a beloved weekend hang for their family, so giving their business a shot felt natural.
"It's where we would be, anyway."
Now, find them at Mill City Farmers Market with two new babies– the human and the business. You'll know their fresh Vietnamese street crepes if you follow the sound of the sizzle.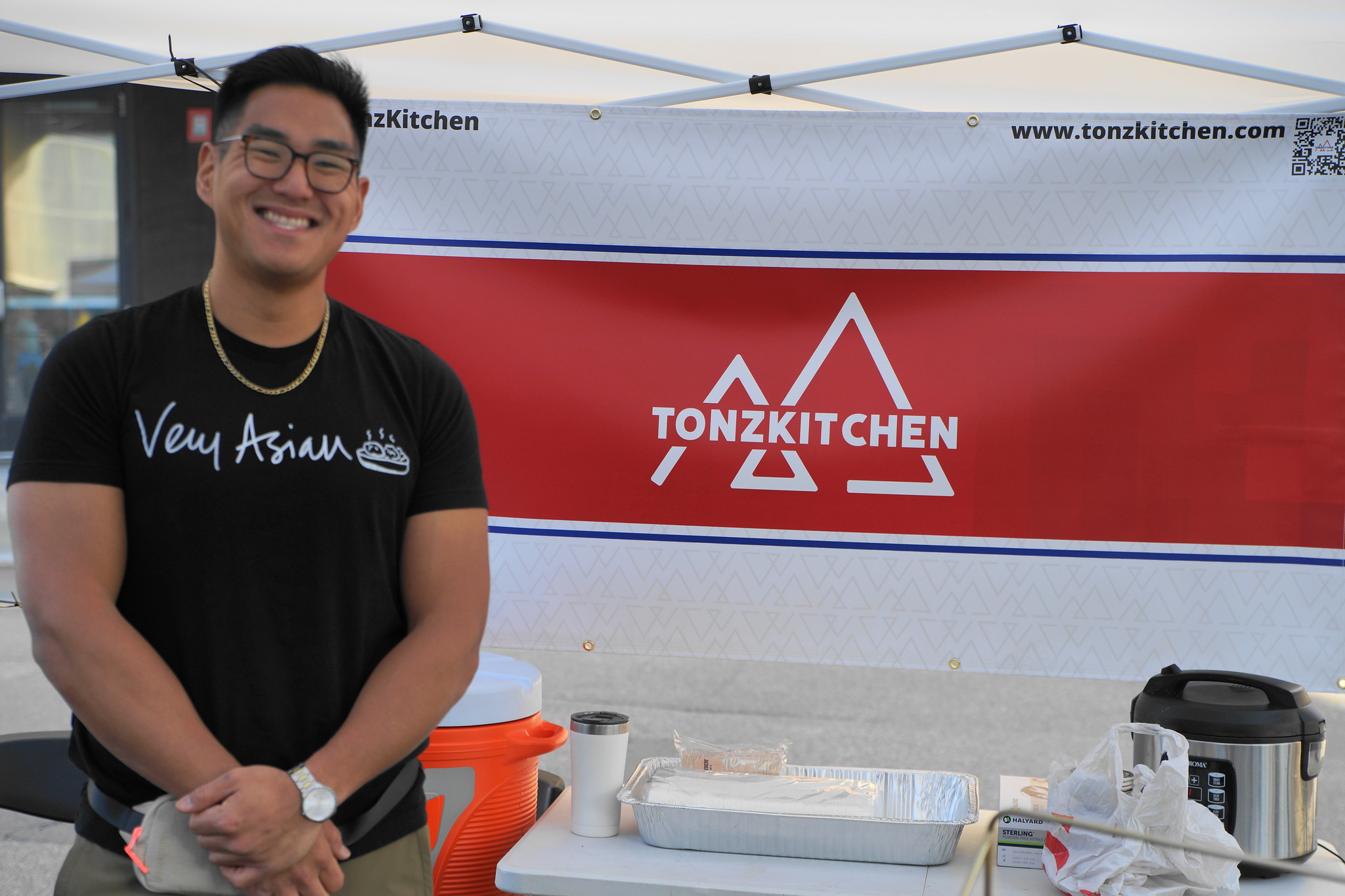 When Tony Scherber was a little boy, his adoptive mother did a good job of making sure he and his brother received access to their Korean culture, he says, and Tony was particularly attracted to a cookbook that she kept around. He knew he would eventually do something in the food world, but the long hours and low pay of restaurant work kept him away. He went on to work in the sports management industry, but a pandemic furlough gave him the push he needed to go back to his original professional dreams.
His mission is to spice up Midwestern food with a chili oil condiment better– or at least more unique– than any currently on the market. Tony said his garlic, shallot and szechuan chili-infused oil can enhance any dish at all from meat to eggs to just simply spooning it over rice for a simple meal of its own.
"It will give anything extra flavor and a little funk," he says.
He also thinks the condiment will resonate with other Korean adoptees who want to easily add East Asian flavors to Midwestern cooking.
He acknowledges that the pandemic has been a very stressful time, but that he took it as an opportunity to focus on some of his other professional strengths and he's grateful.
"Covid gave me an opportunity to learn. It was a blessing in disguise."
He's also excited to announce that he's been chosen to compete on a national television cooking competition, The Great American Recipe.
In the meantime, pick up some TonzKitchen chili oil at Mill City and when he's famous, you can say you knew him when.
When it gets late in Taiwan people reach for cold noodles made by street vendors– exactingly seasoned, super fresh, healthy, affordable, and refreshing. Ryan Shaffer and Sakina Boulaayoune couldn't find anything at all like it in the Twin Cities and very much wanted to open a restaurant showcasing the street food flavors of Taiwan.
The entrepreneurial couple– Ryan had spent his previous work life as a shoemaker in his family's business– put plans for a restaurant on hold when Covid hit– but not the noodles. Thanks to the Cottage Food Law, the two were able to slowly but surely launch the business from home, super helpful when everyone was quarantining and trying to stay safe.
"Jabà," in Taiwan, loosely translates to not just "Have you eaten yet?" But also, "Are you full?" And most pertinently: "How are you doing?"
It's literally a check-in to ensure wellness– the wellbeing that food brings. Ryan and Sakina started hand-delivering their super fresh noodles with julienne veggies, fried shallots, sauces and choice of protein (or vegan) to households in search of something great, different, and fresh during the pandemic.
They've since moved into the market, and some smaller shops like Lowry Hill Meat, Honey and Rye Bakery, and a handful of coffee shops. With the business growth, they've also moved into a commercial kitchen space and have expanded their line to include hot noodle soups and condiments.
The cold noodles– which they affectionately call "cool noods," get compared a lot to pasta salad, they say, but really they're a lot different. Customers apply their own condiments, close the container, and shake– the experience, and the freshness, closely mimics getting a dish made to order.
While they still have no plans to open a restaurant, they'd like to continue expanding and bring Taiwanese street food flavors to the Twin Cities, including dishes like flatbreads and sweet soups, which are like drinks served warm.
In Taiwan, says Ryan, people don't necessarily have the luxury of having a huge kitchen at home, but the food scene is still vibrant and huge. Their hope is to bring a bit of that huge vibrancy to a kitchen near you with Jabà Noodles.
---
Click here for schedules and more information about all 22 new vendors at Mill City Farmers Market this season.