Support local farmers, food makers and artists with gifts from Mill City Farmers Market this season. We've rounded up unique, handmade items from our 44 winter market vendors that will bring a smile to everyone on your gift list. Shop online or join us at the Mill City Farmers Market on December 12 from 10 a.m. to 12 p.m. Per-order your gifts and groceries for efficient market shopping or traditional walk-up sales are welcome.
Stay Safe MN
A high-quality, moisturizing soap makes all the difference with our surge in handwashing these days. Olsen Natural's soaps are cured for several months (so they don't disintegrate in the dish) and are full of aloe, cocoa butter, healing herbs and essential oils for a true pampering experience. Soaps are handmade in Hanover, MN and are a welcome gift on their own or consider making a "Stay Safe MN" gift bundle! Pair local soap with a new face mask from local artists Nancy Brisk and Radiate Activewear ($15) and a pocket hand sanitizer from Minnesota maker Body Bliss ($5)
Soaps $7 each, Available online or preorder and walk-up at Mill City Farmers Market on December 12.
Baker's Trio
Treat the friend who took up bread making this year with a bag of locally grown and milled bread flour from Baker's Field in Northeast Minneapolis, $12. Pair the flour with a preserve from Serious Jam, $12 (our vote is Chai Spiced Pear) and an adorable screen printed towel from Crankosaurus Press, $12, for the complete Baker's Trio! Baker's Field and Serious Jam are offering pre-orders and walk-ups for MCFM on December 12th or shop all three vendors' online stores.
P.S. We know we cheated and are a dollar over budget on this one, but how cute are those towels??
Pie
Everyone loves pie. It's that simple. From caramel apple to peppermint mocha to date pecan, Rachel Anderson, the pastry chef and owner of Vikings & Goddesses Pie Company, has something for everyone–even a gluten-free crust option. Pies are made with Baker's Field flour, organic Hope butter and local produce. $28, Preorder a pie to pick up at the market or give a pie gift card.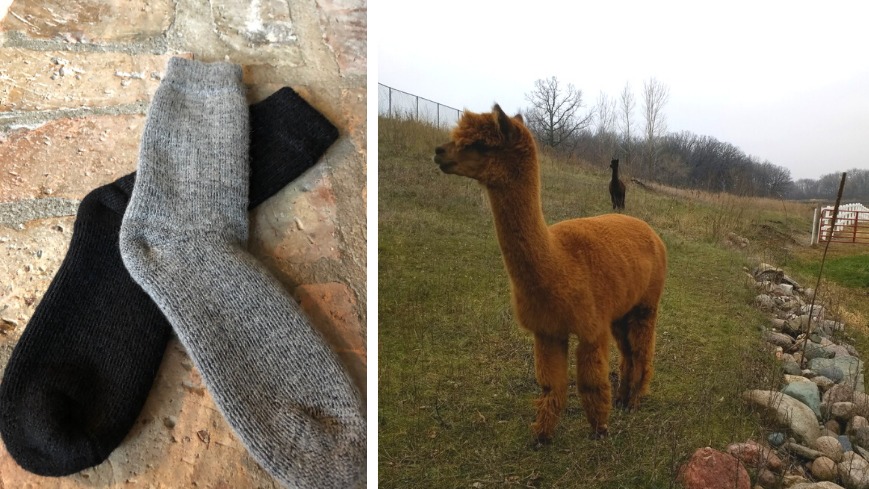 Sub Zero Socks
Did you know that alpaca wool is seven times warmer than sheep wool? Each alpaca from The Abbey Alpaca Farm in Hutchinson, MN produces about ten pounds of wool every season, which Jennifer White has processed at mills in southern Minnesota and Iowa. One of her best selling products are the Winter Sub Zero Socks. They are incredibly soft and have natural moisture wicking properties, making them perfect for lounging at home or winter on the trails. 
$32, The Abbey will not be at the Market on December 12, but you can find their products on their online store.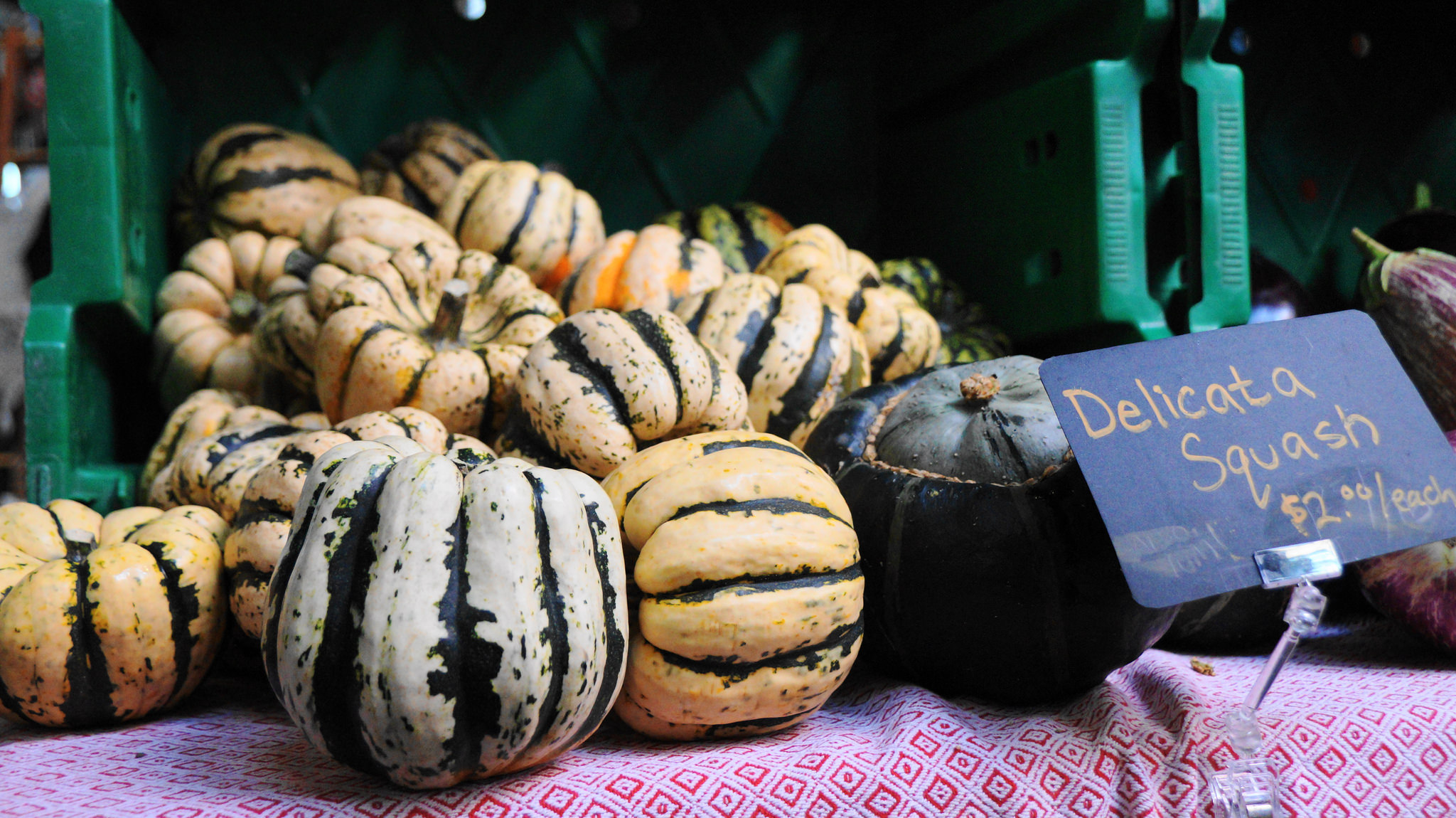 Cooking Local Box
Box up a Minnesota cookbook and a custom selection of shelf stable products from local farmers. At the market on December 12 you can find a beautiful local squash, dried wild mushrooms, heirloom beans, maple syrup, wild rice, honey and herb-infused vinegar to pair with one of our favorite titles, like The Sioux Chef's Indigenous Kitchen, In Winter's Kitchen, Soo Fariista or Cooking Up the Good Life. 
Cookbook with produce start around $22+, you can pre-order or walk-up shop for market items on December 12.
Dried Flower Wreaths
These stunning wreaths from Green Light Flower Farm in western Wisconsin are a beautiful way to share some summer color for the holidays and beyond! Maggie at Green Light Farm started making dried flower arrangements as a way to reduce waste, but they are also a way to keep cash flowing both ways in fall and winter when earnings are smallest and expenses are biggest. Wreaths range in sizes and styles. $20-40. Pre-orders encouraged for pick up at the market on December 12. Walk-ups will also be available.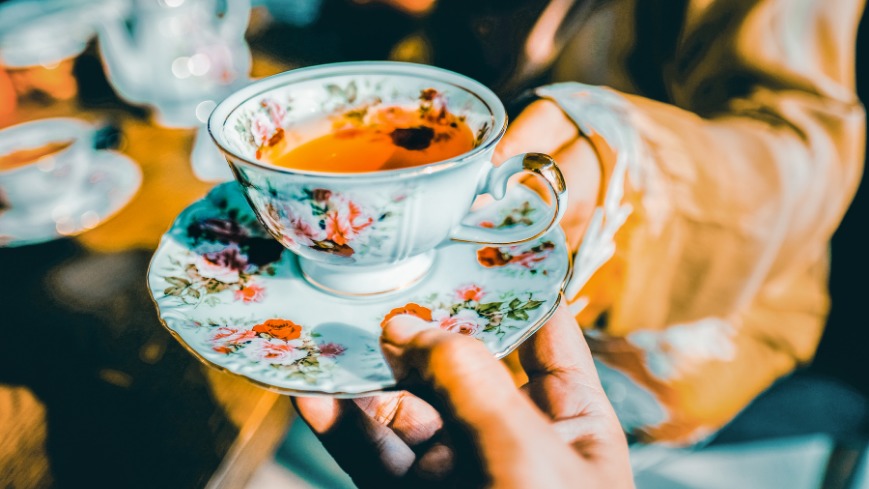 Tea Tasting
Despite having to cancel their annual tea tasting party, Minneapolis-based Mrs. Kelly's tea is boxing up the annual December event in their tea tasting boxes. Give the holiday experience with Mrs. Kelly's 12 Tea Sampler, complete with 2 loose leaf tea steepers and organic sugar. $35, Mrs. Kelly's Tea will not be at the Market on December 12, but you can find their products on their online store.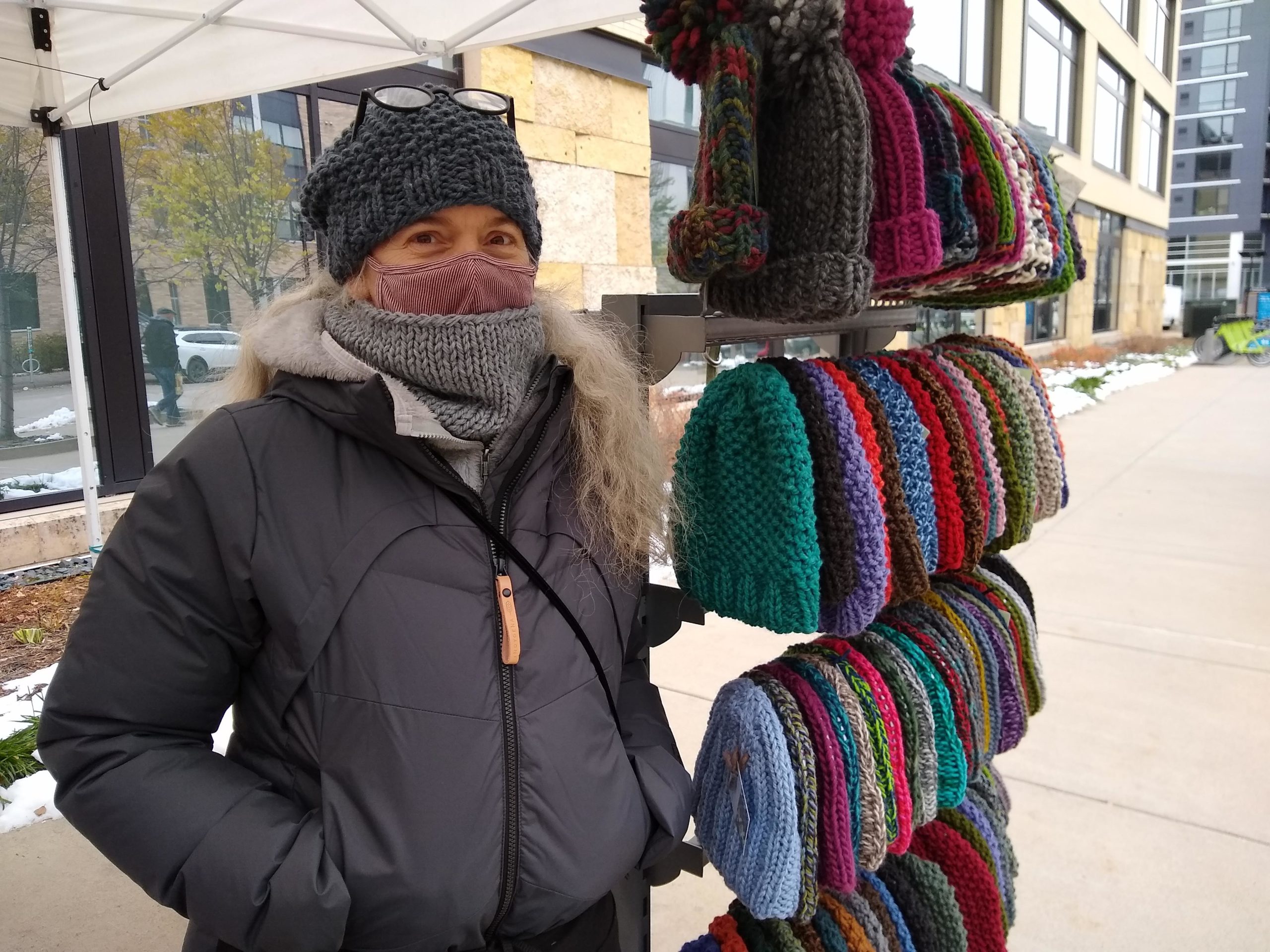 Handknit Hat or Neck Gaiter
Whether it's a morning walk or hitting the trails, outdoor enthusiast and local artist Elizabeth John has soft, beautiful gear for the outdoor lover in your life. Her fleece-lined knit goods block the wind and are all handmade in Minneapolis. $32, Available on Barn Swallow Garden's online store or at the market on December 12.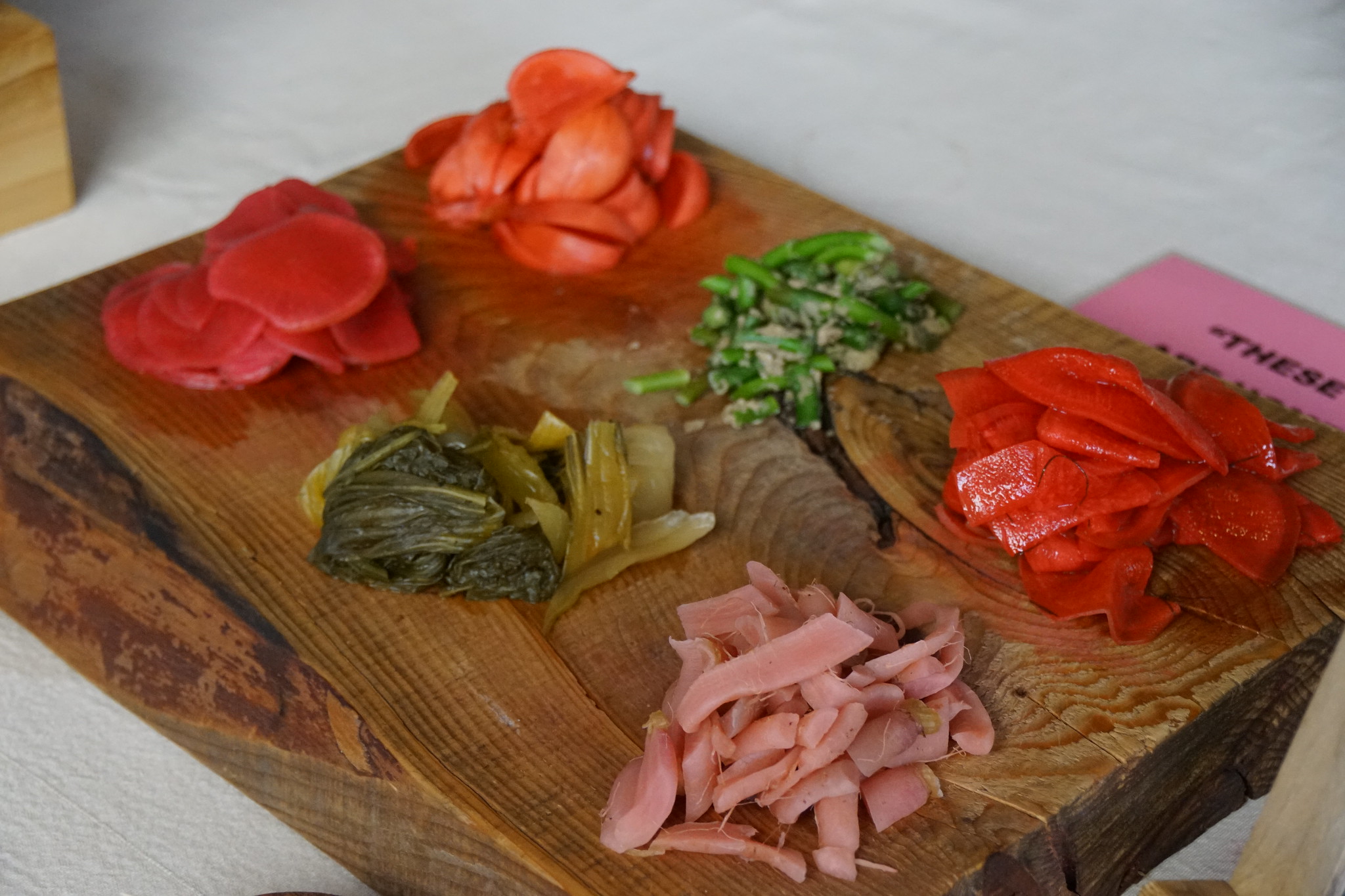 Smörgåsbord Delivery!
This one requires a little work on your end, but will be well worth the effort to deliver some smiles and delicious food. Mix and match from our farmers and makers, choosing one to two items from each category: pickles (Topos Ferments, Kiss My Cabbage), farmstead cheeses (Cosmic Wheel, Shepherd's Way, Singing Hills, Prairie Hollow) and a fresh baguette from Solomon's Bakery. Wrap festively and drop on your loved ones' doorstep. If you're looking to be a little extra, deliver with a handmade wooden slab from local woodworker Stirsby.
 $15+ Market items available for pre-order or walk-ups on December 12.
Coffee
Drink direct with Cafe Palmira! For the past four generations Carlos Palacio's family has been growing and harvesting coffee in Huehuetenango, Guatemala. In 2000 and 2001, coffee prices crashed because of issues in the larger supply chain. This had an enormous impact on the livelihoods of coffee farmers throughout Guatemala and ultimately led to Carlos becoming a direct importer of his family's coffee to farmers markets and wholesale throughout Minnesota!
A pound or two of Cafe Palmira coffee beans are a great gift on their own or make it a breakfast bundle by pairing with an artisan grain bowl from 3 Bear Oats or a handmade mug from a local artist.
Coffee $14 per pound. Available for pre-order or walk-ups at the market on December 12.
Stocking stuffers! (under $10)
Small gifts from Minnesota makers for neighbors, co-workers, mail carriers, friends and anyone else you'd like to give a little appreciation to this season.
Ommie Bars – Energy snack bars full of fruits and seeds (totally nut free!), 4 for $10. Available for preorder and walk-ups at MCFM on December 12 or on their online store.
Double Dog Kombucha -In bright cans with bold flavors, $5 each. Available at MCFM on December 12 and local delivery.
Body Bliss 1.5 ounce luxurious skin crèmes and pocket hand sanitizers, $5 each. Available for preorder and walk-ups at MCFM on December 12 or on their online store.
Hot sauces from Lost Capital Foods, Maazah Chutney and Shahiya Chutney, $8-12. Maazah and Shahiya available at MCFM on December 12. Lost Capital is available on their online store.
Dog bones from Barkley's, For the pet or pet parent in your life, $6-12. Available on their online store.
BONUS: 4 Gifts Under $100
Feeling generous? Our final suggestions are above the $35 budget, but will certainly be appreciated by the folks on your gift list. 
Lamb's Wool Pillow
In addition to award-winning sheep milk cheeses, Shepherd's Way Farm also offers sustainable, local bedding. Their wool pillows are cozy and comfortable with muslin covers. Wool pillows are good for regulating body temperature, keeping you warm in the winter, cool in the summer. Available as soft or firm in standard, queen and king.
$70-90, available online or pre-orders for the December 12th market are highly encouraged as there are usually only a few pillows in stock at markets.
Organic CBD Oil
Who doesn't need a little mellowing out this year? CBD oil calms anxiety, promotes relaxation and supports a deep night's sleep. Best of all it is available locally from farmer and certified natural herbalist Nancy Graden, owner of Red Clover Herbal Apothecary. With certified organic hemp grown on her farm, Nancy makes 1000 mg CBD oil through a carbon dioxide extraction process, which is critical to pull the beneficial healing properties from the hemp.
$50, available online or at the market on December 12. Pre-order here for market pick-up.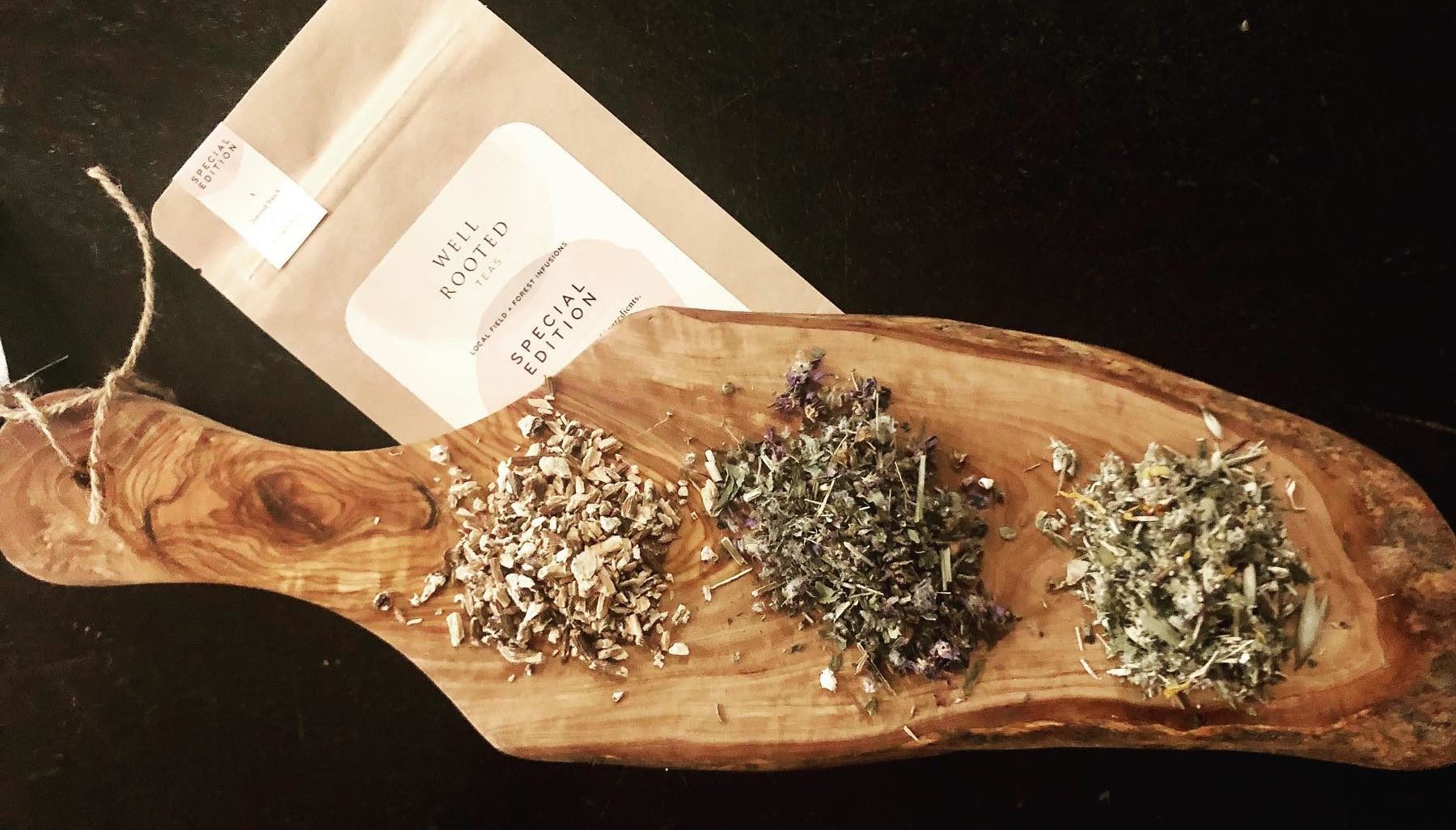 Tea of the Month Club
12/11/20: Due to a fire that destroyed all inventory, Rachel is putting a pause on her business for the next several months. You can send a message of support and follow any updates on Instagram @wellrootedteas or contact Rachel through her website.
As part of her herb foraging and direct-sourcing from local farmers, Rachel Banken of Well Rooted Tea finds herself with an abundance of luscious herbs, roots, leaves, fruits and flowers that she uses to craft exclusive blends of tea each month. Linden flowers, roasted dandelion root, rosehips, shiso and spruce tips are just a few of the delights making their way into her Tea of the Month Club that is shipped the third week of every month. Treat someone you love to this gift of health. $110, available online.
December Box from Sunshine Harvest Farm
Sunshine Harvest Farm is a 4th-generation family farm in Webster, Minnesota–about 40 miles south of Minneapolis. Owner Mike Braucher, his son Brandon and their neighbor Sharron bring a variety of cuts of beef, bison, lamb, pork, chicken and eggs to our market year-round. Give a month of local meals to someone this season with Sunshine Harvest's December box with 10lbs of meat, including pork shoulder roast, whole chicken, and ground beef, pork and lamb. You can also customize your own order or shop from their other bundles like "Breakfast Club," "Farmers Bundle" or even a half hog or quarter beef. 
December Market Box is $59, available for preorder to pick up at the market on December 12 on their online store.
Still shopping? Find more handmade jewelry, ceramics, woodworking and textiles from the market's local artists, and remember market tokens with our 15-Year Anniversary tote bag are always a perfect gift for your staff, friend or neighbor! Available on our online store and at the Information Booth on December 12th.