Mill City Farmers Market vendor Northwood Mushrooms increases year-round mushroom production with innovative projects on the farm.
By Amy Rea, Heavy Table contributor
---
Jeremy McAdams has been cultivating mushrooms commercially since 2009 when his farm was in the backyard of his south Minneapolis home. Now he and his wife Aimee operate a more traditional farm with half an acre of cultivated mushrooms in Clayton, Wisconsin—and have gained a loyal following doing so.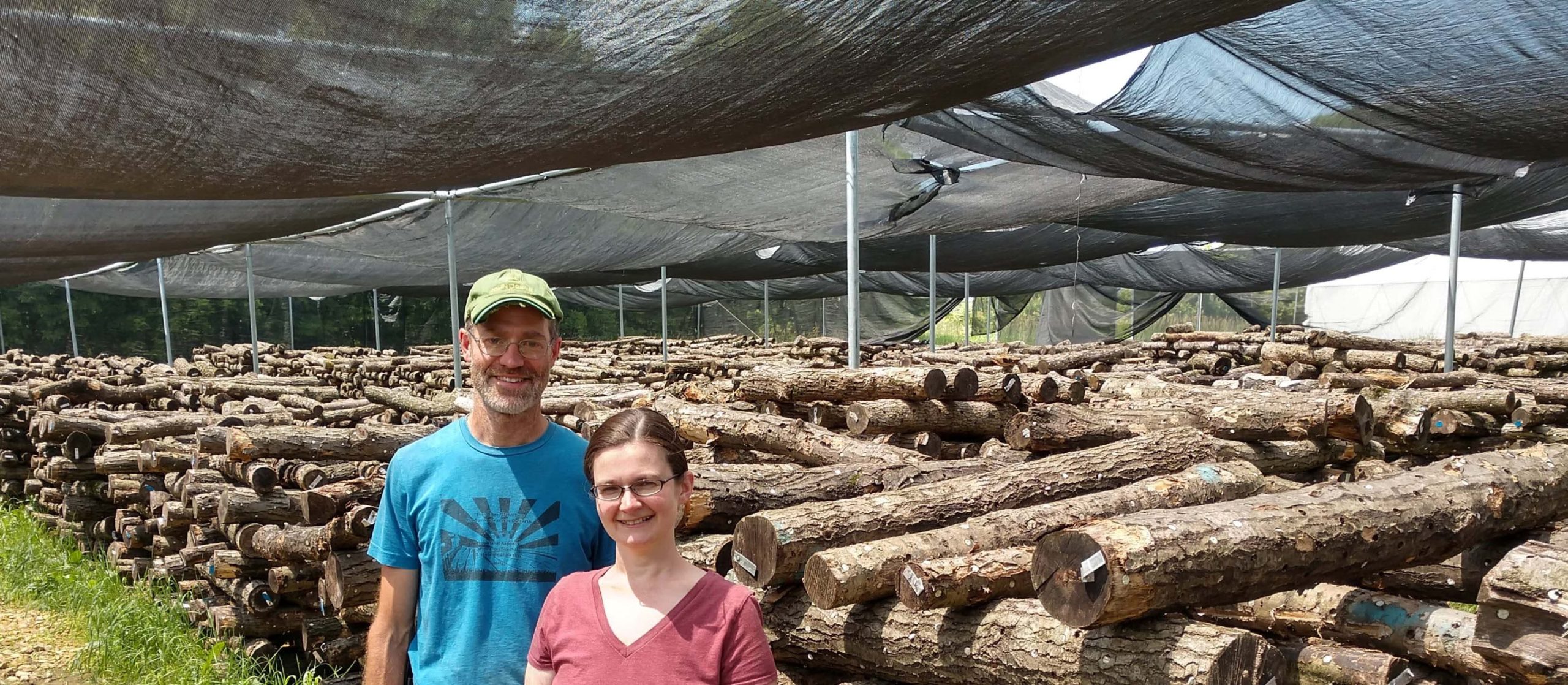 Jeremy & Aimee McAdams at their organic log-grown mushroom farm in western Wisconsin
During the outdoor market season, you can find Northwood Mushrooms near the entrance to the market's train shed, with a table displaying a variety of mushroom products, including fresh shiitake, chanterelle, oyster, chestnut, nameko and Lion's Mane mushrooms.
But Minnesota winters being what they are, Northwood was limited to dried, powdered and value-added mushroom spreads at the winter market—until they received a Next Stage Grant from Mill City Farmers Market Charitable Fund a few years ago. The grant helped them build their first fruiting chamber, which is an indoor room with controlled temperature, humidity, and carbon dioxide.
"Mushrooms need a fair amount of oxygen in order to really thrive, because they breathe in oxygen, exhale carbon dioxide, like we do," explained Jeremy. "But then they also need warmth and something between typically 70 and 90% humidity"—items clearly lacking in Minnesota in January.
Yellow Oyster msuhrooms fruiting at Northwood Mushrooms farm
With the completion of this winter fruiting chamber, Jeremy now can—and does—grow and sell fresh mushrooms for Mill City's winter markets (including the upcoming Feb. 13 market), along with the dried and powdered mushrooms.
"That's been one of the great outcomes, both for us of course, and I think for Mill City Farmers Market customers now, that we have fresh mushrooms year-round."
Mill City's Next Stage Grant program is designed to provide funding to local farmers and food producers who are improving sustainable farming and business practices, or who are growing into the next stage of their local food businesses. Past grantees have been awarded funds to achieve organic certification, cold storage for produce and flowers, and trying out new tools and techniques.
Jeremy turned to the grant program again in 2020 for help with solving another problem facing his business. "We received a Next Stage Grant again which paid for a couple of new commercial-grade dehydrators," he said.
Commercial dehyrators full of shiitake mushrooms
Prior to the grant, he worked with noncommercial-grade dehydrators, which was far from ideal. "It was so slow, and people probably don't realize that if they're using these plastic dehydrators or whatever, if you use them 24 hours a day, seven days a week, they really start to warp and melt. Just on the edges, but it was like, 'Oh, this is really time.' The commercial ones are excellent, they're much more efficient."
Having commercial dehydrators has allowed the farm to dry considerably more mushrooms in 2020 than in previous years. It also led to the creation of a new dried mushroom product: The Umami blend. "It's a combination of shiitake, chestnut, and foraged hen of the woods (also known as maitake) dried mushrooms, and it's been met with a lot of enthusiasm."
Dried mushroom products available at the Mill City Farmers Market and local grocery co-ops
Jeremy loves working with Mill City Farmers Market and its customers, and he's found those customers to be amenable to working with the changes dictated by the pandemic.
"Sales of our grade A, our nicest-looking mushrooms, have gone up about 17%. Unfortunately, sales of our Grade B mushrooms, that are sort of the ugly ones that we typically were selling to restaurants, have plummeted this year, so we've got a lot of stock now, secured away for when things hopefully improve. We started offering them to Mill City Farmers Market customers, and people have really embraced it. We call them the shiitake seconds."
Northwood Mushrooms will be at all of Mill City's remaining winter markets. Customers can either pre-order fresh mushrooms, spreads and other products from Northwood's online store or buy directly at the market, where they will be in the physically distanced indoor half of the market.
Northwood Mushrooms grows a variety of certified organic mushrooms, including fresh shiitake, chanterelle, oyster, chestnut, nameko and Lion's Mane (above).