Mill City Farmers Market vendor Tim Page shares the inspiration behind his urban farm and greenhouse Holistic Health Farms and his passion for education and community.
---
Tim Page's Holistic Health Farms sits on a double-wide city lot, hidden behind a Saint Paul house. The clover lawn and raised vegetable beds can be seen from the street in this bee-friendly space. Looking in from the outside, you may be surprised to learn that most of the ingredients for their infused vinegar, turmeric-ginger mixes for turmeric milk, microgreens, and soon, hemp flower, are grown here. Farming isn't just for rural communities, but it can be done in the city too.
Tim's farming roots run deep. Born and raised on an Arkansas farm, he recalls the spark and warm emotions his mother had for the farm and the pride that came with it. As he got older and shared his intentions to farm, Tim was met with skepticism from some family members.
"I told them I was going to farm and they said 'but you never grew nothing!' So I grew some sweet potatoes. They were as big as my thumb. From there, I kept going!"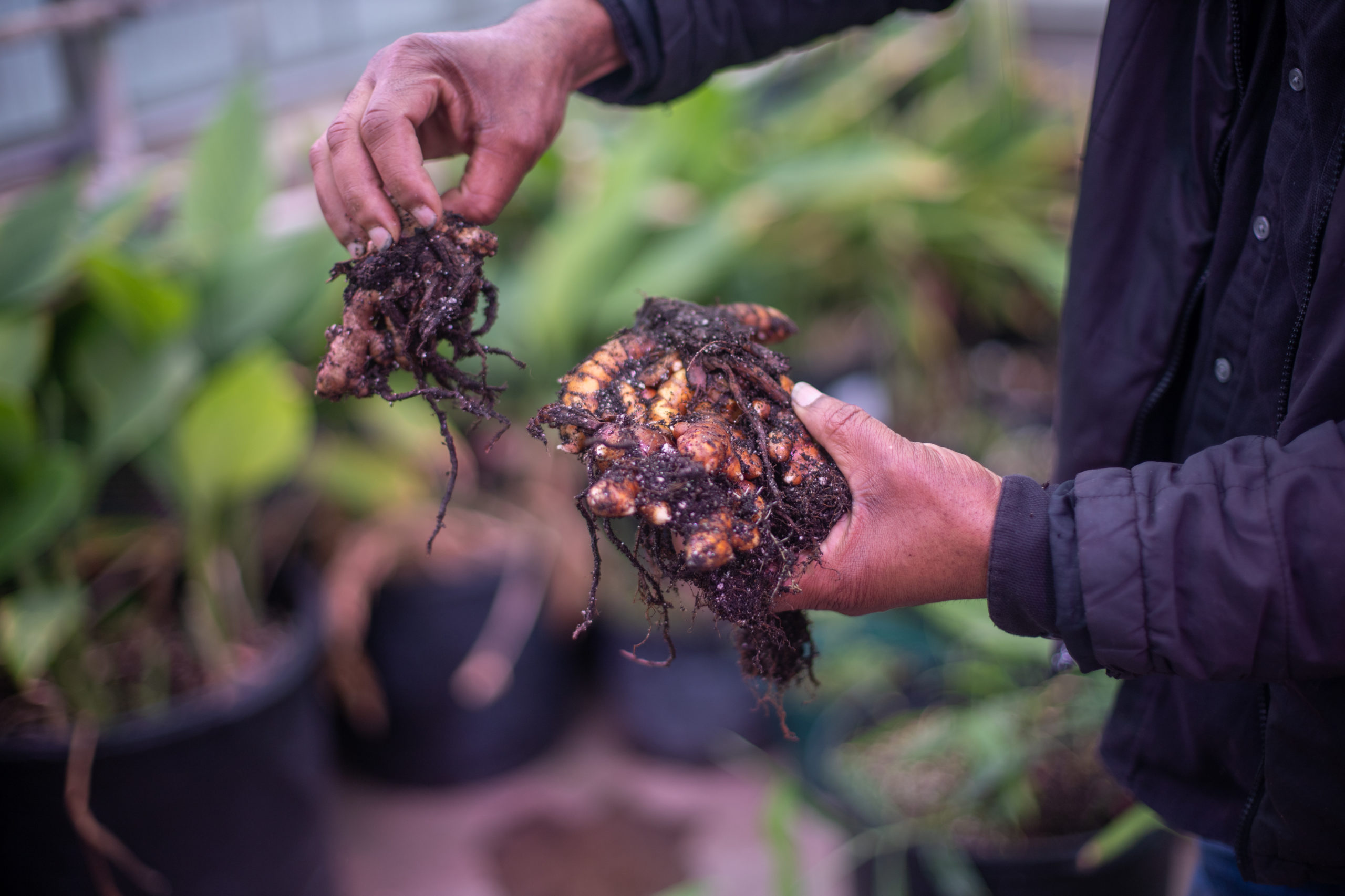 Turmeric and ginger at Holistic Health Farms
His farming background, entrepreneurial spirit, and desire to help communities intersected when Tim interned for a shelter that assisted families experiencing homelessness. He organized and encouraged the shelter's youth to take care of a local garden. It was a way for them to learn and appreciate their backyard through a new lens. Motivated, Tim started another youth group and converted an old gas station into an urban garden with raised beds. The care and attention needed for gardening and planting set a great example and lesson for them about the power of nature.
"After seeing what they could do, they had a whole other level of respect," he looks back. Tim still keeps in touch with some of the youth he guided and mentored years later, but from this urban project came a much bigger opportunity: Holistic Health Farms.
The space for urban farming is unsurprisingly limited in Minneapolis and Saint Paul, but Tim tries to grow as much of the ingredients they use for their products on-site. Microgreens are harvested much earlier than full-size vegetables, but the timing and size of them provide Tim the space he needs to grow different varieties of ginger, turmeric, and more at the farm.
Vinegar infused with herbs from the farm
A few of the items grown at the farm are not intended for sale but are used for research and teaching. In addition to microgreens, the herb garden on the property is an important source for their infused vinegars. The infused herb vinegars started as a way to use excess basil flowers. The deliciously fragrant and savory infusion led to additional experimentation with other herbs. At one point, Tim and his partner Cherry made 11 different kinds of infused vinegars. Nowadays, they sell 4 types of infused vinegars in addition to the microgreen mixes at the market.
The products from Holistic Health Farms are inspired by nature and fueled by their passion for education and community. This summer in addition to hydroponic greens, ginger, turmeric and value-added farm products, be on the lookout for produce from Frogtown Farm (where Tim mentors youth growers) and hemp flower — which can be used in tea and baking. Another thing he's growing? Sugar cane at the greenhouse. Tim doesn't plan on selling sugar cane at the market, but is certain the learnings from this experience will be an invaluable source of inspiration for other products to come.
Gold Fusion Milk Mix made with turmeric and ginger grown at Holostic Health Farm in Saint Paul
Tim grows microgreens and tropical crops like sugar cane, ginger and turmeric year round in the greenhouse.
---
You can find Tim at the market every Saturday starting May 1. Pre-order microgreens, herb-infused vinegars and turmeric ginger drink mix made with farm produce through Holistic Health Farms' online store. Note: Holistic Health Farms will not be vending at the market on April 24.
Learn more about Tim's experience in youth mentorship and farming in the video above. Please excuse the greenhouse fan noise in the background!