Mill City Farmers Market vendor Prairie Hollow Farm shifts focus from summer to winter with deep winter greenhouse production for their winter CSA share.
By Jenny Heck
---
When farmers market scenery shifts to pumpkins, flannel jackets and dogs in Halloween costumes, many farmers take these cues as time to put their fields to rest and start winter work planning for next spring. But at Prairie Hollow Farm, owner Pam Benike and her family spend the fall in the greenhouses, planting seeds for winter markets and their winter vegetable CSA.
Located in Elgin in southeast Minnesota, Prairie Hollow Farm is a multi-generational family farm that produces cheese, bread, beef, pork, eggs, vegetables and fruit. They raise the dairy cows for their cheeses, grow the wheat for their breads, and pick the berries for their jellies—a true cottage foods farm.
"Our whole farm is about sustainability," Pam says. "Cows graze in the summer, and their manure nourishes the pastures. The pigs till the earth and turn waste products from our gardens and cheese making into fertilizer. We utilize regenerative agricultural practices throughout the farm."
Hogs raised at Prairie Hollow Farm eat scraps from the vegetable fields and whey from the on-farm cheese making plant.
Institutional to Mill City, Pam has been at the market since our first season in 2006 and has innovated the farm throughout her 41-year career. Pam grew up farming and took over her family dairy farm in 1980. In 1998, she expanded the family's gardens into a vegetable CSA and, working with her children, built their first greenhouse for year-round vegetable production in 2008.
With the newest built in 2020, the family now has four carbon-neutral greenhouses that use only sunshine and design techniques to create a warm growing environment all year. Without any heaters or fossil fuels, they can grow thousands of pounds of greens in the depths of winter for farmers markets and CSA shares—all harvested within 48 hours of market.
"The greenhouses are heated only by the sun. We also have a 40-kilowatt solar array that supply the majority of the electricity we use," explains Pam, showing the farm's commitment to sustainability goes beyond soil health, sustainable water management and rows of regeneratively grown beets and other vegetables.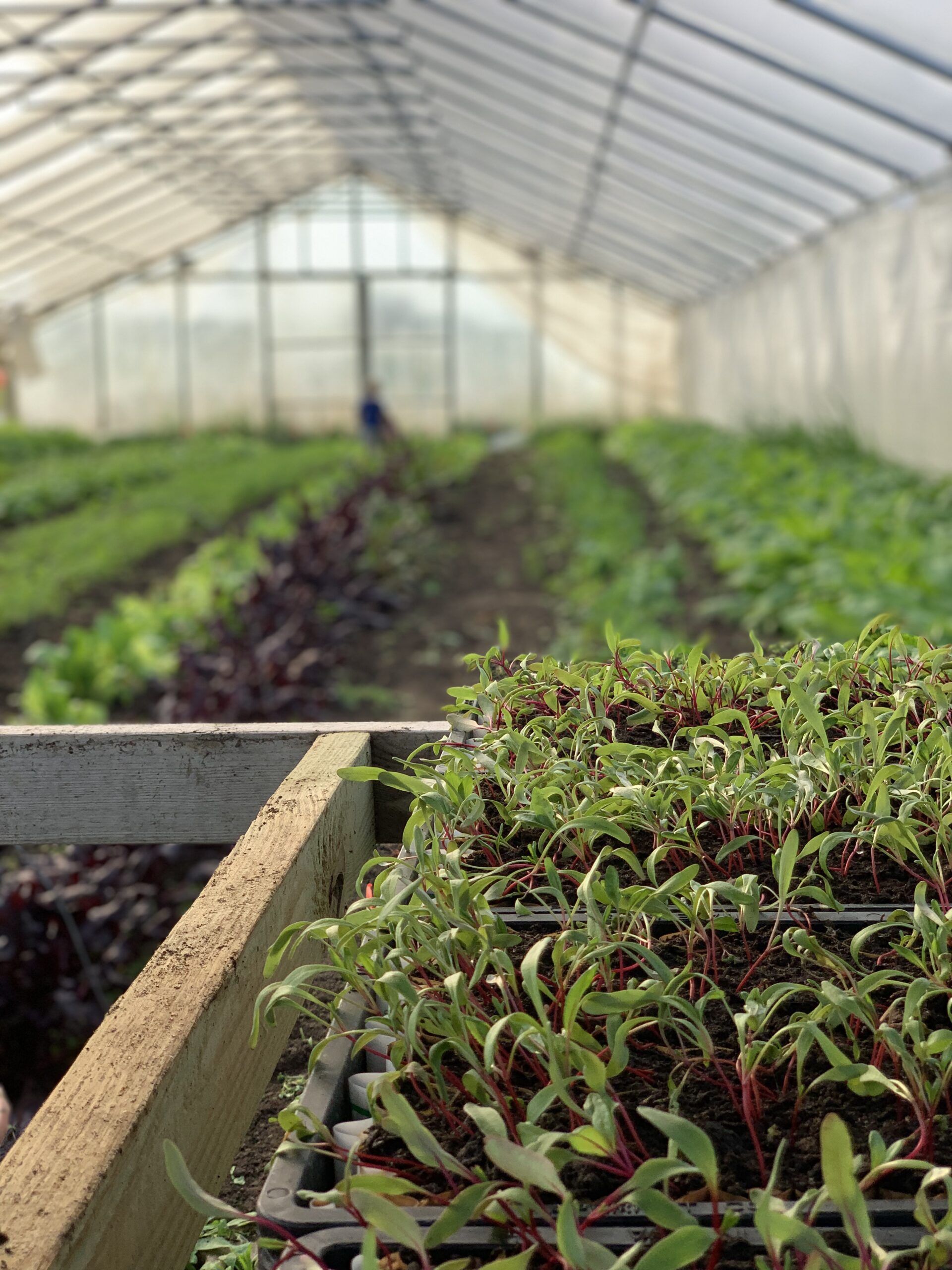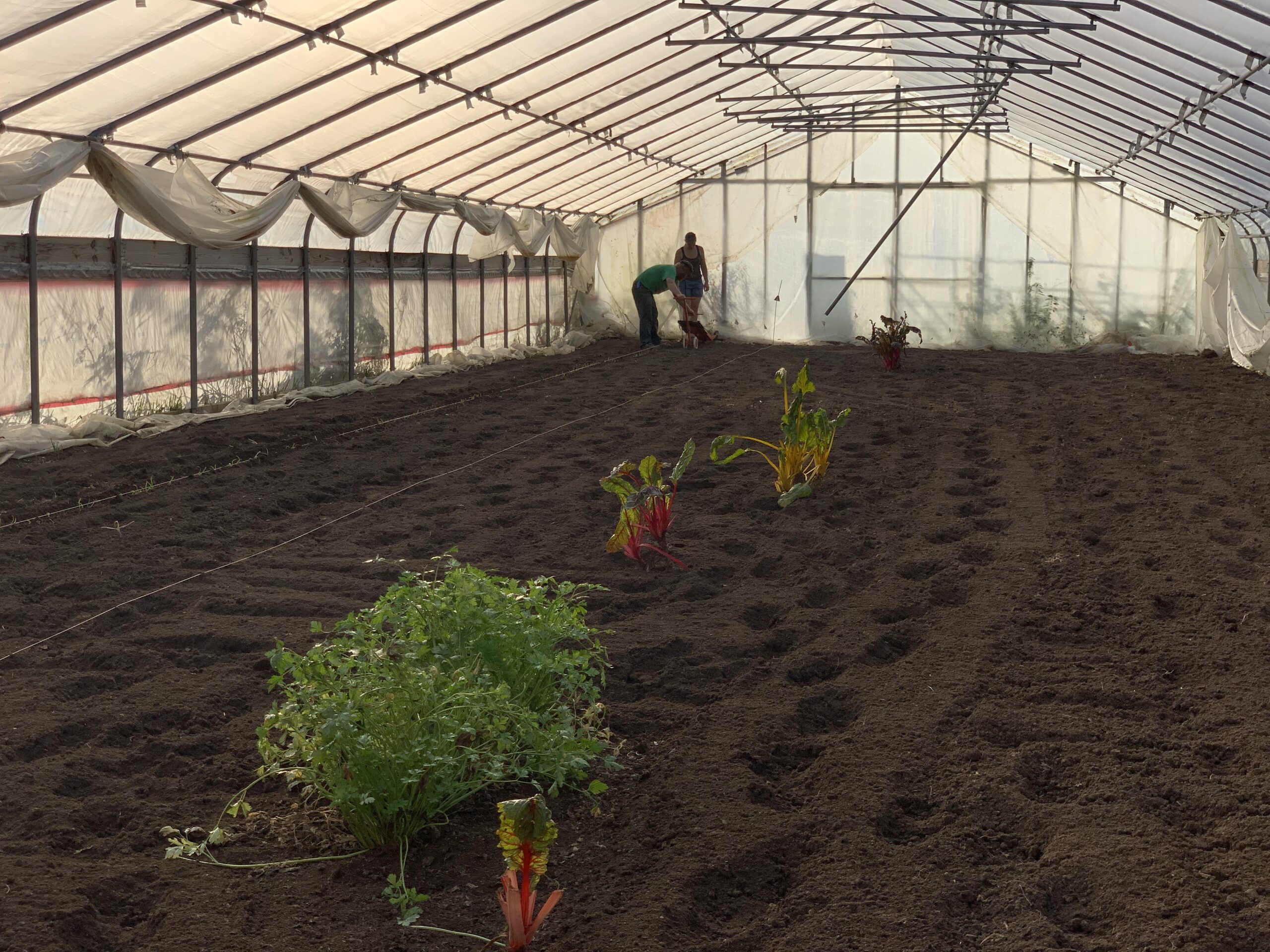 Planting in the fully solar powered greenhouses at Prairie Hollow Farm.
A CSA, or Community Supported Agriculture, is a way to purchase food directly from a farmer. You pay a set price at the start of the season and the farmer delivers food to you for a set number of weeks. Commitment to a CSA supports farmers at the beginning of the season when expenses are at their highest and income is at its lowest, before farmers can grow, harvest and sell their product.
Prairie Hollow Farm's winter CSA is available to pick-up at Mill City's winter markets, twice monthly November through April. They offer three choices of shares:
'I Love Salad' with your weekly greens and salad veggies, like: lettuces, spinach, kale, radishes and carrots
'Soup and Roasting' with aromatics, root veggies and squash
'Classic Vegetable' an even mix of the two
A classic box possibility in February might look like 1 pound salad mix, ½ pound spinach, kale, Swiss chard, pac choi, potatoes, carrots, onions, turnips and garlic. It's designed for households of 2 to 4 and is also available in a "half share" with the same variety of items in smaller quantities. Pam also offers CSA "add-ons" with other products from her farm, including grass-fed beef, pork, bread, cheese, eggs, jam and jellies, and wild rice.
CSA pricing is typically 15-20% less than the cost of purchasing individual items at the market, and it ranges from $270 to $850 for the 6-month period, depending on size and type of box. You can pay upfront or in three payments in November, January and March.
For more pricing information and to order your share, you can email Pam at info@prairiehollow.com, pick up a brochure at the market or visit their online store: farmersweb.com/prairie-hollow-farm
Pam Benike, owner of Prairie Hollow Farm, with winter squash.
If you're not ready to commit to a CSA share, but still want to support Prairie Hollow Farm and the Market's other farmers and makers, join us for traditional walk-up sales at our winter markets inside the Mill City Museum select Saturdays November through April. Learn more.