Featured Friend of the Market: Kim Eslinger
You may recognize regular market shopper and Friend of the Market Kim Eslinger and her husband Dave Tinjum for the large cameras they usually have around their necks or from enviously gazing at their shopping basket full of a week's worth of seasonal market groceries. Kim and Dave live just a few blocks from the market and stop by to support it every week–rain or shine. During the week, the couple runs the Mill City Times, a non-profit digital news source for Minneapolis' downtown and riverfront neighborhoods.
Kim and Dave are also the market's voluntary market photographers (explaining the cameras), and Kim is the first in our series of Featured Friends of the Market, where we are asking you about your Mill City Farmers Market experience.
MCFM: What is on your grocery list for this week's market?
KE: Eggs, cottage bacon, oats, honey, cheese, herbs, vegetables, bread, kimchi and maple sugar are standard items, but most Saturdays I come home with a number of impulse purchases like jam, an item of clothing or a gift of some sort. I always try the new products, as well.
MCFM: What is your go-to market breakfast or lunch?
KE: 3 Bear Oats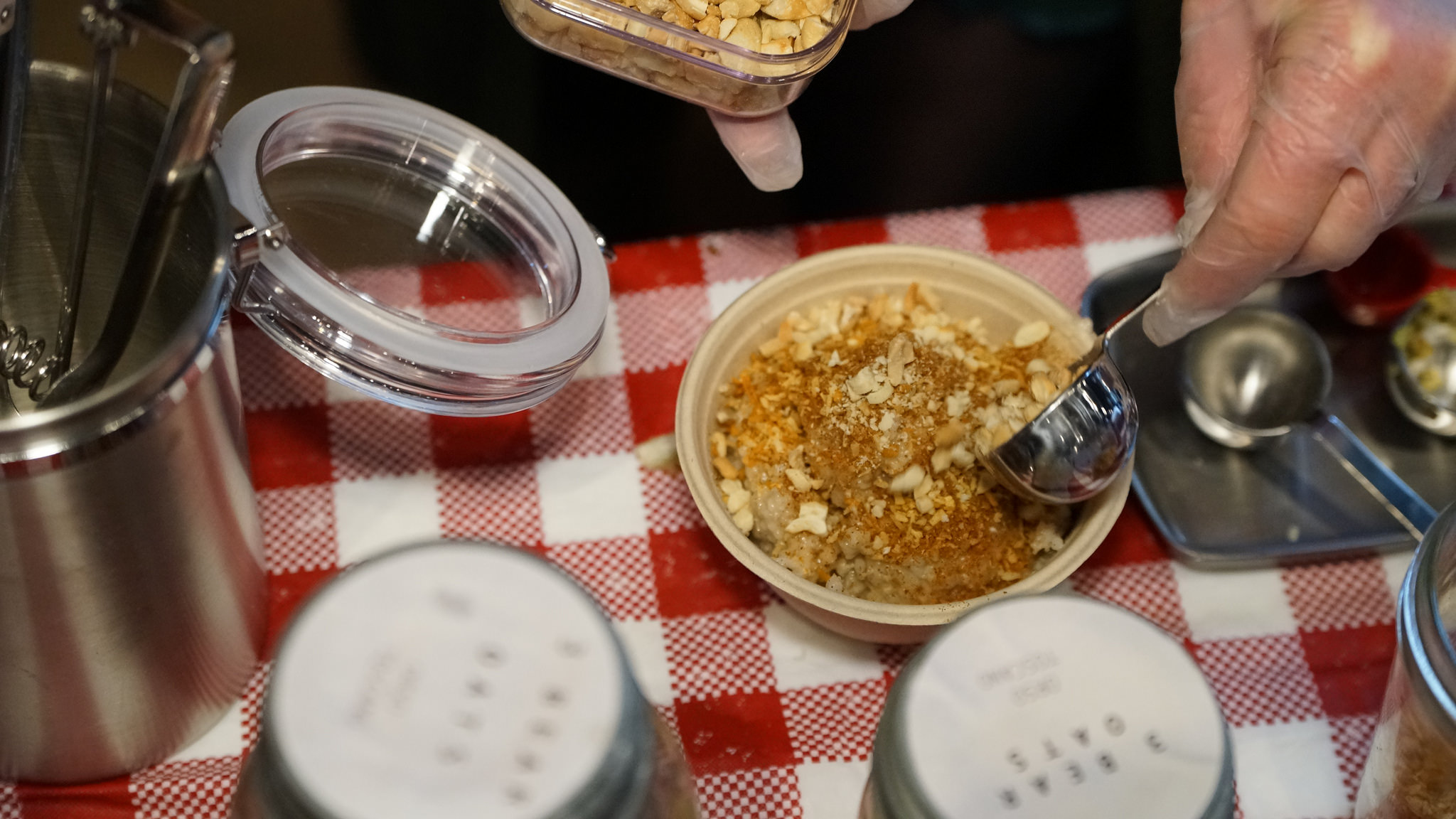 3 Bear Oats sweet & savory oatmeal, photographed by Kim at our indoor Winter Market
MCFM: Why are you a Friend of the Market?
KE: We've shopped at the Mill City Farmers Market religiously since moving downtown in 2009. I continue to renew our annual Friends of the Market membership because the Market is a valuable part of our neighborhood. It's a community in itself, and the farmers and artisans are so much more than 'vendors.' They are friends and a trusted source of products and information.
From produce to prepared salsa to meat, I feel confident that everything we bring home is fresh and delicious. The non-food vendors are a unique source for gifts, clothing and home goods. In fact, our introduction to the greater Minneapolis arts scene started at the Mill City Farmers Market.
MCFM: What spring item are you looking forward to most?
KE: Ramps and asparagus
Interested in supporting our educational programing, Next Stage Grant program for farmers and food makers and food access work? Consider becoming a Friend of the Market–learn more, here!