Were you as excited as we were to see Napa cabbage at our winter market on December 15?? Xai Lor and her husband Tongsee Xiong, owners of Bean Market farm, are known affectionately as the "farming wizards" at Mill City Farmers Market. Decades of farming experience in Laos and now Minnesota has given them the know-how to have the latest selection of storage crops like cabbage and sweet potatoes and earliest selection of summer crops like strawberries and ground cherries. We went on a field trip to St. Paul yesterday to learn some tips from the experts! #mcfmfarmtours
Tongsee proudly posing in front of his greenhouse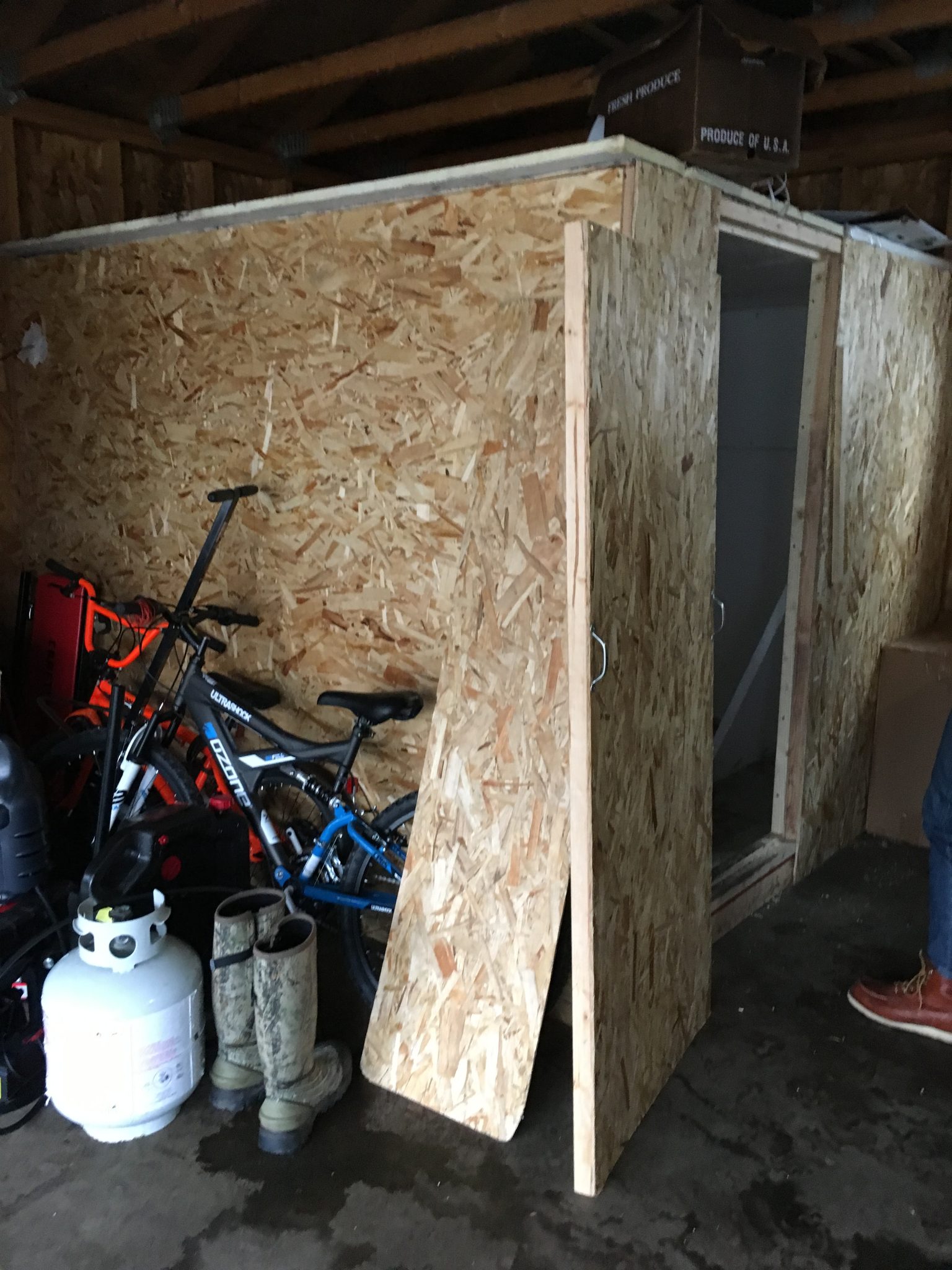 DIY walk-in cooler for produce storage
On a rainy December Thursday, Xai, Tongsee and their daughter Aneedda showed MCFM staff around their home in St. Paul, where they have been living here for over 20 years. Most of their work between December and April takes place here, and it complements the 5 acres of farmland they rent in Rosemount. Their 10 x 10′ walk-in cooler, supplementary coolers and storage space hold fresh crops and, of course, heirloom dried beans throughout the cold months.
Winter at the house is also spent babysitting their granddaughters, reading seed catalogs and coming up with new and inventive ways to improve the farm. Xai jokes that she is the "idea man" and her husband is the labor. Like her idea to create cool storage in their garage.
Tongsee made the walk-in cooler (pictured above) from simple construction materials: particle board, 2 x 2's for framing, foam insulation and an air conditioner for cooling and ventilation. A "CoolBot" to trick the air conditioner to go even colder may also be in the future for this cooler. While simple in construction, a cooler like this makes a big difference.
In the summer we have to stop harvesting crops like strawberries when we run out of cold storage space. We leave them unharvested in the field and then they rot," explains Aneedda.
Through our Next Stage Grant and other community resources, we are hoping to improve and expand these DIY walk-in coolers, especially in the Hmong farming community where factors like rented land and access to electricity often make construction a challenge. Tongsee and Xai are interested in mentoring other farmers who are in need of easy, affordable cool storage space, particularly for delicate, high-value crops like flowers and fruit.
As for the next generation, Aneedda is also following in her mother's footsteps as the "idea man," implementing her own improvements for the farm. She is interested in wholesale opportunities to guarantee reliable market income and has been fostering relationships with restaurants and other large pre-orders over the past couple years.
The family's planning and strong work ethic continues throughout the winter, and, come spring, Xai and Tongsee's greenhouses, basement and even living room are full of grow lights and trays of seedlings ready for the new growing season.
"My parents love gardening and are really proud of their farm and the Bean Market name. This year, all the Christmas presents to me and my siblings say 'From Bean Market' instead of Mom & Dad," laughs Aneedda as we say our good bye's and happy new year's!
—
Thank you to all of our vendors, loyal customers, donors, sponsors, staff, board members and volunteers for an amazing 2018 season. Have a healthy, happy new year!
-Jenny, Christine, Martha & Brenda at the Mill City Farmers Market