The Mill City Farmers Market's Harvest Social benefit dinner is the local foodie event of the season, benefitting 'healthy foods, local farmers.'
In just three weeks on Sunday, September 8th, the Mill City Farmers Market will be transformed from a vibrant marketplace full of farmers and thousands of grocery shoppers to a white tablecloth dinner, benefitting the organization's mission to support a healthier community. The Harvest Social benefit dinner is hosted annually each fall by the Market's 501(c)3 Charitable Fund and celebrates community, the bountiful fall harvest and the Market's impact in the local food community.
Money raised at the event through ticket sales, unique silent and live auctions (farm fresh bacon and eggs, anyone?) and the Fund-A-Need finale support the Market's food access work, programs that encourage healthy eating habits for children and adults and the Market's pioneering Next Stage Grant program. Since the grant program was started in 2013, Mill City Farmers Market has awarded over $122,000 in 58 grants to sustainable farmers and food makers in Minnesota and Wisconsin who are interested in bringing their business to the "next stage." Projects include season extension work such as building a deep-winter greenhouse, new and innovative processing equipment to reduce tedious farm labor, experimental growing techniques to adapt to our changing climate and marketing and business management assistance. The Next Stage Grant program, sustained through generous donations at the Harvest Social benefit dinner, embodies the Market's commitment to building a healthy, local and sustainable food economy.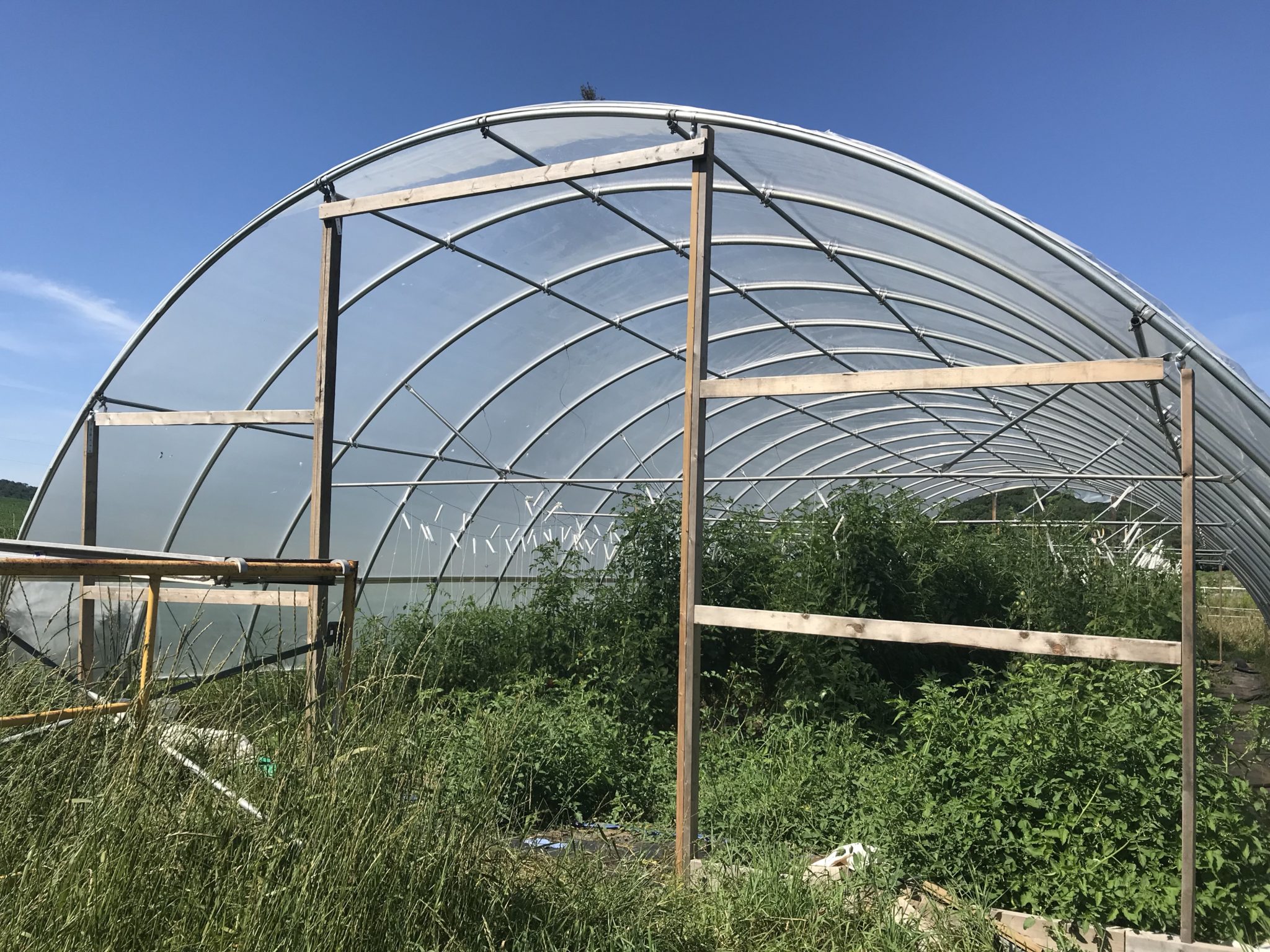 Racing Heart Farm, a 2019 Grant Recipient, Greenhouse Renovation Project.
The Harvest Social also supports the Market's Greens for Good food donation program, in which volunteers collect excess produce from farmers at the end of the market and donate it to neighbors in-need in the Cedar Riverside neighborhood. From July to October, volunteers collect and donate over 5,000 pounds of fresh produce, and with increased funding in 2018, the Market is now able to compensate farmers who donate!
As if supporting these programs wasn't enough incentive to attend, the dinner is also the local foodie event of the season! This year, the "market-to-table" dinner will be prepared by James Beard Award winning author Beth Dooley and the Market's very own Chef Jenny Breen, who regulars will recognize from the Market's Saturday cooking classes, and Chefs Phil and Karen Ward of the Market's popular breakfast stand Black Cat Natural Foods and JD Fratzke's new Falls Landing Supper Club in Cannon Falls. As always, appetizers and the hearty buffet dinner all feature grains, cheeses, meat and (of course) vegetables from farmers at the Mill City Farmers Market!
The event, from 4:30 to 7 p.m. on Sunday, September 8th, will also feature live music from the Lila Ammons Jazz Group, local beers, wine and a signature cocktail from Michelle Winchester, founder of Minneapolis' Twin Spirits Distillery. Tickets for the Harvest Social benefit dinner are $125 and can be purchased here.