The powerful story behind Mill City Farmers Market's vendor Double Dog Kombucha and owner Lee Vang's journey from tragedy to self-discovery, with two rat terriers leading the way to clarity.
By Mecca Bos
---
When Lee Vang adopted his Rat Terrier Mac, he was very close to the bottom of despair. His childhood, he says, was "not a very happy story."
Born into a Thai refugee camp, Lee and his family migrated to the Twin Cities as refugees around 1981 when Lee was about two years old– he mentions that Hmong people don't celebrate birthdays in the same way Western culture does, so he knows that his birth was "around a certain date on the calendar."
Growing up in St. Paul, Lee struggled to find identity or belonging. The youngest of six kids, family life was difficult, and "growing up as a Hmong kid," he recalls, "you didn't see anyone on TV or anyone else who expressed what you were going through."
By the time he was in junior high, he had dropped out of school, and had been sent to live with family in Wisconsin– he says he was unable to stay out of trouble back home. But once he settled in, his sister-in-law took him under her wing and became more of a family member to him than he had ever previously known.
Lee Vang, Mill City Farmers Market vendor and owner of Double Dog Kombucha.
"She really showed me kindness, and encouraged me." He relished the feeling of family life with her, but then a violent family tragedy took her life. The cousins he had come to think of as siblings were taken into protective custody. The nurturing family unit that Lee had grown close to, for the first time in his life, had been taken away in a moment.
"I remember not seeing anything but fog."
A dark period of depression followed. He didn't even go outside or talk to people, and during that time, he developed a taste for alcohol. After four DUI's in Minnesota, he became a felon, and did jail time.
Lee needed a lifeline. He'd always dreamed of having a dog, but as a kid, his father wouldn't allow it. He thought of the joy his friend's dogs could bring to him. Maybe the responsibility of taking care of another living thing besides himself would keep him working consistently to buy food for the dog, and returning home at night to feed it.
"I didn't know how to care for another life." But Mac made it easy– he was intuitive, and they developed an instant bond, one of the few Lee ever had.
At the dog park one day he "met a girl." That girl had the very same kind of dog, Otey. A Rom Com moment. Thanks to Mac, Lee says, he finally had the confidence to have simple conversations, or to look another person in the eye. Mac, Lee, Otey, and the girl moved in together for nine years.
Mac and Otey on a Boundary Waters trip.
But still, he struggled. Drinking was still a huge part of life in spite of the little family he had formed, and the regular, mind-clearing trips that Lee and Mac were taking to the Boundary Waters to connect with the evergreens, water, and idleness, had turned into trips where he would go to drink heavily, instead of finding the natural calm he dreamt of as a child.
"After awhile it got so I felt like it wasn't respecting the wilderness."
One fateful day, Lee picked up a kombucha and when he opened and drank it, the fizz and the dry flavor reminded him of beer. He liked it. He had just started tinkering with fermenting kimchi at home, so thought he'd try his hand at kombucha, too. Again, he liked it. He worked on dry flavors that reminded him of the IPAs that he loved so much, and started substituting dinnertime beers with kombucha. He said he remembers telling his partner that he was amazed that he wasn't drinking beer with dinner regularly anymore. "I couldn't believe it."
Lee is careful not to make any unsubstantiated claims about kombucha– he actually does not subscribe to any health claims where it comes to the fermented, probiotic teas. But for him, the experience of substituting kombucha for some of his regular alcoholic beverages offered his brain some crucial moments of clarity.
Road trips out west with Mac, drinking homebrew kombucha instead of beer, Lee started having more insight. He started processing his difficult childhood.
"At Joshua Tree, I got an eye-opening experience after not being numb all the time." He dreamed of doing something with his hands that other people could appreciate. "Was it really possible?"
Double Dog Kombucha available canned in Citra Mango Hops, Pineapple Ginger Jalapeno and Strawberry Vanila Mint
He loved staying up late into the night brewing kombucha and tinkering with flavors, and the interest– and the newfound clarity– gave him the push to start sharing his kombuchas with other people.
While Lee is sober now, he says he doesn't "count his days," or define his life by sobriety, but instead by the lifesaving help that the dogs, the wilderness, and the insight that gained with lifesaving clarity. Mac and Otey have both passed on, and the girl is no longer in Lee's life either, but he met his fiance while vending kombucha at the farmers' market, and the couple are parents to twin boys.
"Now I have two human boys, but I couldn't have done any of it without the dogs by my side."
Double Dog Kombucha currently comes in three flavors, that Lee says he is "obsessed" with getting right every time– he brews them for himself, as well as for sharing.
Double Dog Kombuchas are dry, and made with organic ingredients and local produce when available. Flavors include "Pele," all organic pineapple, ginger, jalapeño, and cilantro; "Citra Mango," organic mango and citra hop; and "JoyBubbles," organic strawberry, organic mint, and vanilla.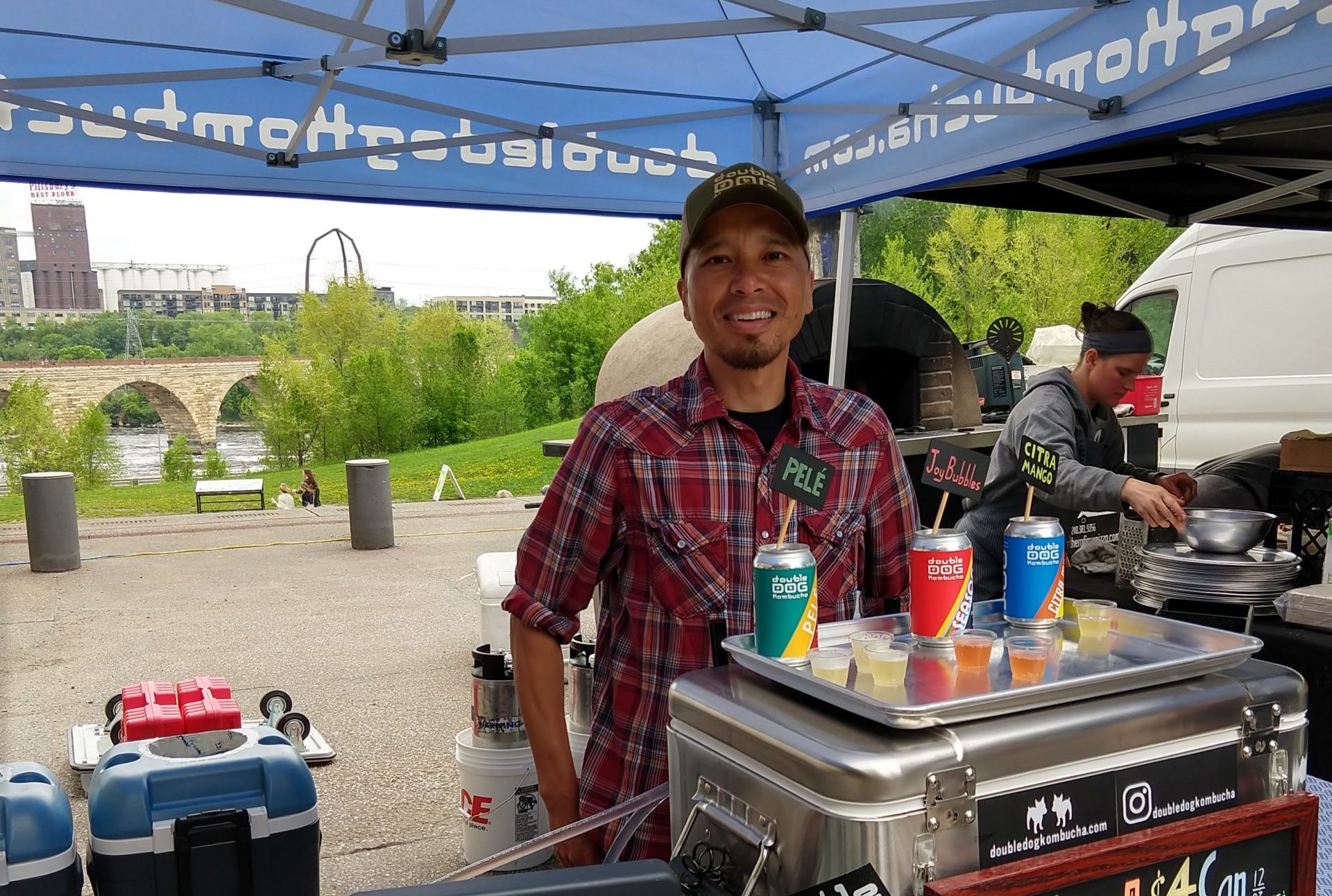 Taste seasonal flavors and other specials from Double Dog Kombucha at the market on Saturdays.
Find Lee and Dobule Dog Kombucha at the market every Saturday on the Chicao Mall overlooking the Mississippi and Stone Arch Bridge. You can also order online for market pre-orders and local home delivery.