Supporting local vendors has a big impact on the local economy and well-being of our community!
From August 7th – 13th, communities across the country will celebrate their local farmers markets during National Farmers Market Week. According to the USDA, by the beginning of 2016 there were more than 8,500 farmers markets in the U.S—that is 50% more than just five years ago. Minnesota alone has over 200 farmers markets! As these markets become more established, they offer more services and benefits to their communities. The impact of these farmer-to-consumer transactions is greater than it appears on the surface. Read on to see how your support of local vendors impacts our community.
1. Preserve local farmland and rural livelihoods
The American Farmland Trust reports that between 2007 and 2012, America lost more than 95,000 mostly mid-sized family farms, while the average age of American farmers increased to nearly 60. There are 3.5 times as many U.S. farmers over the age of 65 as there are under 35. Farmers markets provide one of the only low-barrier entry points for new farmers, allowing them to start small as they learn and test the market. Also, farmers markets serve as business incubators that allow farmers, ranchers, and entrepreneurs to keep overheads low and test new products and markets. Small and mid-size farmers who sell at farmers markets have nearly a 10 percent greater chance of staying in business than those selling goods through traditional channels.
2. Stimulate local economies
Farmers markets and other locally owned retailers return more than three times as much of their revenue to the local economy than do chain competitors. This "economic multiplier effect" helps create jobs and boosts economic activity. Growers selling locally create 13 full time farm operator jobs per $1 million in revenue earned. Those that do not sell locally create 3. Furthermore, A 2010 study by USDA's Economic Research Service compared producers selling salad mix, blueberries, milk, beef, and apples locally with producers of the same products selling to mainstream supply chains. In all five cases, nearly all of the wage and proprietor income earned in the local market chains is retained in the local economy.
The Mill City Farmers Market has been a huge part of our farm's growth and success over the past 12 years," Laura Frerichs, owner of Loon Organics Farm in Hutchinson, Minn. explained. "It is one of the best farmers markets in the region, and we feel really lucky to have been selling at the market since its inaugural year. It has been a weekly storefront for our business each week and has helped us build an incredible base of customers and supporters. The market is a cornerstone of our farm's economic success."
3. Increase access to fresh, nutritious food
The number of farmers markets and farmers accepting Supplemental Nutrition Assistance Program (SNAP) benefits has increased 40% on average every year since 2009. With affordable prices and special programs for low-income people, such as Minnesota's $10 matching bucks, markets are expanding access to fresh, nutritious food. The amount of SNAP benefits redeemed at farmers markets increased nearly 450% from 2009 ($4.2 million) to 2014 ($18.8 million).
4. Support healthy communities
Farmers markets provide communities with a healthy food environment. They are places where farmers and neighbors come together to educate each other about nutrition, cooking, and farming. With abundant produce, farmers markets help increase fruit and vegetable consumption. A USDA comparison of shoppers at farmers markets and supermarkets shows that people shop in the company of others more frequently at farmers markets and have more social encounters. The correlation between health and social interaction implies that the social opportunities markets create provide important public health benefits. Proximity to farmers markets has also been associated with lower body mass index (BMI).
5. Promote sustainability
Farmers markets create new business opportunities for farmers interested in selling sustainably produced food. This helps protect the natural environment, public health, human communities, and animal welfare. Locally or regionally sourced produce travels about 27 times less distance than conventionally sourced produce. Plus, farmers markets are great resources for the community to learn about environmental programs. Mill City Farmers Market was the first farmers market in Minnesota to start
Zero Waste composting
for all prepared food and drink products sold at the market!
Click here to read more about the benefits of farmers markets from the National Farmers Market Coalition!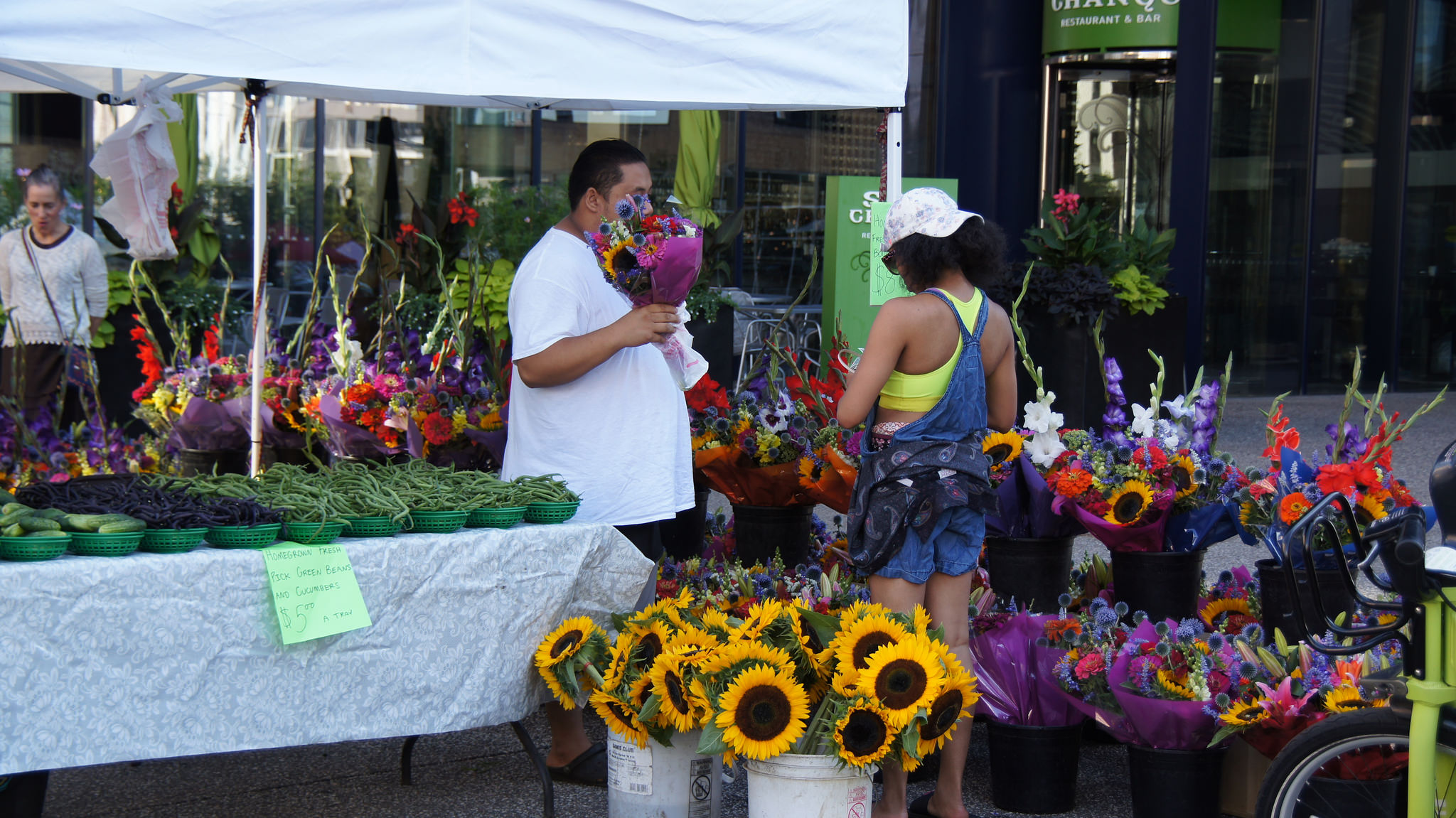 In celebration of National Farmers Market Week, the Mill City Farmers Market is distributing free five dollar shopping vouchers to its first 1,000 visitors starting at 8 a.m. on Saturday, August 6, sponsored by Chipotle Mexican Grill. The vouchers will be eligible for all take-home grocery items, as part of the Mil City Farmers Market and Chipotle's mission to provide "farm fresh food for all." In addition to the vouchers, the market will have, kids story telling at 10 a.m. by talented Guthrie Theater actor H. Adams, a free cooking demonstration with Chef Beth Jones at 10:30 a.m., and live music by local folk group Light of the Moon at 11 a.m. with a special introduction by City Councilman Jacob Frey, speaking about the importance of farmers markets to our community! Click here for more event information!