How Mill City Farmers Market Charitable Fund's Next Stage Grant recipient North Circle Seeds is improving the local seed supply.
By Jenny Heck
---
If you thought we had some cold snaps in Minneapolis this season, picture yourself at North Circle Seeds farm in Detroit Lakes, about an hour west of Fargo in northern Minnesota. With temperatures close to -30 degrees some nights this winter, it is not hard to imagine why farmer Zachary Paige has devoted his farm to the iconic symbol of spring: seeds.
Zachary founded North Circle Seeds in 2019 in partnership with a "circle" of Midwestern growers who produce regionally adapted seed for our cold climate. North Circle Seeds is committed to creating an ecologically diverse, equitable and inclusive food system through an intentional relationship with seeds and sustainable growing practices.
Mill City Farmers Market Charitable Fund awarded North Circle Seeds a Next Stage Grant in 2020 for 'Increasing Capacity of Regionally Produced Organic & Culturally Important Vegetable Seed in Minnesota.' The project included organic certification for the farm's seed production operation as well as designing and building seed display racks for retail seed sales at farmer's markets, co-ops and other grocery stores.
"Becoming certified organic is huge for us to effectively communicate our sustainable and organic growing practices in a way that community members understand," Zachary told us.
In 2020, when vegetable seeds were selling out at most retailers due to pandemic gardening demand, the need for a local seed supply became more obvious than ever.
 New retail display rack funded by our Next Stage Grant program.
Before his own farm, Zachary worked for the White Earth Native community for eight years as a volunteer and then employee, helping form the Indigenous Seed Keepers Network with political activist and environmentalist Winona LaDuke. Zachary has continued in this spirit of seed collaboration, working in partnership on seed saving and production with other regional farmers.
"We work with Latinx and African growers to regionalize seed from their country of origin to thrive in Minnesota to share culturally important produce with their community," describes Zachary.
Such projects include adapting African eggplant varieties to our climate with African immigrant farmers in the Fargo area and a project growing Maiz Azul (blue corn) for fresh tortillas with Sin Fronteras Farm in Stockholm, Wisconsin.
"Some of the blue corn seeds were gifted from Oaxaca, Mexico. We have adapted these varieties to our Northern climate, preserving the flavor and texture to produce authentic tortillas with full flavor," Zachary explains.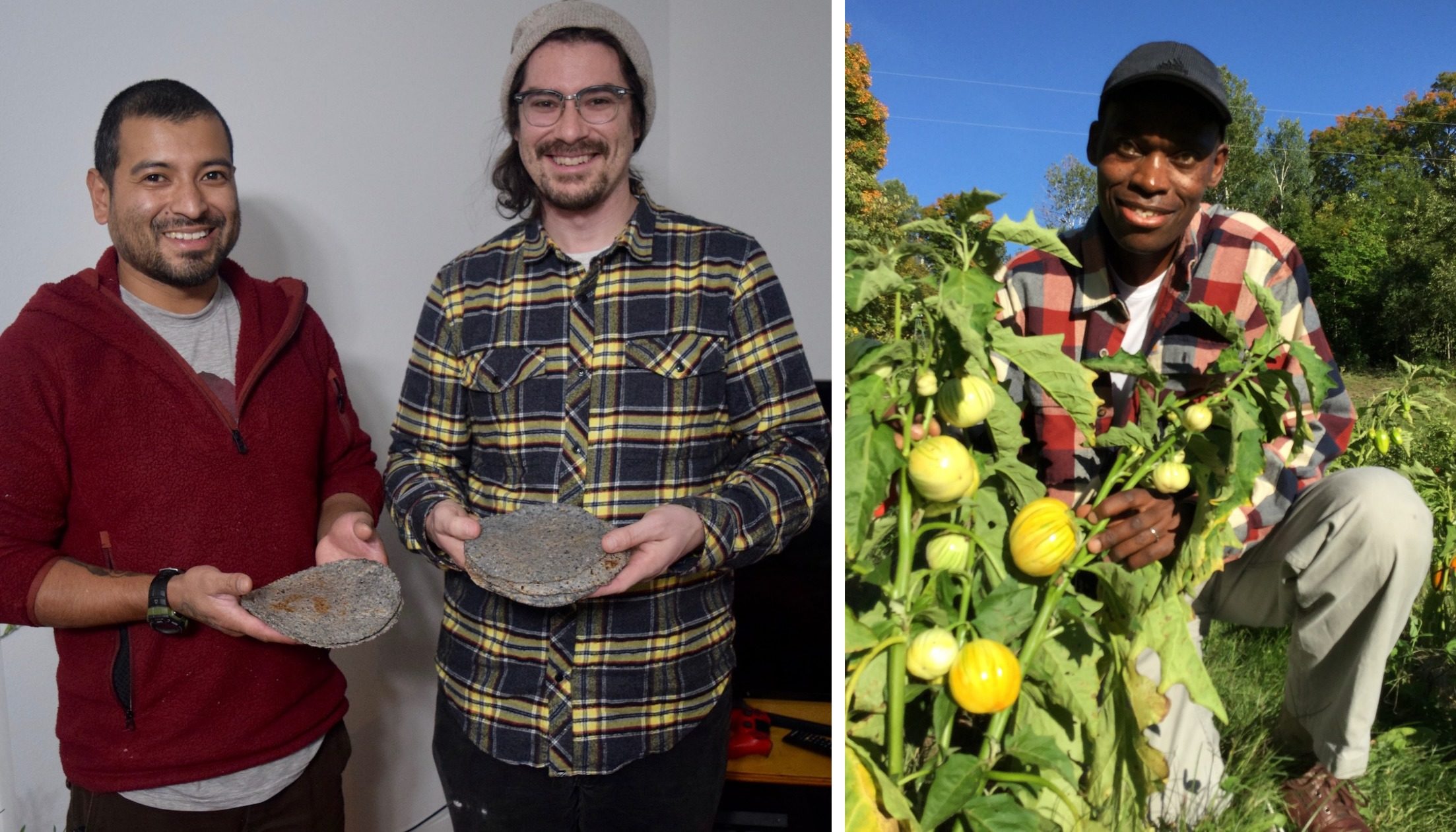 Left image: Eduardo Rivera (left) of Sin Fronteras Farm and Zachary with fresh blue corn tortillas; Right image: Farmer Simeon Bakunda with African eggplant varietal developed with North Circle Seeds.
With support of MCFM-CF's Next Stage Grant last April, North Circle Seeds successfully completed its organic certification process and designed new retail displays.
"The funding helped a lot because I wasn't eligible for the Minnesota Department of Agriculture match that is usually available because of how long it took to get certified due to COVID-related delays. By the time I was certified, the window was closed for that match funding."
Zachary has ordered 100 display racks and already has retail buyers throughout the state, including the Manna Food Co-op in Detroit Lakes as well as Seward and Lakewinds Co-op in the Twin Cities. You can also shop for seeds, find seed saving videos and workshops, and learn more about the farm at northcircleseeds.com.
---
MCFM-CF will be awarding our 2021 Next Stage Grant awards in April. Click here to learn more, donate to the program and watch our grant video with stories from additional Next Stage Grant recipients.