February 24, 2017
FOR IMMEDIATE RELEASE:
Kick Off National Nutrition Month® with the Mill City Farmers Market at the Arboretum!
As the country celebrates National Nutrition Month® this March find your favorite healthy artisan foods and handcrafted gifts at the Mill City Farmers Market's annual Arboretum Market!
Chaska, Minn.—March is National Nutrition Month®, and what better way to start the festivities than shopping for healthy food and other beautiful products from 40 local food artisans, farmers and artists? Vendors will have everything from microgreens to muesli, so bring your grocery list and get ready to eat some local, healthy and sustainable food! The market will be open from 9 a.m. to 1 p.m. in the MacMillian Auditorium near the Arboretum's stunning orchid exhibit in the Oswald Visitor Center.
You'll find many grocery staples and unique gift items from Mill City Farmers Market vendors at the March 4th event, including: Birchberry (wild rice, native arts), Buffalo by Bike (bison meat), Crookedwood (wooden utensils), Ellie's Whole Grains (flaxseed, fermented garlic, gluten-free flour), Fringe & Fettle (local ceramics), Kiss My Cabbage (sauerkraut, kimchi), Holistic Health Farms (aquaponic greens), Shepherd's Way (sheep's milk cheese), Urban Roots (winter produce, preserves) and Zula Juice. A full list of participating vendors can be found here or at millcityfarmersmarket.org/event/arboretum-market.
Founded in 2006 by acclaimed local chef and restaurateur Brenda Langton and the Mill City Museum, Mill City Farmers Market is the Twin Cities' trusted source for healthy, local and organic groceries, bringing a wide assortment of fresh food, cooking education and live entertainment to one beautiful place! Typically located in the Mill District of downtown Minneapolis, the Mill City Farmers Market has been traveling to the MN Landscape Arboretum every winter since 2012! The market's regular winter season continues with indoor markets on the second and fourth Saturdays of March and April in the Mill City Museum and its outdoor season kicks off on May 6th and continues every Saturday through the end of October.
Need another reason to visit Mill City Farmer Market the Arboretum Saturday? In addition to miles of woodland and prairie trails and acres of gardens, the Arboretum offers many activities for the whole family on March 4, including:
Orchids! Live display featuring more than 500 tropical orchids
Plant-Maker Studio: Look at plant parts under a microscope and start a plant to take home!
Ask a Master Gardener for all your spring garden maintenance questions
Arboretum Photographer's Society annual show and sale
Find details and more Arboretum events at arboretum.umn.edu. Please note: Admission to the Arboretum is $12 for adults and free for visitors under 12 years old, University of Minnesota students, and Arboretum Members. Click here or visit millcityfarmersmarket.org/event/arboretum-market for 2-for-1 admission vouchers! Nutrition tips, coloring sheets and more resources for National Nutrition Month® from the Academy of Nutrition and Dietetics can be found at eatright.org.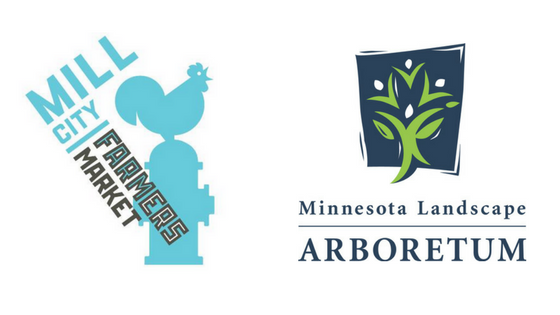 For more information, please email us at info@millcityfarmersmarket.org!