Congratulations to Mill City Farmers Market's 2022 Next Stage Grant awardees!
The Next Stage Grant program provides funding to local, regenerative farmers and other food makers who are improving sustainable farming and business practices or growing toward the "next stage" of their businesses.
In 2022 we awarded 10 grants totaling $63,626 to support local farmers and other vendors at farmers markets throughout the region. You can read more about this year's grantees and the projects their working on below.
The Next Stage Grant program is funded through community support. Your donation directly supports local farmers in researching, testing and implementing sustainable farming practices, provides help in times of extreme hardship and makes a lasting community and environmental impact. Support the Next Stage Grant program by making a donation today.
---
2022 NEXT STAGE GRANT AWARDEES: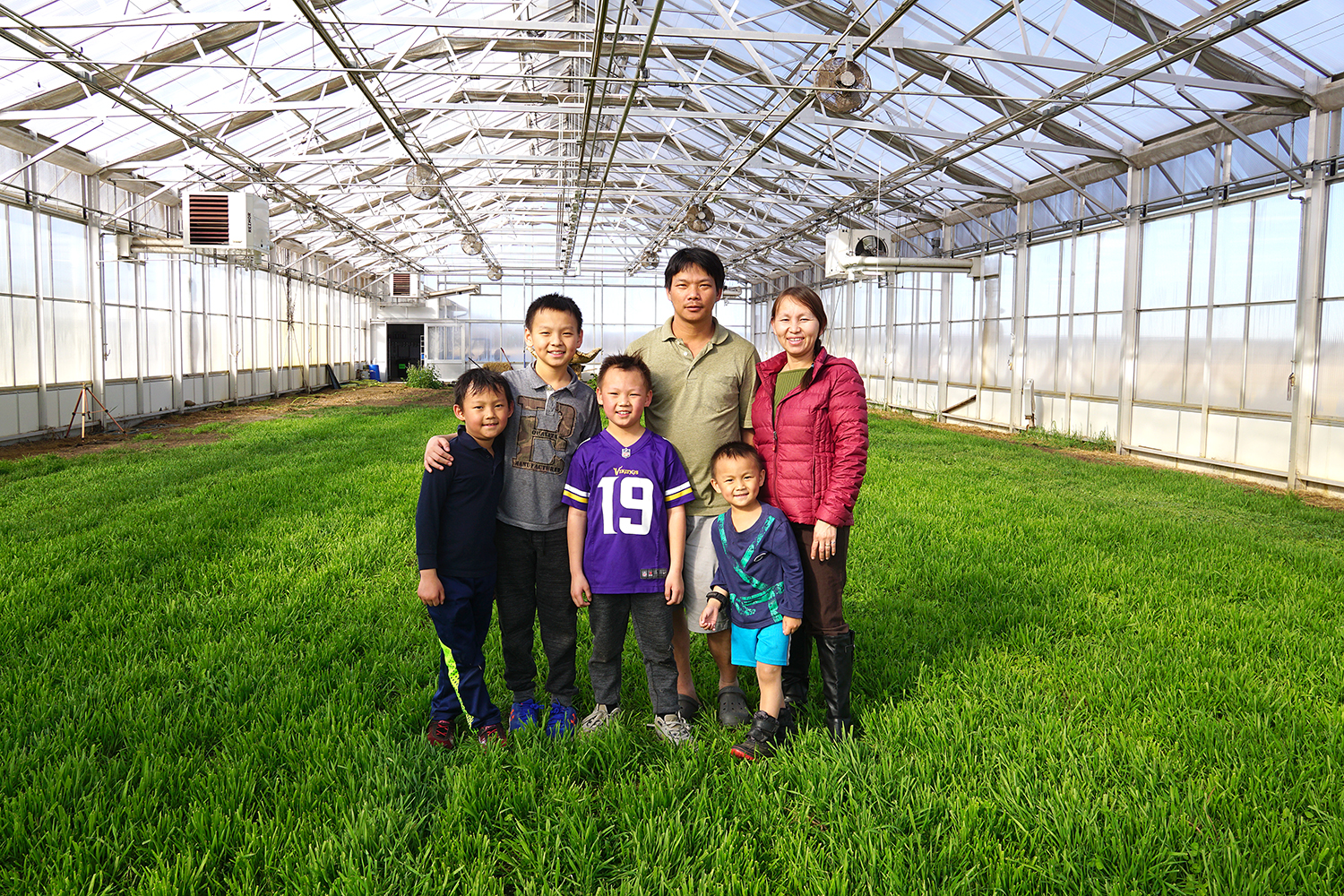 Photo of Choua and her family from our program partner David Van Eeckhout at The Good Acre
2JCK Organic Produce
28-acre certified organic mixed vegetable farm in Isanti, MN.

In 2021, Choua Yang and her family moved their farm from rented land to their own acerage. With the Next Stage Grant award, Choua purchased a deer fence to protect her vegetable crops from animal damage at the new farm.
2-acre certified organic mixed vegetable farm at Big River Farms in Marine of St. Croix, MN.

Mallory and Lucas' grant project is to regenerate the soil at their farm through vermiculture composting and no-fill farming all while educating others they farm alongside about the process.
50-acre certified organic mixed vegetable farm in Athens, WI.

With support from her grant award, Kat Becker was able to purchase a multitool tractor implement that combines a stone burier, conservation tiller and bed maker. The implement will not only improve efficiencies and profit, but also minimize negetive environmental impacts to soil health.
Regenerative chicken, turkey and egg farm in Spring Grove, MN, processing all products on-site.

This Next Stage Grant project supports Ellen and Jim's goal to nearly double production while still processesing all of their own broilers. With the award, they purchased new and more efficient processing equipment that will reduce their workload and keep them in-line with Minnesota's new food safety laws.

Adrienne at Mill City Farmers Market.
Small-batch lacto-fermented vegetable maker (sauerkraut, kimchi, curtido, etc.) in Minneapolis, MN

With her grant award, Adrienne Logsdon is transitioning from a rented kitchen to creating her own. Grant funding will support plumbing for commercial sinks.
5-acre certified organic mixed vegetable farm in Oak Grove, MN.

With support from the Next Stage Grant Lakisha Witter is building a fence to protect her laying hens and vegetable crops. With the ability to safely move chickens around the farm in their mobile coop, this will have additional benefits of improving soil health and fertility on the farm.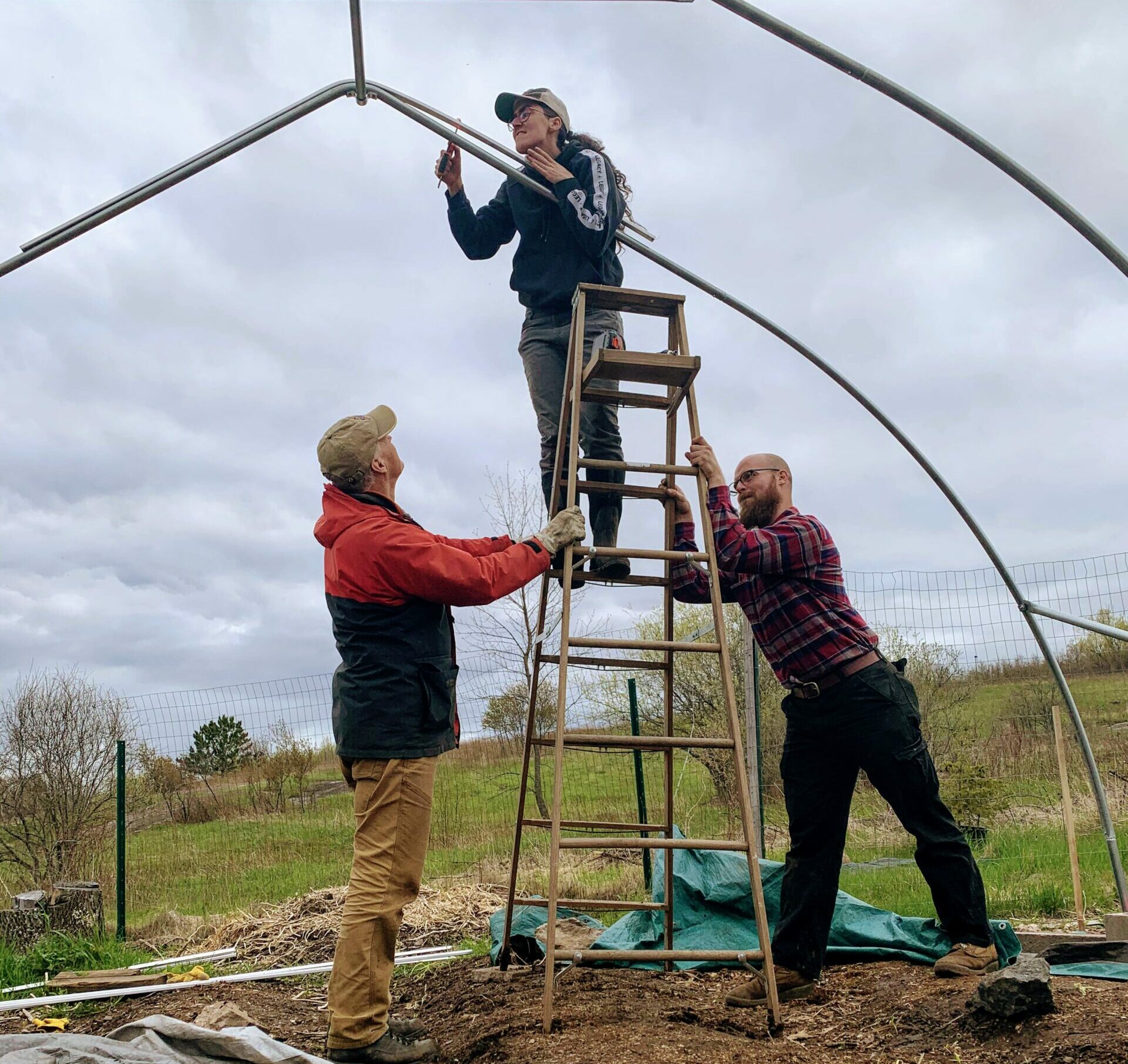 Starr building a new greenhouse for strawberries
Half acre mixed vegetable and fruit farm in Duluth, MN

The goal of Starr Brainarrd's grant project is to bring strawberries to farmers markets in Duluth. Starr used her grant award to expand and continue season extension on her innovative vertical growing system for day-neutral strawberries.
170-acre regenerative livestock farm in Sleepy Eye, MN, raising bison, pigs and chicken

With the Next Stage Grant award, Craig Fischer is building a walk-in freezer. By expanding cold storage, the farm will be able to solve supply consistency issues for markets.
60-acre certified organic mixed vegetable farm in Pine Island, MN

In 2021, Lue and Kia moved their farm from rented land at Big River Farms to their own acerage. With the Next Stage Grant award, they are adding a walk-in refrigerator system for produce. Having cold storage will allow them to keep high perishable vegetable products fresh for markets and allow them to keep a better work schedule–rather than harvesting in the middle of the night when it's cool!

New greenhouse in production at Turnip Rock Farm.
80-acre mixed vegetable and livestock farm with on-farm raw milk cheese plant in Clear Lak, WI

With support from the grant, Josh and Rama will be installing heaters in their greenhouses for season extension, with the goal to grow and sell more hardy winter greens thoughout the winter months.