Mill City Farmers Market vendor Pure Ginger for You shares their journey into business tied with Beau's immigration story, health changes and a calling to serve the community through the COVID-19 pandemic. 
By Jenny Heck
---
"Back in Liberia, ginger was my mother's pharmacy. We made ginger tea and beer almost every week. The benefits were a shield of protection against the cold, flu, stomach sickness and sometimes, even malaria," describes Mill City Farmers Market vendor Beau Thomas, owner of Pure Ginger for You cold-pressed juice company.
Beau grew up hand-squeezing oranges and grating ginger for juices, but it did not become a business until decades later.
Beau immigrated to Minnesota in 2001, fleeing a long civil war in Liberia. When we visited him at his commercial kitchen on a rainy April morning, he shared that while he had family in Minnesota it was a difficult adjustment, especially to the weather. He laughed, recalling not being prepared with warm enough clothes and seeing snow for the first time during a service at his new church.
"I saw it out the window, and at first, I thought there was a carpenter on the roof sawing something and saw dust was falling. But when the minister said it was snow, I ran outside to see it."
Another adjustment was finding work. In his home country Beau was an architect, but he said he was unable to find work in Minnesota without experience designing in a cold climate. As he furthered his education in Minnesota, Beau also worked as a nursing assistant. After his courses, he joined an architecture firm and eventually founded his own firm where he still works today.
MCFM's behind the scenes tour at Beau's kitchen in Maplewood.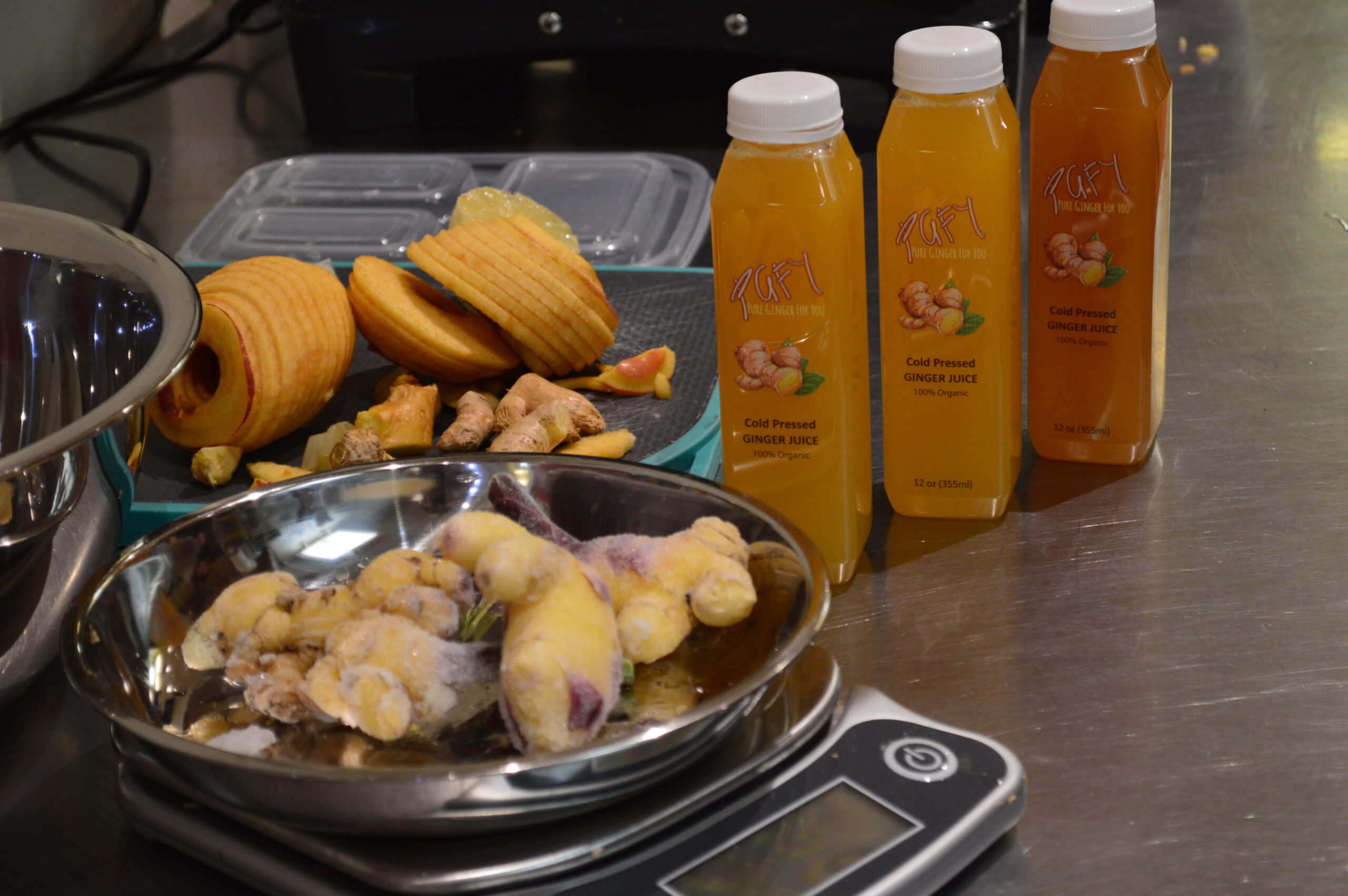 Living in the U.S., Beau was also adjusting to a new diet and seeing subsequent changes in his health.
"I got so frustrated with soda and orange juice that doesn't taste like orange juice."
He began juicing at home to reintroduce the nutrition and healing practices that he grew up with, and in 2020, Beau took his juicing to the next level and launched Pure Ginger for You. At the time Beau was watching many restaurants and food businesses struggle through the pandemic and received strong discouragement from a business mentor, but he knew he needed to take the risk.
"I felt like this is what I needed to do during COVID. Ginger has many healing, anti-viral properties."
Beau's risk paid off and Pure Ginger for You juices, ginger teas and ginger shots are now available at Mill City Farmers Market, Maple Grove Farmers Market and for local home deliveries. Beau makes the drinks through a raw, cold-press process to retain more of the vitamins, enzymes, minerals and antioxidants that can be lost through pasteurization and centrifugal-made juice. Beau uses all organic produce, and 100% of the ginger in juices sold at Mill City is local from Seven Songs Organic Farm in Kenyon, Minnesota.
Currently Beau makes his products at Waters Edge Commercial Kitchen in Maplewood, working alongside other local food makers. His current plans for expansion are buying a new commercial juicer to expand his output capacity and efficiencies, and he also has a vision of a brick-and-mortar juice bar.
"People say, 'oh, this juicing is your side gig?' and I say no, I want my architecture work to be my side gig to my juicing!"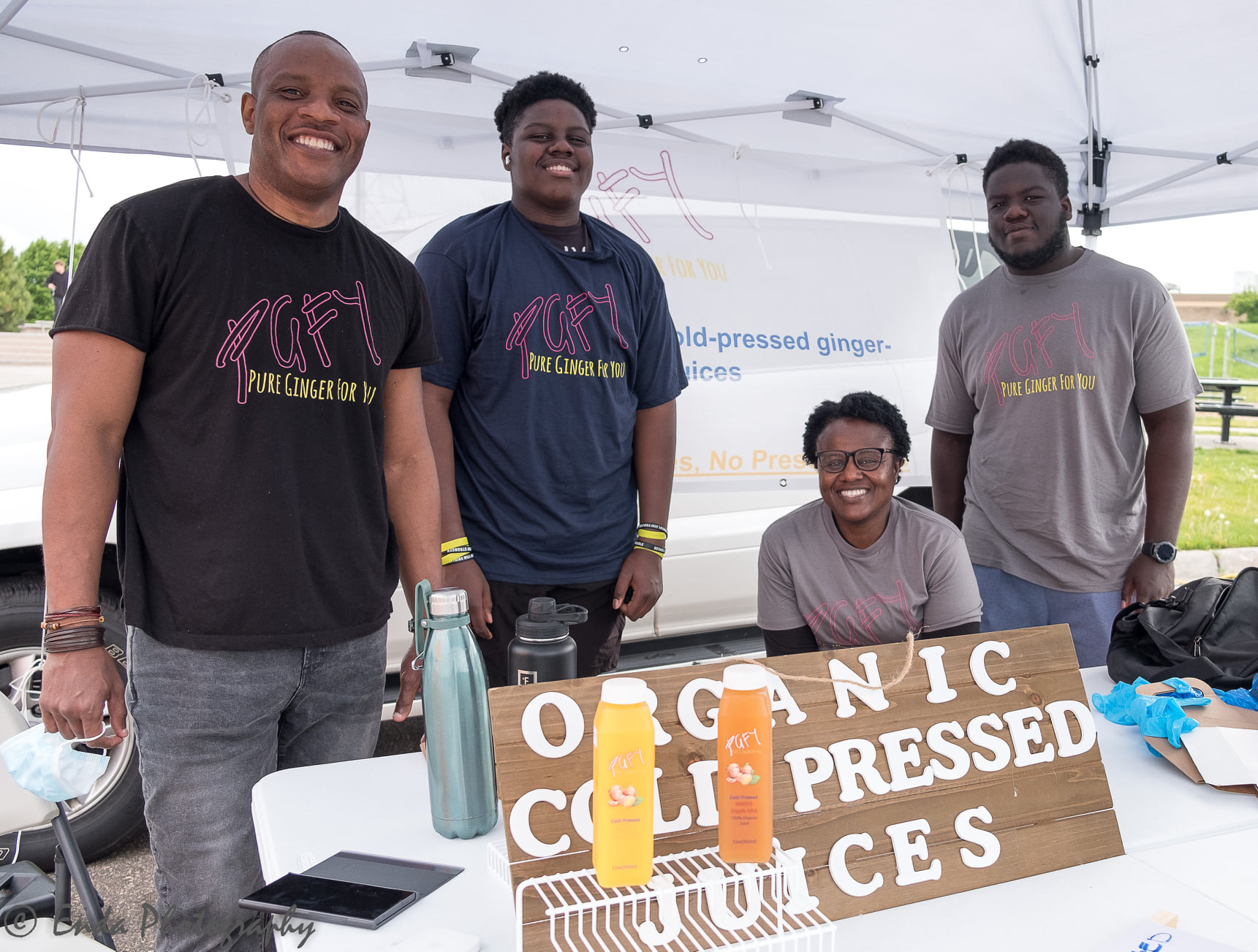 Team PGFY at the market: Beau, Theo, Gertrude and Manny
Even with plans for growth, Pure Ginger for You remains rooted in family. Beau's wife Gertrude and their sons Manny and Theo all spend their Saturdays at the market and many hours in the kitchen alongside Beau, which is even impressive considering he often gets there at 5 a.m. to start juicing. But Beau explains it is easy to work hard when you love your work.
"When customers at the markets tell me how much they enjoy the product, I feel good. I made it myself. I made it with my heart, like I'm giving back."
---
You can find Pure Ginger for You at our final indoor market this Saturday, April 23 from 1am to 1pm and every Saturday at our outdoor markets beginning May 7. Local home delivery is also available through their website.