Missing artists at the market? We are!
Due to COVID-19 restrictions, our art market is online only for the season. Instead of having 4-5 local artists at the market each week, we will instead be featuring them on our blog, our Instagram stories @mcfarmersmkt and through a new digital art market email newsletter. Each week, find unique gifts, kitchenware and and other handmade items to treat yo' self from MCFM artists.
This week's picks:

Adam Gruetzmacher Ceramics
Adam Gruetzmacher is a studio potter working in Saint Paul, Minnesota. In 2010 he graduated with a bachelors degree in Fine Art from the University of Wisconsin to pursue a career as a potter. He spent the following five years at Northern Clay Center in Minneapolis where he worked as an employee and a resident artist. During that time he also completed three yearlong fellowships. He has written for and been featured in several articles including Ceramic's Monthly and Mpls St. Paul magazine. Adam is interested in exploring the intersection of historical hand- making traditions and the aesthetic of utility. He takes pride in making every-day objects that work well and are crafted with care and consideration.
For Adam, everything begins on the potter's wheel. After throwing and being allowed to set up to the "leather hard" stage, he trims his pots in order to achieve triangulated forms. Handles are "pulled" by hand, or are wire-cut from a wedge-shaped slab of clay, which is sandwiched between two wooden templates. After finishing and drying, the pots are bisque fired and the patterns are applied using masking tape. The piece is then dipped in a vitreous slip and the masking tape is removed. Finally the piece is dipped in a glaze, the bottoms are cleaned, and are loaded into an electric kiln where they are fired to approximately 2,200 degrees F. The pots do well in the microwave and dishwasher, but should not be placed in a hot oven or directly over a flame. Hand washing is always kindest to hand-made pottery.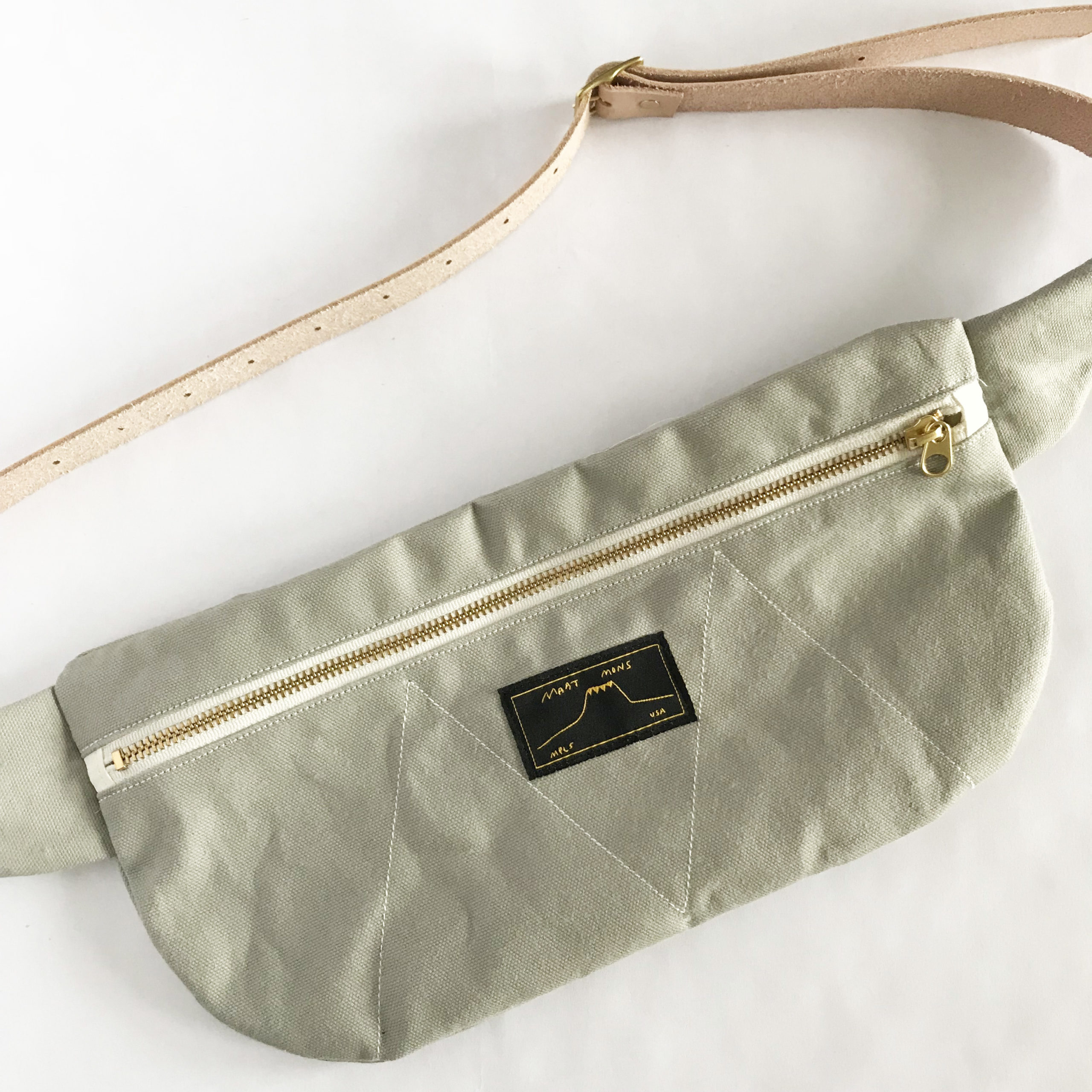 Maat Mons
Manola Suvannarad makes bags and soft goods inspired by her travels afar and at home. From her studio in South Minneapolis, she creates functional and durable bags, pouches, and cases. In 2020, Manola made the decision not to source any new materials, only using what was already in her studio (overstocked, salvaged, and recycled fabrics), allowing the materials to inform the designs and production practice for each piece. Many of us have had to make adjustments to our lives in 2020.
"Choosing to shift Maat Mons' production model to fit our current climate is not a big adjustment for me in the grand scheme of things. I can still make, create, adapt; and the pieces I'll be bringing to the market this year will reflect the resiliency, resourcefulness, and inspiration behind that." – Manola Suvannarad, owner artist
Matthew Krousey Ceramics
Matthew Krousey makes functional stoneware and porcelain pottery, which is fired in either a salt or wood-fired kiln. These firing techniques imbue the works with great variation and depth, creating a natural and mysterious surface. This surface is a place where abstract landscapes and animal characters can often intermingle.
Matthew started making pottery as a freshman in high school and has never looked back.  His life has been geared towards making functional ceramics for the last 13 years. In 2008, he graduated from the University of Minnesota with a B.F.A. in ceramics and have since been teaching adult and children's classes in both Minneapolis and St. Paul. Matthew received a Fogelberg Fellowship at Northern Clay Center and maintained a studio in south Minneapolis where he creates the functional pieces that you see at the [digital!] art market.
redcruiser
Redcruiser is a collection of illustrated and hand-lettered stationery, gift and home goods that celebrate the outdoors, seasonal gardening, markets, cooking, eating and drinking.
After spending 10 years working full-time in Seattle and Minneapolis, designer/illustrator Heidi Schweigert started Redcruiser in 2008 in a small sketchbook exploring a few of her favorite things which has now evolved into cohesive brand that embraces that fun, free energy in life.
All of redcruiser's paper products are printed locally (in MPLS) on 100% PCW paper and are assembled by hand in our MN studio and their tea towels are 100% organic cotton printed with non-toxic inks.
Vikse Designs
Vikse Designs offers sterling silver and semi-precious stone jewelry by St. Paul artist Jeannie Trelles. She is influenced by nature, travel, and fashion. Jeannie is drawn to the natural variations of stones like jaspers and agates, and creates settings to highlight these patterns. She cuts and polishes some of the stones featured in her work, like the Lake Superior Agates.
With all in person events canceled for the near future, Jeannie has been working hard to update her website and is currently offering free shipping in the US.
Thank you for supporting local makers and shopping local. You can subscribe to our weekly art market email and follow us on Instagram to see more featured local artists each week!