It's Jewelry Week!
Our art market is online only for the season. Each week, we feature a selection of MCFM artists on our blog, Instagram stories @mcfarmersmkt and through a new digital art market email newsletter. Find unique gifts, kitchenware and and other handmade items while supporting local, sustainabilty-driven artists.
This week, we are featuring the jewelry makers who vend at Mill City Farmers Market. From custom rings to jewelry craft kits these artists have something for everyone.
THIS WEEK'S PICKS:

Aprilierre
April Barnhart is a Minneapolis-based silversmith and jewelry designer who draws inspiration from inspiration from fashion, nature and architecture. April is dedicated to using ethically-sourced metals, semi-precious gemstones and eco friendly practices to make her pieces.
Larissa Loden
Larissa Loden makes fun, minimal jewelry for everyday wear from her Minneapolis studio. he Larissa Loden mission is to create quality, handcrafted goods at an affordable price that does good for the community. Each year they give back 5% of profits to Cookie Cart and have donated over $40,000 to causes they care about.
This summer they are also offering Quarantine Craft Club Kits for both kids and adults with everything you need to make your own bracelets at home. Larissa Loden is also offering a discount to both teachers and health care workers. Simply email them your credentials at info@larissaloden.com to receive a 20% off code.
Anvil Vibe
Hans Early-Nelson and Liz Parent are a Northeast Minneapolis metalsmithing duo and founders of Anvil Vibe. Together they create custom non-traditional designs through a process of organically grown inspiration that melds the craft of metalsmithing with collaborative fabrication and forging techniques.
They enjoy incorporating inherited pieces and are always open to creating with metals that have some kind of history or story behind them. Feel free to get in touch about your metal project via email through their website.
sudify jewelry
SUDIFY jewelry celebrates the beauty of the natural world. Owner Susan Storck collects lichens, moss, leaves and ferns from Minnesota's woods and preserves them in resin to showcase their wonderful form and features.
Currently, Sudify is encouraging jewelry lovers to donate to organizations in need instead of buying their jewelry. Each week they are posting a jewelry item along with a local organization to support. Take a screenshot of your donation receipt to enter the raffle for jewelry. More information on Instragram @sudify and their website below.
Vikse Designs
Vikse Designs is a St. Paul based jewelry studio owned and operated by Jeannie Trelles. Jeannie enjoys using a variety of natural materials in her work, including semi-precious stones, sterling silver, gold, leather and feathers.
Fair Anita
Fair Anita is a fair trade company that works with over 8,000 women around the world, primarily survivors, with a mission of investing in women. The Minnesota-based team designs the products which are made by talented artisans who work with recycled and upcycled materials. In its 5 years of being in business, Fair Anita has sent back over $1M in regenerative income to its artisan partners.
Tribal Delightful Concoctions
Tribal Delightful Concoctions is a collection of handmade beaded jewelry adornments created by Chris Chookiatsirichai in South Minneapolis.
Beads hold meaning in many forms: cultural, geographical, spiritual, religious, etc. They have many connotations for us as human beings, and are one of the earliest items known to be found on humans that was something other than that of absolute necessity (tools, weapons, etc.) As an artist, Chris is engaged in learning how these older objects create new meaning for people and how they imbue a sense of identity when strung, worn or combined within other objects.
Tribal Delightful Concoctions is comprised of materials long collected for over 30 years, sourced from friends, their families' companies, fair-trade/wage vendors and found objects. Each piece is uniquely crafted with attention to detail and a love for beads and their significance as an object of expressing individuality.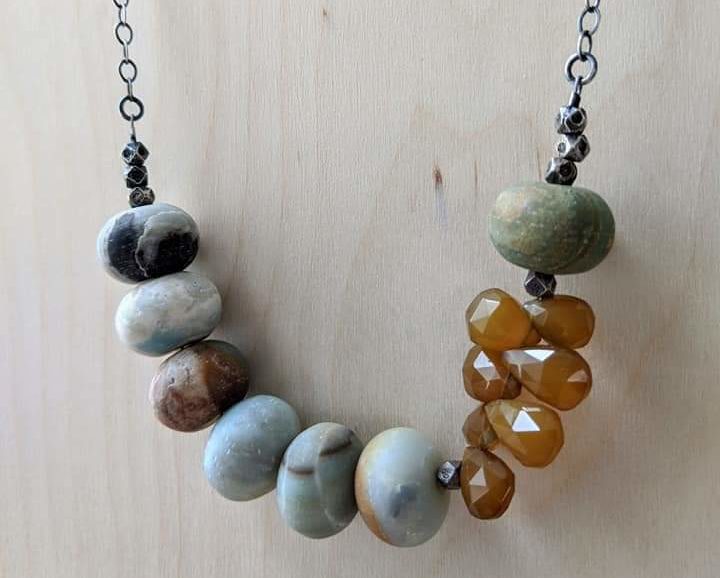 Emiliy Madland Jewelry
Emily Madland creates hand-forged sterling silver and gemstone jewelry out of her Minneapolis home. Emily purchases fair trade silver and gemstones, and each piece is one of a kind, using a silver fusion technique that involves shaping silver, applying heat to fuse the metal, hammering, and polishing. The result is an organic and unique shape. She also uses high quality semi-precious stones, vintage glass, and crystal.
Thank you for supporting local makers and shopping local. You can subscribe to our weekly art market email and follow us on Instagram to see more featured local artists each week. Remember to join us at the market for healthy, local groceries every Saturday!